USA WORK VISA
The United States is the world's topmost economic and military power. Much of this sustained economic upswing is maintained by the constant flow of immigrants. One among the superpowers of the globe, the country has an unmatched global reach. Certainly, it is not just a tourist hotspot but also a popular working destination for many foreign nationals, owing to high-paying employment opportunities and good working conditions. There are two ways in which you can go to the US for work purposes, either as a temporary worker or a long-term worker, through US Work Visas.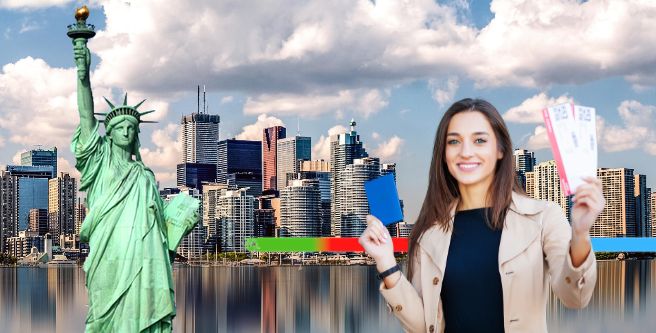 WHAT IS THE US WORK VISA?
The primary purpose of having a work visa is to be allowed to work. The US Work Visa allows foreign working professionals to visit and temporarily work in the USA for a predetermined length of time without any additional authorization. The duration of your employment must be specified in the job contract or the visa application. However, it is also significant to note that such a visa does not allow you to work for an indefinite period of time in the States. 
A temporary work visa typically represents an endorsement by the immigration authorities allowing foreign nationals to enter the USA to work. While the work visa does not guarantee permanent residence to foreign nationals, it does, however, indicate that the individual has been determined by a consular officer at a US Embassy that they are eligible to seek entry into the country for a specific purpose. Almost every US Work Visa requires the petitionfor submission to US Citizenship and Immigration Services (USCIS) by a US Employer. This petition must pass approval before applying for a work visa. 
There are a wide range of work visas depending on the kind of work that you choose to do. Moreover, an employee may need a work permit in addition to their employment visa to be able to pursue a career in a specific country.
TYPES OF US WORK VISAS:
As discussed earlier, there are a wide range of US Work Visas depending on the kind of work that you choose to do. Discussed below are the types of US Work Visas that you may need to know when deciding to work in the States: 
This visa enables individuals to work in a speciality occupation. Individuals opting for this visa are required to have a higher education degree or its equivalent.
The P-1 Visa is issued to individuals who are athletes or are members of a team participating in various athletic programs in the US.
The P-2 Visa is issued to artists and groups of entertainers who are participating members of an exchange program with the United States.
Those who qualify for the O-2 Visa demonstrate extraordinary abilities in the field of sciences, art, education, business, or athletics or someone who has shown extraordinary achievement in the television industry and has earned international or national recognition for the same.
HOW TO BECOME ELIGIBLE FOR THE US WORK VISA?
If you are interested in obtaining a US Work Visa, you must make sure to fulfil certain preconditions before applying for it. Your application stands a chance of rejection by the Embassy if you fail to meet the below-mentioned eligibility conditions: 
HAVE A VALID EMPLOYMENT OFFER FROM THE US:
It counts as a must to have been accepted for a job position in the US that you have applied to in order to stand eligible for a US Work Visa. This is so because the United States requires the employer to submit the necessary documents before you begin with your visa application. 
US CITIZENSHIP AND IMMIGRATION SERVICES (USCIS)-APPROVED PETITION: 
Before the candidate applies for a US Work Visa, the employer is required to file a petition for the non-immigrant worker with the USCIS. This petition serves as the most important document required to get a work visa. Candidates can only apply for the visa when the petition has been approved by the USCIS.
LABOR CERTIFICATION APPROVAL BY THE DEPARTMENT OF LABOUR (DOL): 
In some cases, work visas require the employer to receive a certification from the Department of Labor (DOL). The employer is required to apply for the DOL on behalf of the foreign worker even before filing the petition with USCIS. This certification serves as proof that US employers are in genuine need of foreign workers, as those positions cannot be filled by US employees. This certification also testifies that the hia foreign worker does not have any negative impact on the US labour market.
REQUIREMENTS FOR US WORK VISA/DOCUMENTS CHECKLIST:
If you meet all the above-mentioned conditions and become eligible for the US Work Visa, then you must prepare all the necessary documents which are needed while filling out the application form: 
Passport, which retains its validity during the entire period of time till which you are a resident of the United States, and for an additional six months after your return.
US Work Visa photo, which needs to be uploaded while submitting the application form.
Receipt number, which can be found on the approved petition.
A confirmation page affirming that you have completed and filled out your visa application form.
A receipt indicating successful payment of the application fees.
Proof that states that you will return to your home country once the duration of your work in the US comes to an end.
It must also be noted that there is no English Language Requirement for candidates applying for a US Work Visa.  
HOW TO APPLY FOR A US WORK VISA?

If you meet all the above-mentioned eligibility conditions and have gathered all the required documents, then you are all set to apply for the US Work Visa. You must make sure to follow the below-mentioned steps when applying for the US Work Visa:
STEP 1
Complete the online visa application form and take a print out of the confirmation page:
All the information entered must be correct. In case of any incorrect information, the Embassy holds the right to reject your visa application.
STEP 2
Schedule your interview:
Interviews usually take place for candidates who fall under the age range of 14-79. Due to the high number of applications, it is advisable to schedule your interview as soon as your necessary requirements have been met.
STEP 3
Attend the interview:
Your interview determines whether the Embassy will grant you the visa or not. Therefore it is highly important for you to appear for the interview on time, dress appropriately, and be ready with all the necessary documents.
STEP 4
Complete additional procedures:
Additional procedures include providing your biometrics and paying any additional fees. If the US Embassy decides to grant you the visa, then you may also be required to pay a visa issuance fee.
COST OF APPLYING FOR A US WORK VISA:
The application fee for US Work Visas is $190. However, additional fees may also be charged depending on your location. Therefore it is advisable to check with your local US Embassy for more details. 
WHY ALWAYS CONSIDER BASICS OF IMMIGRATION?

Expert Visa counselors provide Step-by-step guidance through a secure, online process.
Apt evaluation of credentials and faster visa processing.
Identifying all potential hazards and roadblocks in securing a visa.
Assistance with documentation, immigration rules, citizenship, and border control procedures.
Multiple case assessment for better conflict resolution.
Designated process managers to provide personalized guidance.
Just like the basics of anything act as "building blocks" forming a strong foundation for constructing complex structures. The Basics of Immigration serve as the foundational elements of moving abroad, for any aspiring immigrant.