AVAIL CANADA PR AS LAWYERS AND QUEBEC NOTARIES – NOC 41101
There are various paths that a lawyer can take to immigrate to Canada. Since there is a severe labor shortage in Canada right now, employers are making job offers to international applicants in an effort to reduce the demand for skilled workers. A number of procedures and initiatives have also been put in place by the Canadian immigration administration, IRCC, to simplify and expedite the application procedure, making it simpler and more accessible for immigrants to find lawyer jobs in Canada.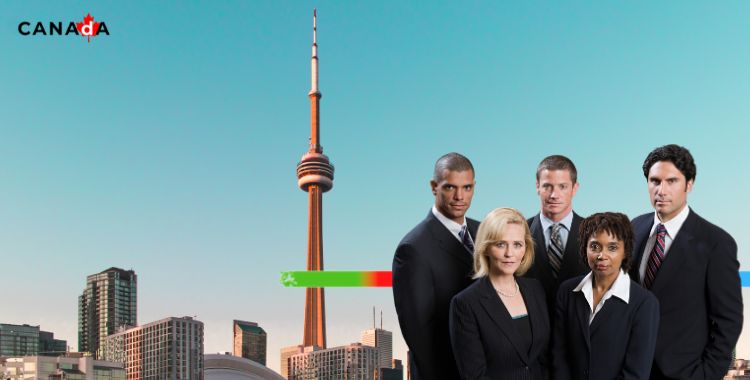 Being a lawyer requires higher levels of education than other professions, and moving to Canada may require you to meet legal standards that are different from those in your native country.
Lawyers who want to immigrate to Canada must apply for transcription through the relevant body and have their current credentials reviewed. The National Committee on Accreditation and the National Lawyers Association collaborate in this matter. Candidates must also pass the Canadian bar exam in order to be eligible to practice law in Canada's provinces and territories (with the exception of Quebec).
WHY DO INDIAN LAWYERS MIGRATE TO CANADA?
Indian Lawyers migrate to foreign countries, especially, Canada to get a better lifestyle and career opportunities.
Canada is the ideal location if you are an internationally certified lawyer who wants to apply for permanent residence as a lawyer for a variety of reasons:
Earn high salaries
Although lawyer wages differ depending on the Canadian province you select, your general experience, and your field of specialization. However, canada business immigration lawyers earn excellent salaries in general. For instance, the average yearly salary for notaries in Quebec and lawyers in Canada is about $116,940.
Higher employment prospects.
All Canadian provinces and territories, with the exception of the Northwest Territories and Ontario, offer excellent career prospects for lawyers and notaries, according to Canada's Career Bank. In Canada, the total supply and demand for competent attorneys are in balance and are expected to increase soon.
ELIGIBILITY CRITERIA FOR INDIAN LAWYERS IN CANADA
To be eligible to get permanent residency in Canada as a lawyer, you must fulfill a few criteria, including:
A college program or a UG degree prevailing at least two to three years.
An undergraduate degree from an accredited law school
Complete the bar test and the article-writing phase
License from a regional or regional law society
For Quebec, you require Notaries
A diploma in notarial law and a bachelor's degree from any renowned law school
A master's degree specializing in notary law
Vocational training for 32 weeks
Accreditation with the Corporation of Notaries is necessary.
PROFESSIONAL CERTIFICATE OR WORK PERMIT TO START PRACTICE IN CANADA
Before beginning employment, you might need to obtain a license from a regulatory body.
Location
Regulatory Body
Alberta
Law Society of Alberta
British Columbia
Law Society of British Columbia
Society of Notaries Public of British Columbia
Manitoba
Law Society of Manitoba
Newfoundland and Labrador
Law Society of Newfoundland and Labrador
Northwest Territories
Law Society of the Northwest Territories
Nova Scotia
Nova Scotia Barristers' Society
Ontario
Law Society of Upper Canada
Prince Edward Island
Law Society of Prince Edward Island
Law Society of Prince Edward Island
Quebec
Barreau du Québec
Saskatchewan
Law Society of Saskatchewan
Yukon
Law Society of Yukon
WHO ARE LAWYERS IN CANADA?
In Canada, lawyers provide legal advice, act as clients' advocates before administrative boards, and draft legal documents including contracts and wills for clients. Additionally, lawyers argue cases, represent clients in court proceedings, and lead prosecutions.
Lawyers work in prosecutor's offices and law companies. Notary offices employ attorneys from Quebec. Lawyers work for the federal, provincial, and local governments as well as numerous businesses. They can also be self-employed

LAWYER JOBS IN CANADA UNDER NOC CODE – 4112
Administrative lawyer
Advisory Council
Articling law student
Assistant corporate counsel
Assistant Crown Attorney
Assistant general solicitor
Assistant legal advisor
Assistant regional counsel
Associate counsel
Associate lawyer
Associate legal advisor
Associate legal counsel
Attorney
Attorney-at-law
Attorney's assistant chief agent
Barrister
Barrister and solicitor
City Attorney
City solicitor
Civil lawyer
Litigator
Municipal solicitor
Notary (Quebec)
Patent counsel
Patent lawyer
Patent solicitor
Prosecuting attorney
Prosecutor
Claim attorney
Commercial law notary
Commercial lawyer
Contract counsel
Corporate Counsel
Corporate notary (Quebec)
Corporation lawyer
Counsel
Counsellor-at-law
Counselor-lawyer
County Attorney
Criminal lawyer
Crown Attorney
Crown corporation counsel
Crown counsel
Crown prosecutor
Defense counsel
Departmental solicitor
Deputy city solicitor
Family and estates lawyer
Quebec notary
Queen's Counsel
Real estate lawyer
Regional attorney
Regional crown prosecutor
Review lawyer
Solicitor
Special Prosecutor
General counsel
General solicitor
Immigration lawyer
Industrial lawyer
In-house legal counsel
Insurance lawyer
Intellectual-property lawyer
Judicial assistant – supreme court
Labor lawyer
Law and corporate affairs adviser
Law partner
Lawyer
Legal advisor
Legal advocate
Legal aid lawyer
Legal attaché
Legal counsel
Legal officer
Legislative adviser
Legislative counsel
Staff counsel
Staff lawyer
Staff solicitor
Student-at-law
Tariff counsel
Tax Attorney
Tax lawyer
Title lawyer
Trademark lawyer
REQUIRED SKILLS FOR INDIAN LAWYERS IN CANADA
Service and Care
Interviewing
Advising and Consulting
Professional Communicating
Liaising and Networking
Negotiating and Adjudicating
Analyzing Information
Planning
Researching and Investigating
Projecting Outcomes
Supervising
Law, Government, and Jurisprudence
Philosophy and Theology
Client Service
Business Administration
CAN INDIAN LAWYERS PRACTICE IN CANADA – LAWYER JOBS CANADA
The one-word answer to this question is, YES! Canada Express Entry for Lawyers is one pathway that makes to eligible to start your practice in Canada.
After receiving your Certificate of Qualification from the NCA and beginning the bar licensure procedure, international-educated lawyers can begin looking for their first job in Canada.
Once you have registered with the bar society or council are you able to practice law in a Canadian province; however, there may be positions open to Indian Lawyers with knowledge of the laws of your home country or articling possibilities that you can pursue while going through the bar licensing procedure. Here are some pointers to assist you start your profession as an attorney in Canada by finding a suitable position.
HOW TO FIND LAWYER JOBS IN CANADA FROM INDIA?
Comprehend the labor market requirements
Employers in Canada may require different abilities and credentials from those in your home country for different legal positions. The information provided in this article will help you become more familiar with the demands of the employment market.
Acquire extra skills and qualifications
Before moving, you must do some research on how to satisfy the NCA's standards if you're a newbie wanting to practice law in Canada. You can study the programs offered by law colleges across Canada if you are aware of the prerequisites needed to obtain your Certificate of Qualification based on the NCA assessment.
Design a stylish up-to-date Resume
In order to pare down resumes that are a suitable fit for the position, many Canadian businesses use an applicant tracking system (ATS). If you tailor your resume for each position and incorporate keywords from the job description, you might boost your chances of getting an interview.
SEARCH FOR LAWYER JOBS IN CANADA ON PORTALS AND WEBSITES
Examine job prospects frequently on sites like Job Bank. You should also make a list of potential employers and monitor the career pages and profiles for each of them. Opportunities linked to practicing law may also be offered on the websites of your local bar associations or other professional organizations.
APPLY ONLINE FOR LAWYER JOBS IN CANADA & ACE THE INTERVIEW ROUNDS
Employers will review the cover letter and resume after you submit them to determine how closely they adhere to the job description. The following step, if your resume is selected for further consideration, is usually a screening interview, during which you will be asked questions about your background, prior employment, and interest in the position.
You might go through several interview rounds after the initial screening to show off your technical and soft skills. If you are chosen for the position, you will get a job offer.
CAREER GROWTH OF INDIAN LAWYERS IN CANADA BY 2031
Over the years 2022 to 2031, there are projected to be 39,200 new job openings for lawyers, judges, and Quebec notaries, with 49,500 new job seekers estimated to be available to fill these vacancies.
Below is a list of Canadian Provinces, you can refer to this information to decide your destination.
| | |
| --- | --- |
| Location in Canada | Scope for Immigrant Lawyers |
| Manitoba | Very Good |
| Quebec | Very Good |
| Saskatchewan | Very Good |
| Yukon Territory | Good |
| Prince Edward Island | Good |
| Nunavut | Good |
| Nova Scotia | Good |
| Newfoundland and Labrador | Good |
| Alberta | Good |
| British Columbia | Good |
| New Brunswick | Moderate |
| Northwest Territories | Moderate |
| Ontario | Moderate |
A GENERAL IDEA OF HOW MUCH A LAWYER EARNS IN CANADA
The average pay for lawyers varies by province in Canada. Lawyers (NOC 41101, formerly 4112) in Canada have a median pay of $116,940, according to the Job Bank of the Government of Canada. In Alberta ($140,808), Ontario ($131,654), and Newfoundland and Labrador ($131,203), lawyers make the most money on average.
Refer to the below table if you want to get an idea about the average lawyer salary in canada. The maximum wage a lawyer gets in Canada. The Best criminal lawyers in canada for immigration purposes might secure the highest salary.
demand for lawyers in canada has increased due to a lack of interest in native lawyers.
| | |
| --- | --- |
| Lawyer Jobs in Canada | Lawyer Fees Canada per year |
| Alberta | 423,922 |
| British Columbia | 242,117 |
| Manitoba | 198,651 |
| New Brunswick | 140,372 |
| Newfoundland and Labrador | 279,002 |
| Northwest Territories | N/A |
| Nova Scotia | 167,952 |
| Nunavut | N/A |
| Ontario | 357,035 |
| Prince Edward Island | 144,905 |
| Quebec | 208,176 |
| Saskatchewan | 190,371 |
| Yukon Territory | N/A |
JOB RESPONSIBILITIES OF LAWYERS IN CANADA
Inform clients about their legal options and all other legal issues
Investigate judicial precedents and gather proof.
Present clients' cases in court, before tribunals, and before boards
Create legal documents, such as wills, divorce decrees, and contracts, and draft legally binding statements
Negotiate the resolution of civil issues
Accomplish clerical and managerial tasks associated with the administration of law
Can operate as a conciliator, mediator, or arbitrator.
Executor, trustee, or guardian roles in property and domestic relations matters are all permissible.
WHY ALWAYS CONSIDER BASICS OF IMMIGRATION?

Expert Visa counselors provide Step-by-step guidance through a secure, online process.
Apt evaluation of credentials and faster visa processing.
Identifying all potential hazards and roadblocks in securing a visa.
Assistance with documentation, immigration rules, citizenship, and border control procedures.
Multiple case assessment for better conflict resolution.
Designated process managers to provide personalized guidance.
Just like the basics of anything act as "building blocks" forming a strong foundation for constructing complex structures. The Basics of Immigration serve as the foundational elements of moving abroad, for any aspiring immigrant.