ELECTRICAL ENGINEERING JOBS IN CANADA 2023
Engineering is one of the most crucial profession these days. Engineers are responsible for the development and upkeep of society.

The need for engineers is never ending, so if you have an engineering degree and are looking for electrical engineering jobs in canada,
Apply for visa now!
In countries like Canada where the land is huge but workforce significantly less, there are thousands of electrical engineering jobs in canada waiting to be filled.
There are several ways through which electrical engineers can move to Canada,
this article aims at exploring the same.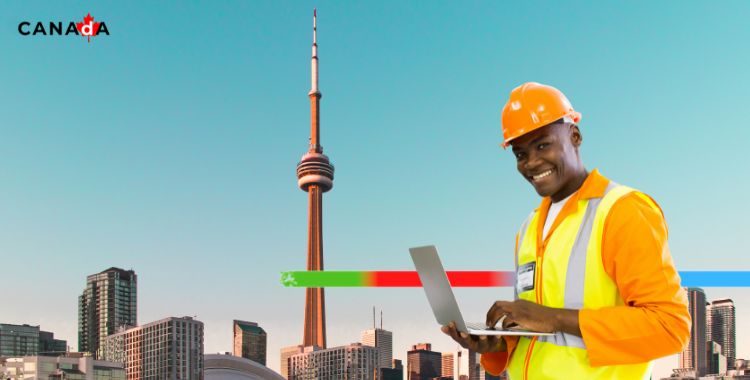 WHY CANADA AS AN ELECTRICAL ENGINEER?
Canada has more than a million job vacancies
The average salary for an electrical engineer in canada is CAD 79,234/yr
Electrical engineers jobs in canada are high in demand
Very sought after and stable profession
Competitive and high salaries
DEMAND FOR ELECTRICAL ENGINEERS IN CANADA
Engineers are constantly on the go. From skyscrapers to our drainage system, they are responsible for everything. Electrical engineers in Canada are highly respected and paid a decent salary. Some companies also give the facilities of housing and reimbursed transportation to talented engineers with exemplary work and study skills.
Engineering is a branch of work that will never go out of service. Canada, facing a shortage of labor, has a lot of vacancies for electrical engineering jobs in canada.
This is the right opportunity for Indians to migrate to Canada as electrical engineers.
JOB OPPORTUNITIES FOR ELECTRICAL ENGINEERS IN CANADA
Companies are keen on employing foreign workers in their organization and electrical engineering, being an important aspect of engineering, is a recognised and registered progression with the government of canada. The NOC code for electrical engineering jobs in Canada is 21310.
Those holding electrical engineering jobs in canada have the following duties –
Conducting research regarding the requirements of the client
Designing the layout and checking performance of electrical machinery and equipment
Investigate electrical failures
Surprise technicians, analysts etc
The following are the prevailing titles of electrical engineering jobs in canada –
| | | |
| --- | --- | --- |
| CONTROLS ENGINEER | PROJECT ENGINEER | TEST ENGINEER |
| DESIGN ENGINEER | ELECTRICAL ENGINEER | COMMUNICATIONS ENGINEER |
| SYSTEMS ENGINEER | AERONAUTICAL ENGINEER | ELECTRONICS ENGINEER |
Electrical engineering jobs in canada are spread across in all provinces, the following provinces have the highest demand –
Quebec
Saskatchewan
Alberta
Newfoundland
Labrador
Nova scotia
Ontario
The average salary of electrical engineering jobs in canada is CAD 74,000/yr
It varies province to province and also because of the job title, but most of the electrical engineering salary in Canada is in 6 figures.
The following are some of the highest paying provinces for electrical engineers jobs in canada –
| | |
| --- | --- |
| PROVINCE | AVERAGE BASE SALARY |
| Manitoba | CAD 137,444/yr |
| alberta | CAD 136,727/yr |
| British columbia | CAD 136,532/yr |
| quebec | CAD 136,442/yr |
| Ontario | CAD 136,304/yr |
ELIGIBILITY CRITERIA TO WORK IN CANADA
If you are looking to migrate to Canada and find electrical engineering jobs in Canada, you must match the eligibility criteria to work in Canada.
Have a bachelor's degree in electrical engineering or any related field.
Have a master's or doctoral degree in a similar or same field.
Obtain a license from a territorial or provincial association of professional engineers. The license is a must if you wish to practice engineering in Canada but have a foreign degree.
The engineering international education assessment program assesses the abilities and qualifications of the immigrant electrical engineer.
Obtain a leadership in energy and environmental design certification, given by canada green building council. This is to ensure you practice your professions in accordance with the environmental laws and are sustainable in your approach.
ELECTRICAL ENGINEER IMMIGRATION TO CANADA
Under the current policies of immigration, refugees and citizenship canada ;
Those seeking electrical engineering jobs in Canada can migrate through a number of ways.
To find out which pathway is the best for you, book a consultation with us today.
Express entry
Designed keeping professionals and workers in mind, the express entry program is a great way for electrical engineers to migrate to canada.
Professional engineers who meet the eligibility criteria can apply under the following programs.
Federal skilled worker program
People seeking electrical engineering jobs in Canada and have one year of prior foreign work experience can apply for an immigration visa under this program. The federal skilled worker program is designed for those who have a year of foreign work experience.
Provincial nominee program
The provincial nominee programme allows skilled and semi-skilled immigrants to live and work in Canada. You need a valid job offer for immigration.
.
If your skills are in demand as per the guidelines given by your province, you will get 600 extra Permanent Residency points, which means you are way ahead of the immigration pool and are one step closer to achieving your Canadian dream.
Canadian experience class
If you have worked in Canada for at least a year but are not a resident or citizen, then you can utilize your work experience and apply through the CEC. The Canadian experience class is an ideal program and having previous experience gives you more points as per the Canada immigration point calculator under express entry. The applications under CEC are processed faster and are relatively hassle free.
CANADA IMMIGRATION POINT CALCULATOR – HOW IT WORKS?
The Canada immigration points calculator helps the Canadian government in selecting which candidate is the most ideal choice for permanent residency.
The points are given to the candidate on the following basis –
Age
CLB language proficiency (english and french)
Level of education
Work experience
Arranged employment, if any
Nomination through PNP
Any family in canada
BEST COLLEGES IN CANADA FOR ELECTRICAL ENGINEERING
Want to pursue electrical engineering in canada?
Here are the best colleges in Canada for electrical engineering.
BACHELOR OF ELECTRICAL ENGINEERING
The following is a list of colleges that offer bachelor's degrees in electrical engineering in canada. It also has the fees of electrical engineering in canada.
| | |
| --- | --- |
| McGILL UNIVERSITY | CAD 29,429/yr |
| UNIVERSITY OF ALBERTA | CAD 41,619/yr |
| WESTERN UNIVERSITY | CAD 23,136/yr |
| UNIVERSITY OF WINDSOR | CAD 59,190/yr |
| UNIVERSITY OF CALGARY | CAD 35,128/yr |
The average fees of bachelors in electrical engineering in canada ranges between 12,000-50,000 CAS per year
MASTERS IN ELECTRICAL ENGINEERING
The following are the best universities for MS Electrical Engineering. It also has fees for MS electrical engineering in Canada.
Doing post graduation courses in canada for electrical engineering help in qualifying for a high paying job.
| | |
| --- | --- |
| McGill University | 16,816/yr |
| University of Ontario | CAD 21,709/yr |
| University of ottawa | CAD 18,014/yr |
| University of waterloo | CAD 30,024/yr |
| University of alberta | CAD 9,259/yr |
WHY ALWAYS CONSIDER BASICS OF IMMIGRATION?
Expert Visa counselors provide Step-by-step guidance through a secure, online process.
Apt evaluation of credentials and faster visa processing.
Identifying all potential hazards and roadblocks in securing a visa.
Assistance with documentation, immigration rules, citizenship, and border control procedures.
Multiple case assessment for better conflict resolution.
Designated process managers to provide personalized guidance.
Just like the basics of anything act as "building blocks" forming a strong foundation for constructing complex structures. The Basics of Immigration serve as the foundational elements of moving abroad, for any aspiring immigrant.