HOW TO GET MEDICAL DOCTORS AND FAMILY PHYSICIANS JOBS IN CANADA
The Canadian healthcare system relies heavily on doctors and surgeons. The need for doctors trained abroad has never been greater due to the nation's lack of skilled medical professionals in numerous specialties. Continue reading this article to learn how to apply for doctor job in canada.
Whether you've just finished your medical training abroad or have years of expertise under your belt, moving to Canada can open up a world of possibilities. In this post, we look at provincial licensure requirements, immigration schemes you can use to immigrate to Canada as a doctor, and in-demand positions and finding doctor job in canada for Indians.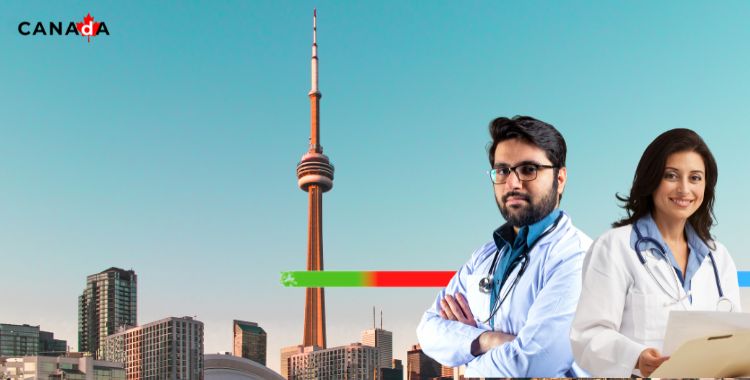 RECRUITMENT FOR FOREIGN DOCTORS IN CANADA
Canada is always in need of qualified medical professionals, especially in light of the Covid-19 outbreak. The Canadian government offers a number of government and provincial channels for doctors to apply for Canada PR in order to satisfy the demands of the labor market.
UNDERSTANDING MEDICAL DOCTORS AND FAMILY PHYSICIANS' PROFESSION IN CANADA
The diseases, physiological abnormalities, and injuries that patients experience are identified and treated by medical doctors. They operate as the patient's first point of contact and continuously manage their health. They typically work in hospitals, clinics, group practices, and private practices. This unit group consists of residents preparing to become family doctors or general practitioners.
WHY DO INDIANS SEEK JOB OPPORTUNITIES FOR DOCTORS IN CANADA?
Most family doctors and medical practitioners look for job opportunities for Indian doctors in Canada for a better lifestyle and career scope.
SHORTAGE OF EXCELLENT DOCTORS AND SURGEONS IN CANADA
There is a critical lack of trained physicians across all medical specialties in Canada. According to projections, newly graduated physicians and surgeons joining the market, up to 40% of new job positions in the medical field may go unfilled between 2022 and 2031.
DOCTORS ARE IN-DEMAND-OCCUPATION IN ALL CANADIAN PROVINCES
The 10-year employment forecast for physicians is expected to get plenty of career possibilities available for medical professionals with international training. Surgeons and specialized physicians are among the in-demand professions listed by National Occupational Classification
POSSIBILITY TO MAKE SUBSTANTIAL WAGES
In Canada jobs for Indian doctors, working for hospitals and healthcare facilities, offers lucrative salary. Many doctors in Canada are self-employed; they are paid on a pay-for-service basis. Under the pay-for-service approach, the province's healthcare system pays the doctor for the medical services they provide. Family doctors across the nation make an average of $216,833 per year, compared to the $273,510 average for specialists and surgeons.
ROLES AND RESPONSIBILITIES OF DOCTOR JOBS IN CANADA
Duties and jobs for IMG doctors in canada include assessing individuals' physical and mental health, examining patients, obtaining their histories, arranging laboratory tests, X-rays, and other diagnostic procedures, and conferring with other medical professionals.
Prescribe and provide treatments and drugs
Perform basic surgery and provide assistance
Offer aid in an emergency
Vaccines are given to those ill to ward off illness and treat it.
Assist in deliveries and offer prenatal and postnatal care
Inform patients as well as their families about health issues, such as avoiding illnesses and health promotion.
Offer support to the patient and families by counseling on a variety of medical and lifestyle issues.
Play the part of a patient advocate
Coordinate or plan the basic patient care process.
Treatment of patients should be continuous.
Control home health care services
Notify the rightful authorities of births, deaths, infectious illnesses, and other unforeseen circumstances.
JOB TITLE AND POSITIONS OF MEDICAL DOCTORS IN CANADA
Family Physician
General Practice Resident
General Practitioner (GP)
Medical Doctor
AVERAGE MEDICAL DOCTOR SALARY IN CANADA
| | |
| --- | --- |
| Doctor Jobs in Canada | Doctor Fees in Canada per year |
| Alberta | N/A |
| British Columbia | 306,582 |
| Manitoba | 472,549 |
| New Brunswick | 356,739 |
| Newfoundland and Labrador | 359,467 |
| Northwest Territories | N/A |
| Nova Scotia | 362,764 |
| Nunavut | N/A |
| Ontario | 479,212 |
| Prince Edward Island | 369,558 |
| Quebec | N/A |
| Saskatchewan | N/A |
| Yukon Territory | N/A |
ELIGIBILITY CRITERIA AND REQUIREMENTS FOR GETTING DOCTOR JOBS IN CANADA FOR MBBS DOCTORS
Find out the typical requirements for working as a doctor in Canada. All family physicians and medical doctors are subject to the eligibility criteria in NOC 31102
A bachelor's degree in Quebec
One year of pre-medicine university studies
Graduation from an approved medical school
Two to three years of family medicine residency training
Qualifying examinations of the Medical Council of Canada
License by the provincial or territorial licensing authority
PROFESSIONAL CERTIFICATE OR LICENSE TO START PRACTICE IN CANADA
Before beginning practice in Canada, you might need to obtain a license from a regulatory body.
Location
Regulatory Body
Alberta
College of Physicians & Surgeons of Alberta 2700 – 10020 100 Street NW Edmonton, AB T5J 0N3 Canada
College of Physicians & Surgeons of Alberta 2700 – 10020 100 Street NW Edmonton, AB T5J 0N3 Canada
Manitoba
College of Physicians and Surgeons of Manitoba
New Brunswick
College of Physicians and Surgeons of New Brunswick
Newfoundland and Labrador
College of Physicians and Surgeons of Newfoundland & Labrador
Northwest Territories
Registrar, Professional Licensing, Department of Health and Social Services
Nova Scotia
College of Physicians and Surgeons of Nova Scotia Suite 400 – 175 Western Parkway Bedford, Nova Scotia B4B 0V1
Ontario
College of Physicians and Surgeons of Ontario
Prince Edward Island
College of Physicians and Surgeons of Prince Edward Island
Quebec
Collège des médecins du Québec
Saskatchewan
College of Physicians and Surgeons of Saskatchewan
Yukon
Yukon Medical Council, Government of Yukon
HOW TO GET DOCTOR JOB IN CANADA?
Getting an LMCC or Licentiate of the Medical Council is a crucial requirement for native as well as foreign doctors who are searching for doctor jobs in canada.
Note – LMCC is not a license, it is a requirement to apply for a license.
Step 1 Obtain an ECA Report from the Medical Council of Canada
Visit the official website of the Foundation for Advancement of International Medical Education and Research (FAIMER) to access the International Medical Education Directory (IMED).
For your medical degree to be recognized in Canada, it must be posted on the FAIMER International Medical Education Directory along with the name of your medical school and the year you graduated.
If you are looking for a doctor of pharmacy job in canada, you must get your certificates evaluated by the PEBC.
Step 2 Start preparing for Medical Examination
IMGs can use the Medical Council of Canada Examination to check their eligibility. IMGs who take the SAE-EE will be provided with a percentile chart that evaluates their performance to the outcomes attained by other MCCEE candidates as well as the number of questions successfully answered.
Step 3 Submit your Portfolio to the authorities
Before coming to Canada, IMGs can create a secure professional online portfolio of their qualifications via the MCC's Physician Qualifications Repository.
IMGs have the option to request that provincial or regional medical regulatory agencies, certifying and qualifying organizations see their portfolio in the Repository.
Step 4 Visit for MCCEE Test Center
To apply for doctor jobs in canada, candidates must pass the MCCEE. Over 500 locations in 70+ countries offer the MCCEE.
Aspirants can submit an application to the Medical Council of Canada for a break from the MCCEE if they have received board specialist certification from either the Canadian or American boards.
SKILLS REQUIRED TO FIND JOBS FOR INDIAN DOCTORS IN CANADA
Treating People/Animals
Counselling and Nurturing
Interviewing
Advising and Consulting
Teaching and Training
Liaising and Networking
Processing Information
Analyzing Information
Examining and Diagnosing
Projecting Outcomes
Supervising
Public Safety and Security
Therapy and Counselling
Medicine
Biology
Chemistry
Client Service
Business Administration
JOB OPPORTUNITIES FOR INDIAN DOCTORS IN CANADA
Over the years 2022 to 2031, medical doctors and family physicians are projected to have a total of 48,900 new job openings due to expansion demand and replacement demand and 29,400 new job seekers are anticipated to be available to fill these positions due to school dropouts, immigration, and mobility.
Look more closely at the predicted labor demand and supply for this profile from 2022 to 2031. For more information on future jobs for Indian doctors in Canada, refer to this table.
| | |
| --- | --- |
| Location in Canada | Scope for Immigrant Lawyers |
| Yukon Territory | Very Good |
| Saskatchewan | Very Good |
| Quebec | Very Good |
| Prince Edward Island | Very Good |
| Ontario | Very Good |
| Nova Scotia | Very Good |
| Newfoundland and Labrador | Very Good |
| New Brunswick | Very Good |
| Manitoba | Very Good |
| British Columbia | Very Good |
| Alberta | Good |
THINGS TO CONSIDER WHILE APPLYING FOR A MEDICAL LICENSE TO PRACTICE IN CANADA
Getting a license for practicing in Canada is not certain.
Obtaining a license involves several steps and may appear difficult to those unfamiliar with the Canadian system.
The registration procedures vary throughout the provinces and regions.
Provinces and territories have separate registration procedures for providing licenses to practice in Canada
The pursuit of your license requires both a financial and personal commitment from you.
WHY ALWAYS CONSIDER BASICS OF IMMIGRATION?
Expert Visa counselors provide Step-by-step guidance through a secure, online process.
Apt evaluation of credentials and faster visa processing.
Identifying all potential hazards and roadblocks in securing a visa.
Assistance with documentation, immigration rules, citizenship, and border control procedures.
Multiple case assessment for better conflict resolution.
Designated process managers to provide personalized guidance.
Just like the basics of anything act as "building blocks" forming a strong foundation for constructing complex structures. The Basics of Immigration serve as the foundational elements of moving abroad, for any aspiring immigrant.