CIVIL ENGINEERING JOBS IN CANADA FOR INDIANS IN 2023
Looking for civil engineering jobs in Canada? Look no further.
If you are a civil engineer looking for placements in Canada, you'd be excited to know that major cities have vacancies for civil engineering jobs in Canada.
With a growing economy and a shortage of workers, Canada offers many opportunities for civil engineers to build their careers.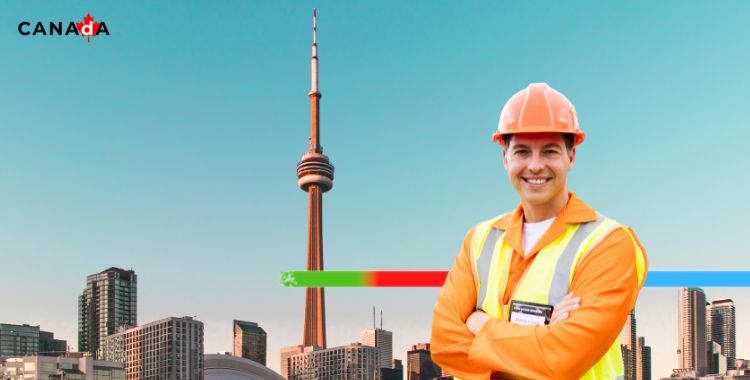 If you are an Indian civil engineer hoping to settle in Canada, here are a few things to keep in mind before beginning your Canadian immigration journey:
SCOPE CIVIL ENGINEERING JOBS IN CANADA FOR INDIANS
A question that often lingers around in job seekers' minds is "Will I be able to find a job?". The simple answer is yes, you will!
11 districts currently have civil engineering jobs in canada waiting to be filled, and with a proper skillset and valid education, you can be eligible to fill the position of civil engineer in any one of these top provinces:
Alberta
British Columbia
Manitoba
New Brunswick
Newfoundland and Labrador
Nova Scotia
Ontario
Prince Edward Island
Quebec
Saskatchewan
It is estimated that there will be 23,000 new civil engineering jobs in canada, in the following years.
The average civil engineer salary in Canada ranges between $59,000 and $92,400 per year.
CIVIL ENGINEERING JOBS IN CANADA TITLES AND TRENDS
Civil engineering jobs in Canada are usually advertised in their newspapers and/or online. The NOC code for civil engineering jobs in Canada is 2131.
Civil engineers can practice individually or in a public or private firm.
The following titles are available under civil engineering jobs in Canada:
| | | | |
| --- | --- | --- | --- |
| AIRPORT ENGINEER | APPRAISAL ENGINEER | ARCHITECTURAL ENGINEER | ASPHALT ENGINEER |
| Building envelope engineer | BRIDGE ENGINEER | CARTOGRAPHIC ENGINEER | Chief Civil Engineer |
| CIVIL ENVIRONMENTAL ENGINEER | CIVIL INSPECTION ENGINEER | CIVIL PIPELINE ENGINEER | COASTAL ENGINEER |
| CONCRETE ENGINEER | CONSTRUCTION ENGINEER | PROJECT ENGINEER | COUNTY ENGINEER |
| DAMS ENGINEER | DISTRICT ENGINEER | DRAINAGE DESIGN ENGINEER | ERECTING ENGINEER |
| FOUNDATION ENGINEER | GEODETIC ENGINEER | GEOMATIC ENGINEER | HIGHWAY ENGINEER |
| HYDRAULICS ENGINEER | HYDROGRAPHIC ENGINEER | HYDROLOGICAL ENGINEER | IRRIGATION ENGINEER |
| MAPPING ENGINEER | Material Testing Engineer | MUNICIPAL ENGINEER | STRUCTURAL ENGINEER |
| Water Management Engineer | TRANSPORTATION ENGINEER | Public Works Engineer | TRAFFIC ENGINEER |
PATHWAYS TO PR IN CANADA AS A CIVIL ENGINEER
The PR process might be confusing for a lot of people,
Register with us for a free consultation session, and our team will help you decide the best pathway for you.
Mentioned below are the steps one can follow while looking for civil engineering jobs in Canada:
STEP 1
TAKE THE TEST
The quickest and easiest way to determine whether you are eligible to apply is to take
our free visa assessment test.
There are countless ways to migrate to Canada, but once you take our test, we will be able to determine the best pathway for you, and your dream will become our passion.
STEP 2
APPLY FOR ECA.
Those migrating from outside Canada have to get their education degrees and diplomas accredited. This is done to ensure that the degree you have pursued outside Canada holds the same value as a Canadian degree.
An education credential assessment confirms whether your degree, diploma, or certificate is both valid and equal according to Canadian standards and holds equal value there.
A good ECA score will help you claim permanent residency points for your education and training.
To apply for ECA as a civil engineer, you need to have the following documents:
A bachelor's degree or diploma in civil engineering or an equivalent course is required.
A master's degree in civil engineering or any related engineering field may be required.
Licensure by a provincial or territorial association of professional engineers is required to practice as a professional engineer.
Engineers are eligible for registration following graduation from an accredited educational programme and suitable work experience. After which, they need to appear for a professional practice examination.
STEP 3
BEGIN YOUR VISA PROCESS
There are two main ways to migrate to Canada as a civil engineer and be eligible to apply for civil engineering jobs in canada, and we have listed them below:
Express entry is the top priority and makes the visa application significantly quicker than the other methods. It is recommended the most by our experts.
With the right qualifications, you can be on your way to Canada in just six months!
The first stage in your Canadian express entry visa journey is to calculate your immigration points using our points calculator.
Some of the elements that CRS points are awarded for are:
Age
Qualifications
English ability
French ability
Work experience
Federal skilled worker program
One of the easiest and most convenient methods for Indians to migrate to Canada is through the federal skilled worker programme, which is for people who have at least one year of working experience in a foreign nation. Use our CRS calculator to calculate your PR points.
Federal skilled trades programme
This program is for those who are skilled in at least one of the things as mentioned in canada occupation demand list. If they are skilled in a particular branch of an occupation or an occupation and have significant experience. Then, they are eligible to apply under the Federal skilled trades programme.
Provincial nominee programme
The provincial nominee programme allows skilled and semi-skilled immigrants to live and work in Canada. You need a valid job offer for immigration.
This method is not recommended unless you are absolutely sure that your civil engineering job offer will still stand once you land in Canada.
If your skills are in demand as per the guidelines given by your province, you will get 600 extra Permanent Residency points, which means you are way ahead of the immigration pool and are one step closer to achieving your Canadian dream.
STEP 4
PROFESSIONAL PRACTISE EXAMINATION
To become a licensed civil engineer and hold a civil engineering job in canada, you need to pass a Professional Practise Examination (PPE). Passing this test is crucial to obtaining a license to practice engineering.
This test includes questions about engineering-related laws, ethics, etc.
HOW TO GET CIVIL ENGINEERING JOBs IN CANADA
The Canadian government is very keen on offering jobs to foreign nationals, especially Indians
Civil engineering jobs in canada for Indians are available on the market.
the following are the ways through which Indians can get civil engineering jobs in Canada.
This is a community driven programme that aims to spread the benefits of economic immigration to smaller communities. Those who are immigrating for economic reasons can apply in this program and the benefit is bilateral. One can apply to this pilot programme and acquire civil engineering jobs in canada before applying for a visa.
As civil engineering jobs are in demand in Canada, you need to follow four steps: meet education eligibility requirements, meet community-specific requirements, and after finding several civil engineering jobs in Canada and applying for the same, submit an application for approval.
After qualification, one can apply for permanent residency.
This programme aims to help employers in the Atlantic Provinces of Canada acquire qualified candidates for jobs.
2 out of 4 Atlantic provinces in Canada, namely Nova Scotia and Newfoundland, are in need of civil engineers.
however, You require a job offer before you for permanent residency.
BUILDING A CIVIL ENGINEERING CAREER IN CANADA
Civil engineering courses in Canada are offered by top universities. After finishing your undergraduate degree, you can work as an engineer in training and then work at a formal engineering professional designation. These colleges also offer civil engineering PG courses.
Listed below are some of the best universities that offer civil engineering degrees in Canada.
It also has civil engineering course fees in Canada.
| | |
| --- | --- |
| Mcgill university | 46,612 CAD |
| University of Waterloo | 56,869 CAD |
| University of Toronto | 62,853 CAD |
| University of British Columbia | 53,467 CAD |
| Concordia university | 25131 CAD |
WHY ALWAYS CONSIDER BASICS OF IMMIGRATION?
Expert Visa counselors provide Step-by-step guidance through a secure, online process.
Apt evaluation of credentials and faster visa processing.
Identifying all potential hazards and roadblocks in securing a visa.
Assistance with documentation, immigration rules, citizenship, and border control procedures.
Multiple case assessment for better conflict resolution.
Designated process managers to provide personalized guidance.
Just like the basics of anything act as "building blocks" forming a strong foundation for constructing complex structures. The Basics of Immigration serve as the foundational elements of moving abroad, for any aspiring immigrant.