CANADA WORK VISA
Being one of the world's leading economies, Canada is a perfect destination for individuals seeking to work abroad. In the context of Canadian immigration, we look at 'work' as an activity that directly competes with the activities of the permanent citizens of Canada in the Canadian market, no matter the duration of the work. A Canada work visa therefore, is simply a work visa that allows working professionals to enter Canada, to work and live for a specified period of time. You must note that the qualifications and requirements to become eligible for a work visa vary in every country.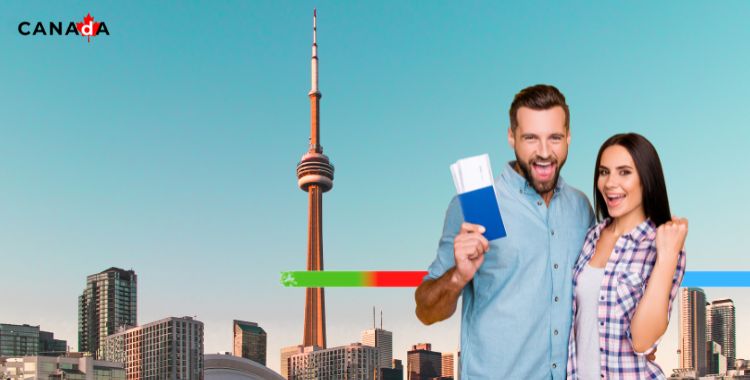 MAJOR BENEFITS OF EMPLOYMENT IN CANADA

ENLISTED BELOW ARE MAJOR BENEFITS THAT ONE COULD GET BY WORKING IN CANADA
Canadian law mandates inclusiveness for all employees, therefore hinting at the open nature of work in Canada.
The Canadian economy is the 8th largest in the world.
Life Insurance and Canada Pension Plan (CPP) comprise of the Mandatory Employment Benefits.
Lower rates of unemployment
Strong banking system and financial networks
Relaxed working policies
25 paid leaves a year
7.5% increase in the average salary
CANADA WORK PERMIT VISA
As noted earlier, most foreign nationals require a Canada work visa to work in Canada. As an Indian, you have to apply before you enter the country. While choosing to work in Canada, there are two major Canda work visas that one must look at. These are-
EMPLOYER SPECIFIC WORK PERMIT
This permit lets you work in Canada subject to specific conditions. These are
Name of the employer you work for
Duration of work
Location of work
THINGS TO CONSIDER BEFORE APPLYING FOR THIS PERMIT
OPEN WORK PERMIT
This permit lets you work for any specific employer in Canada, excluding –
The one that is listed as ineligible on the employer's list, who have failed to comply with the said conditions
This permit can only be obtained in specific situations.
TYPES OF CANADA WORK PERMITS
Seven types of Canada Work Visas are available which allow candidates to work there. These are listed as under-
Temporary Foreign Program – This program allows Canadian employers to hire workers for temporary jobs due to the lack of availability of skilled Canadian workers.
Intra-Company Transfers – This program enables an employee to work in a different physical office, often after resigning from the previous company.
LMIA required- This document is needed mostly by the skilled workers, to secure a temporary job due the absence of a Canadian worker.
LMIA exempt- LMIA is exempt when working full time, and has a work permit for atleast a year.
Business visitors- Business visitors usually come to take part in international business activities without actually being a part of the Canadian labour market.
IEC Canada (International Experience Canada)- Its a government program designed to help individuals between the age group of 18-30, enabling them to improve their language skills in English and French, along with work opportunities and a chance to sustain oneself for a lifetime.
Post-graduation Work Permit – This program enables graduates from Designated Learning Institutions (DLI) to secure work in Canada on a temporary basis.
Open Work Permit- This work permit is not job-specific and so does not require an LMIA.
ELIGIBILITY CRITERIA FOR CANADA WORK VISA
You must prove to an officer that you will leave after the expiry of your allotted work permit.
Show that you have enough finances to sustain yourself and your family (if any) throughout the period of your stay.
Abide by the laws and hold no criminal history (the authorities may ask for a police clearance certificate to prove it)
Are healthy, and go through a medical examination (if needed)
Not be a threat to the country
Not plan to work witth an 'ineligible' employer on the list of employers who failed to abide by the conditions
Not work for an employer who offers striptease, erotic dance, or escort services (on a regular basis).
Provide any other documents (if asked for) to prove you can enter the country.
CANADA WORK VISA REQUIREMENTS
Upon the issuing of a Visitor Visa, you must carry a Letter of Introduction to prove that your application for a work permit has been approved, during your travel to Canada.
A valid passport stuck onto the Visitor Visa
A Labour Market Impact Assessment (LMIA) is required by every immigrant from Employment and Social Development of Canada, indicating that the job offered will not have an adverse impact on the Canadian workers. In case of a positive LMIA from the employer, you may also qualify for a 2 week processing of your application, through the Global Talent Stream of the TFW prrogram.
Before the submission of your work permit application, your employer must provide you a copy of the positive LMIA and job contract.
Proof that the employee has submitted the offer of employment through the Employment Portal, and has paid the Employment Fees.
HOW TO GET A CANADA WORK VISA?

Create a secure account through which you can access immigration services
This account enables you to start an application
Submit the application
Pay the required fees
Get updates related to your application
Keep checking the status of your application and make necessary updates to the information
CANADA WORK VISA COST
Canada Work Permit Visa Fees (inclusive of all extensions) costs somewhere around 94,381 Indian Rupee. 
Biometric fees (if any) cost 5176 INR per person, and 10355 per family applying at the same time and place. This fee is inclusive of collecting fingerprints, digital photos, and moving of documents from the Visa office to Visa Application Center. 
CANADA WORK VISA PROCESS
Check the eligibility criteria through the Canada Immigration Points Calculator. It refers to a point-based system that is used to assess your profile, so as to rank you in the Express Entry pool. 
Get your Educational Credential Assessment (ECA), which validates your foreign degree/diploma and equates it to a Canadian one.
CANADA WORK VISA PROCESSING TIME
The processing time for work permits for Indian immigrants is 44 weeks.
If the permit is not for an essential occupation, the processing time may be even longer.
This processing time however, does not include the time involved in biometrics, and the time taken for the application to move from the Application Center to the Government office.
Canada therefore, is seen as one of the most popular destinations for working professionals across the globe. Considering that the country has a robust immigration program at work, it is only worthwhile to consider working in the country. The country offers a wide range of legislated employee benefits like-
Canada Pension Plan (CPP)
Employment Insurance (EI)
WHY ALWAYS CONSIDER BASICS OF IMMIGRATION?

Expert Visa counselors provide Step-by-step guidance through a secure, online process.
Apt evaluation of credentials and faster visa processing.
Identifying all potential hazards and roadblocks in securing a visa.
Assistance with documentation, immigration rules, citizenship, and border control procedures.
Multiple case assessment for better conflict resolution.
Designated process managers to provide personalized guidance.
Just like the basics of anything act as "building blocks" forming a strong foundation for constructing complex structures. The Basics of Immigration serve as the foundational elements of moving abroad, for any aspiring immigrant.