AUSTRALIAN SUBCLASS 600 (FAMILY SPONSORED VISA)
Australia now accepts fully immunised immigrants and visitors from all over the world under a number of visa categories, including skilled visas, study visas, family-sponsored visas, visitor visas, etc. In the recent migration plan, Australia has set aside 190,000 visa slots for the years 2023–2024. The Skill Stream will accept the vast majority of new immigrants.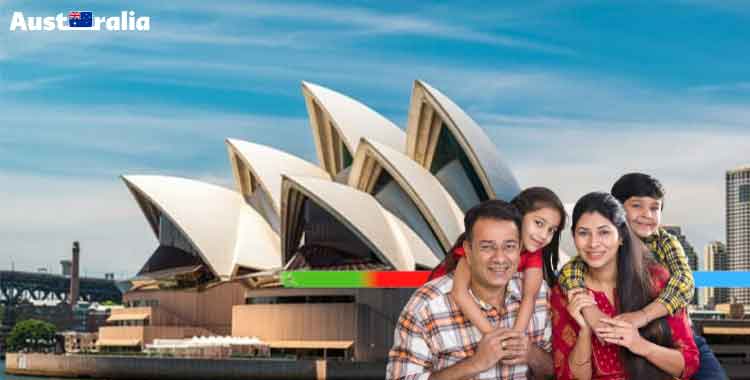 WHAT IS AUSTRALIAN SUBCLASS 600?
The Visitor Visa for Australian Subclass 600 is designed for vacationers who plan to visit Australia for one year or less. It is a fantastic opportunity for those who want to travel around the country and live there for a few months. You can also visit friends or family members who have settled in the country with a Visitor Visa 600. This is a temporary visa that is only valid for the specified time period. If you have another visa that is about to expire, you can definitely apply for this one to extend your stay.
It is applicable to tourists who are sponsored by family members or who wish to visit on their own. The Migration Agent Australia strongly advises you to clarify your path to obtaining the visa as well as the process of reviewing the terms and conditions.
The visa is also valid for those who wish to visit the country for business purposes or for a temporary stay at their own expense.

WHO CAN APPLY FOR THE AUSTRALIAN SUBCLASS 600?
The Visitor Visa 600 is important for those tourists who meet the following requirements:
SPONSORED FAMILY VISA
The visa is only available to families whose trip is sponsored by relatives who live in Australia.
Destination Visa: This is required for anyone traveling to a country sponsored by a travel agency.
TOURIST VISA
The Tourist Visa 600 is for those who want to travel around the country with their family and friends for a set period of time and have the necessary expenses during their stay.
BUSINESS VISA
The 600 Visa allows you to visit Australia for business purposes and to visit business-related locations.
WHAT DOES THIS VISA LET YOU DO?
The Australian Subclass 600 also enables you to expand your business. It also allows you to study any course that can be completed in three months. A person can also meet old friends, travel to new places, and learn about their culture and traditions. The Australian Subclass 600 Visa allows you to visit your loved ones who have settled in a foreign country.
REQUIREMENTS AND ELIGIBILITY FOR AUSTRALIAN SUBCLASS 600
There are certain key focuses imparted by the country that an applicant must achieve in order to obtain the Visitor Visa 600. It is advantageous to meet the requirements of the Australian government in order to keep your visa from being removed or withdrawn. Your application structure should be painstakingly loaded with all useful reports.
Below are a few Australian Subclass 600 Requirements that should be considered when applying for the 600 Visa.
During the application process, the relevant authority must be informed of the financial details.
Personal and physical requirements should be met before applying.
No debt should be registered in the name of the applicant or anyone in the family.
Should provide all necessary documents for the person travelling with them.
Should be able to explain the purpose of the visit.
The applicant must persuade the visa officer that he or she will return to the country before the visa expires.00000
So, by having all of these details on hand, the traveller is less likely to encounter difficulties and obstacles.
DOCUMENT FOR AUSTRALIAN SUBCLASS 600
The following documents must be attached to your Australian tourist visa application:
Your passport.
A copy of your passport's identity page.
The Visitor Visa Subclass 600 Form.
A recent photograph of yourself with a white background in which you are clearly and fully visible.
Evidence that you can support yourself financially while in Australia. You must include bank statements or a letter from your sponsor stating that they will assist you with your finances during your visit.
Proof you have travel health insurance.
Letter from your employer (if applicable). It must state the requested time of leave and when you intend to return.
Letter from your school (if applicable). The letter must prove your enrollment and when you are expected to return.
Invitation letter (if applicable). If you have an Australian family member or friend who can sponsor you, they must write you a letter of invitation. The letter must include your relationship, the length of your stay, whether you will stay with them, and what you plan to do during your visit.
If you have a sponsor in Australia, they must pay a security bond, which will be returned to them after you leave.
If you are travelling to Australia for medical treatment, bring a letter from your doctor and hospital detailing your condition and the type of treatment you will receive.
Proof of living-place in Australia, such as hotel reservations or rental places.
Proof of booked flights ticket and a complete travel itinerary.
You must provide proof that you will leave before the visa expires in order to return home.
ALL REQUIRED PAPERWORK FOR AN AUSTRALIAN VISA NEEDS TO BE CERTIFIED COPIES.
HOW TO APPLY: STEP-BY-STEP
The following steps must be completed in order to apply online for an Australian tourist visa:
Create an ImmiAccount. The ImmiAccount is the Australian Department of Home Affairs' official portal. It is in charge of all visa applications. You must enter your personal information and then confirm your account via email.
Select the Tourist Stream Visa, Subclass 600. After creating an account and logging in, you must choose the type of visa you want to apply for, which in this case, is a tourist visa.
Complete the online application form. Then you will be directed to the online visa application form. You must answer questions about your trip's purpose, duration, name and birthday, marital status, and other personal information.
Attach all the required documents. You must include electronic copies of all required documents, such as your passport, travel insurance, proof of finances, and so on.
Pay the visa application fee. After uploading the documents, you must pay the visa fee with a debit/credit card.
Wait for the visa to be processed. The results of your visa application will be communicated to you by the immigration authorities.
Get the visa. If your application is accepted, you will be given a visa grant number as well as information about the duration of your visa. You can print the visa notice and bring it with you when you travel.
Because it is the most convenient method, most people choose to submit their visa application online.
HOW LONG DOES THE APPLICATION PROCESS TAKE?
The Australian immigration authorities will typically process your Tourist Visa application within a few weeks. However, if all of your documents and requirements are in order, it may only take a few days.
However, there have been instances where an application took months to process. It will be determined by the circumstances of your application, your nationality, and whether or not all of your documents are in order.
AUSTRALIA SUBCLASS 600 APPLICATION FEE
If you apply for an Australian tourist visa from outside of Australia, the fee is AUD 145; if you apply from within Australia, the fee is AUD 370.
HOW LONG CAN I STAY IN AUSTRALIA ON A SUBCLASS 600 VISA?
A tourist visa for Australia is granted on an individual basis for three, six, or twelve months. It could have a single or multiple entries. The validity of your visa is entirely dependent on the Immigration authorities who are handling your application.
WHY ALWAYS CONSIDER BASICS OF IMMIGRATION?

Expert Visa counselors provide Step-by-step guidance through a secure, online process.
Apt evaluation of credentials and faster visa processing.
Identifying all potential hazards and roadblocks in securing a visa.
Assistance with documentation, immigration rules, citizenship, and border control procedures.
Multiple case assessment for better conflict resolution.
Designated process managers to provide personalized guidance.
Just like the basics of anything act as "building blocks" forming a strong foundation for constructing complex structures. The Basics of Immigration serve as the foundational elements of moving abroad, for any aspiring immigrant.