EVERYTHING ABOUT SKILLED MIGRATION VISA AUSTRALIA
For skilled migrants, Australia is an exceedingly desirable destination. Anyone looking to live and work in Australia may submit an application for a skilled migration visa through the SkillSelect program. By combining their credentials, professional experience, and language skills to satisfy Australian immigration standards, skilled worker applicants can obtain a Skilled Migration Visa in Australia. The technology connects firms with potential employees in a manner akin to an online job board.
All other Australian skilled worker visas were phased out in 2012–2013 in favor of the General Skilled Migration Australia (Skillselect) program. To be taken into consideration, applicants must receive at least 65 points from the General Skilled Migration (Skillselect) scoring tables.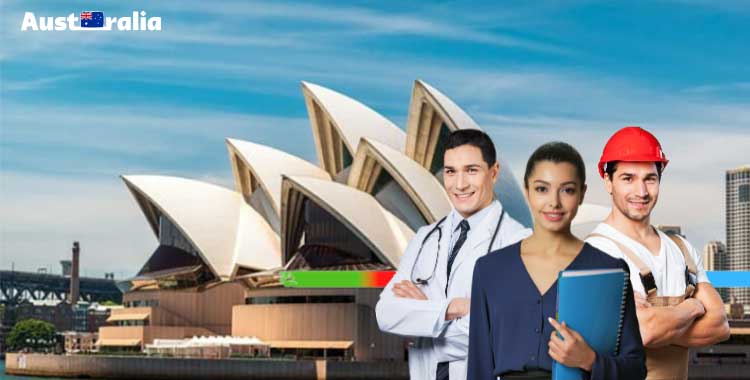 WHAT IS SKILLED MIGRATION AUSTRALIA?
The skilled migration visa Australia is intended to draw immigrants who significantly boost the Australian economy and fill jobs that are unfilled by Australian citizens. Due to their extremely high rates of labor force participation, skilled migration contributes to economic growth, which creates new jobs.
The skilled migration Australia Program contributes significantly to regional development by supplying labor and skills that are not readily available locally and by fostering investment and local business growth in rural areas.​

WHAT ARE THE ADVANTAGES OF THE SKILLED MIGRATION AUSTRALIA PROGRAM?
Live and Work throughout Australia: After receiving the visa, you are free to live and work wherever you choose in Australia, depending on your individual needs and opportunities.
ROUTE TO AUSTRALIAN CITIZENSHIP:
If you have a skilled independent visa, you have the chance to eventually apply for citizenship in Australia. You are able to apply for Australian citizenship after fulfilling specific conditions, including living in Australia for a predetermined amount of time, satisfying citizenship requirements, and completing the citizenship test.
ENROLLMENT IN THE COUNTRY'S FREE HEALTHCARE SYSTEM:
If you have a Skilled Independent Visa, you can enroll in Australia's Medicare public healthcare program. This gives you access to affordable healthcare and basic medical services.
SPONSORSHIP AUTHORITY:
After receiving the Skilled Independent Visa, you can use the relevant visa paths to sponsor some qualified family members for permanent residence in Australia. This enables your family members with appropriate skills to join you and take advantage of living and working in Australia.
TYPES OF SKILLED MIGRATION VISA AUSTRALIA
As previously indicated, all other Australian skilled foreign worker visas were superseded in 2012–2013 by the Skilled Migration Australia program. To be taken into consideration, applicants must obtain at least 65 points from the points tables. For entrance based on employment, the temporary work visa 457 may be worth considering in specific circumstances.
SKILLED INDEPENDENT VISA (SUBCLASS 189)
SUBCLASS 189 visa is useful for people who are unable to secure sponsorship from a company, the government, or even a relative. Your profession must be listed on the Medium and Long Term Strategic Skills List (MLTSSL) in order to be eligible to apply for this visa. To pass the points test, a candidate must also possess a satisfactory skills evaluation.
SKILLED – NOMINATED (SUBCLASS 190) VISA
Those who are sponsored by a state or territory are eligible to apply for this SUBCLASS 190 visa. The MTSSL or the Short-term Skilled Occupations List (STSOL) must have a listing for the person's profession. In Australia, you are free to live and work wherever you like, but you must of course fulfill your obligations to the state that is sponsoring you.
SKILLED – NOMINATED OR SPONSORED PROVISIONAL (SUBCLASS 489) VISA
For those who want to live and work in rural areas of Australia, this visa is appropriate. It is possible for those who have this temporary visa to apply for the Permanent Skilled Regional (Subclass 887) visa.
SKILLED WORK REGIONAL (PROVISIONAL) (SUBCLASS 491) VISA
This visa is appropriate for people who have been authorized by a state or territory or who are sponsored by family members who reside in a specific region of Australia SUBCLASS 491. The related must be qualified. The MTSSL, STSOL, or Regional Occupation List (ROL) are the only places where people can look up their profession. You are restricted in where you can live and must live and work in a specific area if you choose this visa option.
GRADUATE TEMPORARY (SUBCLASS 485) VISA
A short-term visa that enables international students to remain in Australia to live, study, and work after completing their education there. Candidates must have recently graduated from a CRICOS-registered course and have obtained a student visa within six months prior to applying for this visa. It is not possible to switch visa streams after applying.
TEMPORARY SKILL SHORTAGE VISA (SUBCLASS 482)
There are a total of four paths available with this visa, with the short-term and medium-term streams serving as the primary streams. Both visas enable firms to fill any potential labor shortages by bringing in qualified people from abroad. The employer must be unable to locate someone in Australia with the necessary expertise.
HOW TO MIGRATE TO AUSTRALIA AS A SKILLED WORKER?
Australia skilled migration process is quite straightforward. You have a follow the below-mentioned procedure step by step, and you would land in your dream country in no time.
Step 1: Utilize the australia skilled migration points calculator to make sure you are qualified to apply, that you have a minimum point score of 65, and that your profession is on the australia skilled migration occupation list
Step 2: A minimum evaluation score of 65 points is required, along with fulfilling the australia skilled migration requirements.
Step 3: Prior to being offered to submit a visa application, you must submit an Expression of Interest (EOI).
Step 4: Obtain a request to apply. The top scorers in the australia skilled migration points calculator are invited to apply across a variety of professions.
Step 5: Receive the skilled migration visa australia. From the date of the invitation, applicants have 60 days to file a complete visa application along with fees and required documents.

WHAT IS AUSTRALIA SKILLED MIGRATION OCCUPATION LIST?
The Australian Ministry of Home Affairs most recently updated the list of professions. This list has been updated in relation to the skilled immigration program. The Australian government has three categories on its list of talents:
PRIORITY OCCUPATIONS IN THE AUSTRALIA SKILLED MIGRATION OCCUPATION LIST ARE:
Chief Executive or Managing Director (111111)
Construction Project Manager (133111)
Mechanical Engineer (233512)
General Practitioner (253111)
Resident Medical Officer (253112)
Psychiatrist (253411)
Medical Practitioner nec (253999)
Midwife (254111)
Registered Nurse (Aged Care) (254412)
Registered Nurse (Critical Care and Emergency) (254415)
Registered Nurse (Medical) (254418)
Registered Nurse (Mental Health) (254422)
Registered Nurse (Perioperative) (254423)
Registered Nurses nec (254499)
Developer Programmer (261312)
Software Engineer (261313)
Maintenance Planner (312911)
WHAT ARE THE REQUIREMENTS OF SKILLED MIGRATION VISA AUSTRALIA?
To be eligible to apply for the skilled migration Australia program, applicants must fulfill a number of fundamental conditions. While not a complete list of all requirements, the following gives a decent indication of the australia skilled migration requirements that candidates must fulfill:
AGE
Your age at the time of the DHA invitation must be under 45.
ENGLISH PROFICIENCY
To work in Australia, you should be able to speak English well enough. The International English Language Testing System (IELTS) is used to gauge this. Applicants who do not speak English as their first language must take a language exam.
TYPE OF OCCUPATION
When you apply, you choose a profession that matches your qualifications and skill set. Your suggested profession must be on the australia skilled migration occupation list.
SKILLS ASSESSMENT
The Australian monitoring authority assigned to evaluate your chosen occupation must evaluate your skills prior to applying. You must have had a favorable outcome.
HEALTH ASSESSMENT
You must submit to a medical examination and demonstrate that your health is generally excellent. A doctor who has been authorized by the Australian Embassy must perform this.
CHARACTER EVALUATION
You must have good character, which normally entails a criminal background check.
DEBTS
Prior to applying, all debts to the federal government must be settled.
PRIOR VISA
While in Australia, you cannot have had a visa canceled or a prior application denied.
AVERAGE SKILLED MIGRATION VISA AUSTRALIA COST
The new skilled migration australia visa fee, effective beginning of July 1, 2022, is listed below:
| | | | |
| --- | --- | --- | --- |
| Visa subclass | Base application charge | Additional applicant charge 18 and over | Additional applicant charge under 18 |
| Skilled Independent visa (subclass 189) – Points tested stream | AUD4,240 | AUD2,120 | AUD1,060 |
| Skilled Nominated visa (subclass 190) | AUD4,240 | AUD2,120 | AUD1,060 |
| Skilled Work Regional (Provisional) visa Subclass 491 | AUD4,240 | AUD2,120 | AUD1,060 |
AUSTRALIA SKILLED MIGRATION PROCESSING TIME
The data below displays the typical processing times for various types of visas. This is the most precise way to illustrate how long it takes for the majority of visa applications to be processed.
varied visas within these categories have varied processing times, and in certain situations, it may take extra time for those visas to be approved.
| | | |
| --- | --- | --- |
| Visa Program | Visa Category | May 2023 |
| Permanent | Skilled (Permanent)Partner (First Stage) | 8 Months8 Months |
| ​Temporary | Skilled (Temporary)StudentVisitorWorking Holiday Maker | 13 Days16 Days1 ​Day​​​2 ​Days |
CONCLUSION
You can get in contact with the licensed Australia migration professionals at Basics of Immigration, BOI, to confirm the costs associated with the visa and application process in detail for the aforementioned visa types.
WHY ALWAYS CONSIDER BASICS OF IMMIGRATION?

Expert Visa counselors provide Step-by-step guidance through a secure, online process.
Apt evaluation of credentials and faster visa processing.
Identifying all potential hazards and roadblocks in securing a visa.
Assistance with documentation, immigration rules, citizenship, and border control procedures.
Multiple case assessment for better conflict resolution.
Designated process managers to provide personalized guidance.
Just like the basics of anything act as "building blocks" forming a strong foundation for constructing complex structures. The Basics of Immigration serve as the foundational elements of moving abroad, for any aspiring immigrant.