USA STUDY VISA
Home to outstanding institutions such as Harvard, MIT, Yale etc,America is not just the birthplace of cinematic drama but also of amazing ideas.USA has something in store for everyone, whether you're pursuing music or acting or want to suit up as a lawyer, USA will cater to your great american dream.Every year more than 10,00,000 immigrate to the united states of america and about 20% of the same are Indians.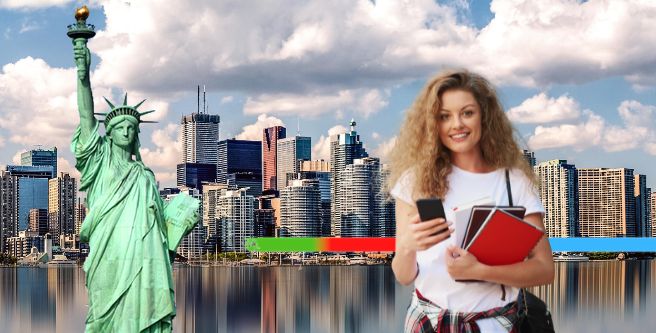 WHY CHOOSE UNITED STATES OF AMERICA FOR STUDIES?

The USA is a superpower that continues to expand its research and development areas of innovation, science and technology.
It is the topmost priority for students when considering studying abroad. USA institutions offer top notch faculty and a comprehensive syllabus to help the students in enhancing their practical and theoretical knowledge.
You can experience the following facilities if you apply for USA study visa
Safe and healthy environment for students
World class education system
Excellent campus life
Work availability for foreign students
Affordable education
WHAT IS F1 VISA
The F1 visa, also known as the F1 USA study visa, allows a foreign nation to live and work in USA if they are a full time student at an accredited college, university, institution etc in USA.
INTAKES OF US EDUCATIONAL INSTITUTES
The US universities and colleges have three intakes –
FALL INTAKE – september to november
SPRING INTAKE – January to may
SUMMER INTAKE – june to august
BENEFITS OF APPLYING TO YOUR PREFERRED INTAKE

Benefits of applying to fall intake
If you are applying for a USA study visa and want to play safe with the intake system, then fall intake is the best for you!
Fall intake is the most preferred mode of US college admission and offers a wide range of courses and slots to apply.
It has more funding from the government, thus a high range of USA scholarships are available.
Fall marks the beginning of the academic session in the USA, thus, the majority of the activities are planned according to it.
BENEFITS OF APPLYING TO SPRING INTAKE
The second preferred intake, spring intake is for those who want to finish their degrees 6 months prior to the fall intake.
Spring intake starts from January, thus your academic calendar is evenly divided
However, not every university offers spring intake.
Mentioned below are some top universities that offer spring intake
| | |
| --- | --- |
| UNIVERSITY NAME | SPRING INTAKE DEADLINES 2023 |
| University of new havens | November 15, 2023 |
| University of california | December 1, 2023 |
| University of north texas | November 15, 2023 |
| New jersey institute of technology | November 1, 2023 |
| University of colorado | September/october 2023 |
LIST OF IVY LEAGUES OFFERING SPRING INTAKE UNDER USA STUDY VISA
Brown university
Columbia university
Cornell university
Dartmouth university
Stanford university
Harvard university
Yale university
BENEFITS OF SUMMER INTAKE
This is the least preferred intake as very few universities allow this.
It may be ideal for you if you wish to pursue a cultural cause as mostly cultural courses are offered here.
ELIGIBILITY FOR F1 USA STUDY VISA
To apply for USA study VISA, you must meet the requirements for F1 USA study visa
You must be enrolled full time in an institution
You must take a language proficiency test (TOEFL, IELTS)
You must have sufficient financial funds to support your education and lifestyle in usa
You must be a foreign national living outside USA when applying for F1 visa
You must show an intention of returning to your home country once your education is over in USA
HOW TO APPLY FOR F1 USA STUDY VISA
Follow these steps to apply for USA study visa
Apply for a course of study in a SEVP approved institute
Once you receive your acceptance letter, you need the following F1 visa documents
Collect your school DS-2019 or I-20
Pay SEVIS 1-901 fee
Fill out DS-160 form
Take an appointment with the embassy for US study visa interview
Pay visa application fee
Once you're accepted for USA Study visa – pay the study visa insurance fee
WHAT ARE THE USA F1 VISA APPLICATION FEES
The application process varies for every school, with many hidden fees being there.
Book a consultation with us to decipher the original cost ofF1 visa or USA study visa application fees.
The fees for just the USA study visa application is $200
F1 VISA PROCESSING TIME
It takes about 4-6 weeks for your USA study visa or F1 visa application to be processed.
However, it takes weeks or months for acceptance letters from universities to be sent.
Thus, you should prepare well in advance to prevent last minute hustle.
HOW LONG IS F1 USA STUDY VISA VALID?
The F1 visa or USA study visa is valid for upto five years.
Applicants can stay in the USA only for 60 days after completing their graduate studies.
You can renew your F1 visa if your Visa expires before the completion of your study.
In that case, you have to fill the F1 visa application again stating the reason for your extension.
TOP COLLEGES IN USA
When applying for a USA study visa,check the global ranking of your university.
The following are some of the best US universities with their average fee structure.
| | |
| --- | --- |
| UNIVERSITY | ANNUAL TUITION FEES/YEAR |
| Massachusetts Institute of Technology | $50,000 – $55,000 |
| Stanford university | $25,000 – $55,000 |
| Harvard University | $25,000 – $51,000 |
| California Institute of Technology (Caltech) | $44,000 – $57,000 |
| University of Chicago | $55,000 – $59,000 |
| University of Pennsylvania | $60,000 – $62,000 |
| Yale University | $58,000 – $60,000 |
| Columbia University | $58,000 – $78,000 |
| Princeton University | $56,000 – $58,000 |
| Cornell university | $56,000 – $60,000 |
AVERAGE FEES FOR COURSES IN USA
| | |
| --- | --- |
| STUDY PROGRAM | AVERAGE FEES IN USD |
| Undergraduate program | $15000-$40,000 yearly |
| Postgraduate master's program | $20,000-$40,000 yearly |
| Doctorate degree | $20,000-$40,000 yearly |
COST OF LIVING IN UNITED STATES FOR INDIAN STUDENTS
The average cost of living in united states for indian students in mentioned in the table below
| | | |
| --- | --- | --- |
| EXPENSES | AVERAGE MONTHLY COST IN USD | AVERAGE ANNUAL COST IN USD |
| AccommodationAccommodation on campusAccommodation off campus | $700 to $3500$800 to $950 $3500 | $8200 to $42000$9800 to $11,000$35,000 to $42,000 |
| Food | $400-$700 | $4500-$9000 |
| Transportation (public) | $75-$120 | $800-$1500 |
| Bills and utilities | $120-$300 | $1320-$3500 |
| Health insurance | $400-$600 | $5000-$8000 |
| Average cost of living | $3100-$3500 | $38,266-$42,000 |
REASONS FOR REJECTION OF F1 VISA
Insufficient financial funds
Incomplete documents
Inability to meet language requirements
Failed to explain why you selected a particular course, university or country
Misbehavior during VISA interview
WHY ALWAYS CONSIDER BASICS OF IMMIGRATION?

Expert Visa counselors provide Step-by-step guidance through a secure, online process.
Apt evaluation of credentials and faster visa processing.
Identifying all potential hazards and roadblocks in securing a visa.
Assistance with documentation, immigration rules, citizenship, and border control procedures.
Multiple case assessment for better conflict resolution.
Designated process managers to provide personalized guidance.
Just like the basics of anything act as "building blocks" forming a strong foundation for constructing complex structures. The Basics of Immigration serve as the foundational elements of moving abroad, for any aspiring immigrant.