SINGAPORE STUDY VISA (STUDENT PASS): EVERYTHING YOU NEED TO KNOW
Singapore is the ideal study location if you're looking for economical study abroad destinations without sacrificing life quality, living standards, or employment chances. Singapore is the epitome of the phrase "good things come in small packages" because the city-state offers a vast array of educational opportunities along with industry experience.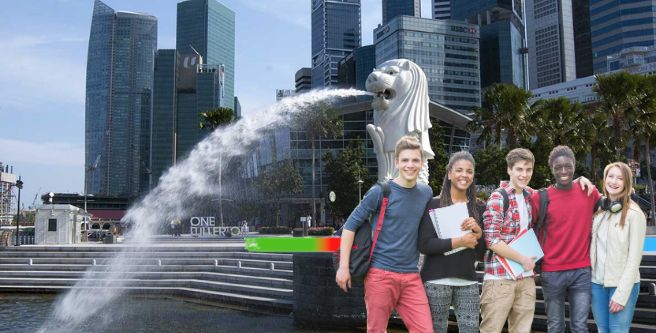 WHAT IS SINGAPORE STUDY VISA OR STUDENT PASS?
Universities or colleges are referred to as IHLs (Institutes of Higher Learning) in Singapore, and Singapore study visas are referred to as Student Passes. For this permit, which will be sent to the SOLAR network, the nation's official registration system, international students must apply. For those under the age of 19, the ICA (Singapore Immigration and Checkpoints Authority) handles applications for admission to private educational schools directly. Students over the age of 20 who want to enroll in commercial, vocational, fine arts, or language courses might need to first go through an interview process.
WHY CHOOSE SINGAPORE UNIVERSITY?

Renowned universities like Nanyang Technological University (NTU) and National University of Singapore (NUS), and other leading colleges in Singapore offer a wide range of highly regarded programs in practically every subject of study, making them a popular choice among international students worldwide.
Singapore is a popular destination for students from all over the world because of its high-quality educational facilities, reasonable tuition, and low cost of living. The Economic Intelligence Unit also classified Singapore as the second-safest city in the world, right after Tokyo.
LOCAL UNIVERSITIES IN SINGAPORE
National University of Singapore
Nanyang Technological University
Singapore Management University
Singapore Institute of Technology
Singapore University of Social Sciences
Singapore University of Technology and Design
LOCAL POLYTECHNICS IN SINGAPORE
Nanyang Polytechnic
Ngee Ann Polytechnic
Republic Polytechnic
Singapore Polytechnic
Temasek Polytechnic
OFFSHORE INSTITUTES WITH LOCAL CAMPUSES
École Supérieure des Sciences Economiques et Commerciales
INSEAD (Singapore)
SP Jain School of Global Management
DigiPen Institute of Technology
German Institute of Science and Technology – TUM Asia
Sorbonne-Assas International Law School
SINGAPORE STUDY VISA TYPES FOR FOREIGN STUDENTS
International students must obtain a student visa in accordance with the Immigration Regulations in order to pursue their studies in Singapore. According to the type of institution, the ICA (Immigration and Checkpoints Authority) has separated the requirements into six categories to make the Singapore study visa application procedure, also known as the Student Pass.
| | |
| --- | --- |
| Singapore Visa Type | Required by Candidates |
| Training Employment Pass | Foreign professionals for undergoing practical training. They must earn at least S$3,000/ month. |
| Work Holiday Pass (under Work Holiday Program) | Students and graduates of the age 18 to 25 who would want to work and holiday both at the same time for 6 months. |
| Work Holiday Pass (under Work and Holiday Visa Program) | Australian students and graduates of age 18 to 30 who would want to work and holiday both at the same time in Singapore for 1 year. |
| Training Work Permit | Semi-skilled foreign trainees or students who are undergoing practical training in Singapore for up to 6 months. |
A total of 34 Singapore universities sought after by foreign students, particularly Indian students, are included in the Institutes of Higher Learning. Candidates for a Singapore study visa must be accepted into a full-time program before applying. Once you've received confirmation, you have up to two months before your trip to start the student visa application procedure. I
HOW TO APPLY FOR A SINGAPORE STUDY VISA FOR INDIAN STUDENTS?
International students must submit their Student Pass form at least one month (but no later than two months) before the start of their selected program in order to be considered for a student visa to Singapore. Applications must be submitted through the e-Service and must adhere to the following rules:
Step 1
Read the directions after clicking the "Foreign Students" icon. Post that login by providing the information:
Application ID for SOLAR
Name
Date of Birth
Gender
Nationality
Step 2
Click "eForm 16" to submit it, then fill out the form with the necessary information, like
Passport expiration date and number
Complete address including (optional) postal code
List the nations you have visited and spent more than a year
Before the applicant: Give your responses as a yes or no. Justifications for Yes answers
Have you ever had your visa denied or been expelled from a nation, including Singapore?
Have you ever been found guilty in a legal proceeding, including one in Singapore?
Have you ever had your entry to Singapore denied?
Do you have any experience traveling to Singapore with a different Passport of Name?
Step 3
Select "Next" after checking the "I have read and agree to the declaration" box.
Step 4
Upload the picture, following the rules provided
Must be consumed within three months.
The face must have distinct, recognizable features.
The resolution of the file must be 400×514 pixels.
Should be in JPEG format, with a 60 KB maximum size.
Step 5
Make a payment of the application fees
Step 6
Wait for your visa approval
SINGAPORE STUDY VISA TOTAL COST
Two types of Singapore study visa costs must be paid by an Indian student in order to obtain a Singapore study visa:
Visa Processing Fee (SGD 30):
You must pay this advance fee when filing your application to the Singapore ICA. It is not refundable. You must use your online banking account or a debit/credit card to pay the processing fee if you decide to use the SOLAR system to submit your student pass application.
Visa Issuance Fee (SGD 60):
A multiple-entry fee of SGD 30 must be paid if you want to leave and return to Singapore while enrolled in an academic program. The issuance and multi-entry fees must be paid when picking up your student pass.
SINGAPORE STUDY VISA REQUIREMENTS FOR INDIAN STUDENTS
A student Pass is a requirement to study in Singapore. The list of required documents is provided below.
Passport page with your biodata
Offer letter from the Singapore-based Institute of Higher Learning (IHL)
You must have gotten a notification from IHL explaining how to apply for a student pass online.
Four colors passport-sized photos.
Contact information and residential address for Singapore.
Personal information including an email address, a list of prior residences, academic records, employment records, and financial support
Parents' personal information, if applicable
Application Form along with SOP
Singapore study visa fees receipt
SINGAPORE STUDY VISA PROCESSING TIME
The processing time for a Singapore study visa is typically between 2 and 4 weeks. However, if the immigration service needs more information or documentation from you, certain applications could take longer. You will be notified of these circumstances via the SOLAR system.
CONCLUSION
You can access the e-Service if you are a student who is presently enrolled in Singapore by using your Foreign Identification Number (FIN) and the issue date of your current immigration pass.
You can contact Basics of Immigration, BOI if you need professional assistance regarding Singapore Study Visa or other immigration-related queries. Our counselors with proven experience can resolve all your doubts within a blink of an eye.
WHY ALWAYS CONSIDER BASICS OF IMMIGRATION?

Expert Visa counselors provide Step-by-step guidance through a secure, online process.
Apt evaluation of credentials and faster visa processing.
Identifying all potential hazards and roadblocks in securing a visa.
Assistance with documentation, immigration rules, citizenship, and border control procedures.
Multiple case assessment for better conflict resolution.
Designated process managers to provide personalized guidance.
Just like the basics of anything act as "building blocks" forming a strong foundation for constructing complex structures. The Basics of Immigration serve as the foundational elements of moving abroad, for any aspiring immigrant.