HOW TO GET GERMANY STUDY VISA FROM INDIA?
German institutions are drawing students from all around the world because of their high quality. Germany, however, has its own rules when it comes to choosing who is allowed to enter the country, just like any other country. In addition, a German study visa may be required depending on your country of origin in order for you to enter Germany and continue your education.
Each year, more and more foreigners are choosing Germany as their study-abroad destination. Before coming to Germany to study, most international students would need to obtain a Germany student visa from a German consulate in their nation.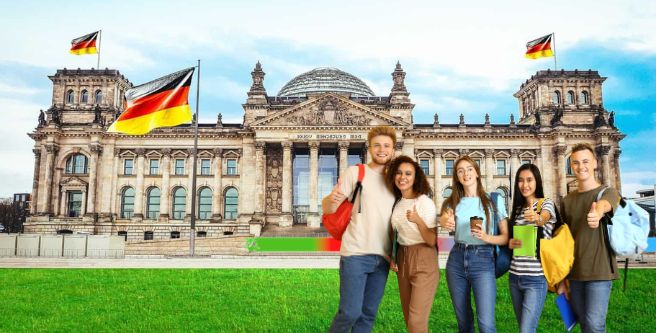 When it comes to research infrastructure, educational methods, affordable study options, and career prospects, Germany is the place to be. That is why a lot of foreigners still think that Germany is the finest country to pursue their higher education.
NEED FOR GERMANY STUDY VISA FOR INDIAN STUDENTS
Depending on your home country, you may not need a visa to study in Germany. However, after you are in Germany, you will still need to apply for a residence permit if your study course lasts more than 90 days.
On the other hand, not every foreigner has the opportunity to immediately pursue their goal. This is because some nationalities are NOT permitted to enter and remain on German soil without a valid German visa.
You require a Schengen visa to study in Germany for up to three months.
You need a German national visa for studies that last longer than three months.
If you enter Germany on a national visa, you must apply for a German residence permit for studies at the Foreigner's Office in order to extend your stay. While your entry visa is still valid, you should do this.
Finding out if you need a visa to study in Germany as a foreign student is the first thing you need to do. If you do, you next need to determine what kind of visa you need to apply for based on the length and type of your intended studies.
DIFFERENT TYPES OF GERMAN STUDY VISAS TO CHOOSE FROM
A Germany study visa may be granted to you for a variety of study levels and degrees. Undergraduate, graduate, postgraduate, and exchange studies all fall under this category. This also includes taking part in a preparatory course or a non-academic German language program.
YOU CAN APPLY FOR ONE OF THREE DIFFERENT TYPES OF GERMANY STUDENT VISAS:
GERMAN STUDENT VISA: 
This is the typical student visa for foreigners who have been accepted to one of Germany's recognized universities and are prepared to begin their studies in a university program there.
GERMAN STUDENT APPLICANT VISA: 
If you need to be in Germany to submit a personal application for admission to a university, you need this visa. You cannot study in Germany with this visa; it is just good for the college application process.
GERMAN LANGUAGE COURSE VISA: 
This kind of visa is required to enroll in a German language course in Germany.
GERMANY STUDY VISA REQUIREMENTS FOR INDIAN STUDENTS
The following German requirements for a study visa must be met in order to obtain a student visa for Germany:
Two completed and signed the national visa applications.
Your current passport.
Passport copies in two different colors.
Certificate of birth.
(If married) A marriage license.
Certificate for a child (if you have kids).
Two most recent biometric portrait images.
Documents of prior residency permits issued in Germany. (If you have previously visited Germany).
A previous Schengen visa.
Previous Permit to Reside
Evidence of financial capability. You must satisfy the financial conditions in order to be issued a student visa for Germany. Your situation should allow you to have one of the following:
Blocked Bank Account. Through Expatrio, which is recognized by German Embassies and Consulates worldwide, you can open a blocked bank account online.
Commitment letter. You can obtain this from a German resident who confirms they will be providing coverage.
A declaration letter. Your parents are demonstrating that they will assist you financially while you are visiting by doing this.
Scholarship award letter. If you have been given a scholarship, the certificate should state what it will cover and that you are the recipient of it.
Proof of Admission to German University.
Letter of acceptance from a university.
Admission letter for foundations, therapeutic, or German language courses.
original transcripts of prior coursework.
CV (curriculum vitae)
Encouragement Letter. Describe your reasons for selecting this degree program as well as your future goals.
Health Insurance for Travel. (encompassing the roughly three-month span from your departure to the day you enrolled at the German university).
German Student Insurance will begin offering free travel health coverage for up to 31 days to students under the age of 29 on March 5, 2020.
Take EDUCARE24 by DR-WALTER if you are a student over 30, a language student, an intern, or a doctoral student. EDUCARE24 is a high-quality, cost-effective health insurance option that is accepted by all German Embassies and Consulates.
Your receipt for the visa application fee.
German language proficiency evidence. (For programs in German or many languages).
Germany study visa band requirement.- IELTS test results officially reported. immediately from the British Council or sent to you. IELTS Academic requires a group score of 6.5 or above.
HOW TO APPLY STUDY VISA FOR GERMANY FROM INDIA?
Many overseas students find the procedure of applying for a student visa in Germany to be complex. Although the processes vary from nation to nation, the key stages you must follow are generally outlined here.
The procedures for Germany Study Visa for Indians are as follows:
Step 1
Find The Nearest German Consulate or Embassy.
To learn more about the requirements and schedule a visa appointment, you can use Google to look up an embassy or a consulate in your country (or a nearby country) that is close by. Each and every official German diplomatic mission abroad has a website that includes their physical address and contact details.
Step 2
Review the guidelines and requirements.
Once you've located the German embassy website, you visit the sections on student visas to evaluate all the particular conditions for your nation and the steps to schedule a visa appointment. Before scheduling a visa appointment, make sure you thoroughly read through all the material supplied (particularly the documents you need to have).
Step 3
Set Up A Visa Consultation
When you're prepared, you should schedule a visa appointment by following the instructions provided on the German embassy's official website in your nation. You ought to submit an application for your visa appointment a few weeks in advance in some countries because the embassy may be swamped with applications and it may take longer for your visa to reach you. Timing is crucial; sometimes, all available seats for student visa interviews are occupied, so be sure to move quickly.
Step 4
Prepare the necessary documentation for your visa application.
Recheck all of your paperwork to make sure they are all in order after the date of your visa appointment has been confirmed. You don't have to pay any outside consultants or companies to submit your application for you; you may do it yourself.
Step 5
Getting Ready for the Visa Interview
At the time of your visa interview, you should have the payment confirmation and the visa application fee (between $60.00 and $75.00) with you. If your visa application is denied, this money is not refundable. You must ascertain the currency exchange rate in your nation and pay the precise sum. You should get ready for your interview in advance. You will learn in a formal manner if your application for a visa has been accepted or rejected after the interview.
BEST TIME TO APPLY FOR GERMANY STUDY VISA
At the time of your visa interview, you must pay the visa application fee (which ranges from €60.00 to €75.00) and bring the payment confirmation with you. If your application for a visa is denied, this cost is not refundable. The currency exchange rate for your nation's currency must be confirmed, and you must pay the exact amount. For your interview, you should get ready in advance. Following the interview, you will learn in a formal manner whether your application for a visa has been granted or denied.
GERMANY STUDY VISA PROCESSING TIME
A long-stay student visa for Germany may require processing for 6–12 weeks after the application deadline. While Germany's diplomatic posts abroad often make decisions about short-term study visas within 15 to 30 days.
GERMANY STUDY VISA COST
THE APPLICATION PRICE FOR A GERMAN STUDENT VISA IS EUR 75.
The cost of study visas for Germany for foreign students must be paid by bank transfer. Credit cards and checks are not accepted. The money order must not be more than two months old and be in the name of the embassy or consulate in your country of residence.
Please be informed that if your application for a student visa is denied, you will not be reimbursed for the Germany study visa fees.
CONCLUSION
Contact our overseas educational experts for guidance on how to handle the entire visa application process if you have any additional questions about the visa process. You can always give Basics of Immigration, BOI, a call for a free counseling session.
WHY ALWAYS CONSIDER BASICS OF IMMIGRATION?

Expert Visa counselors provide Step-by-step guidance through a secure, online process.
Apt evaluation of credentials and faster visa processing.
Identifying all potential hazards and roadblocks in securing a visa.
Assistance with documentation, immigration rules, citizenship, and border control procedures.
Multiple case assessment for better conflict resolution.
Designated process managers to provide personalized guidance.
Just like the basics of anything act as "building blocks" forming a strong foundation for constructing complex structures. The Basics of Immigration serve as the foundational elements of moving abroad, for any aspiring immigrant.