WINSTON COLLEGE
Situated within the historic city of New Westminster, in the heart of Metro Vancouver, Winston College stands tall as one of the most well-known and dynamic post-secondary institutions in British Columbia. The college welcomes international students from across the globe and offers a wide array of useful career training programs and practical courses. Ever since its establishment, the college has been providing career-related programs to international, local, and newly immigrated students with immediate job opportunities. All its programs are designed to meet the demands of the current job market and the rapidly changing global economy.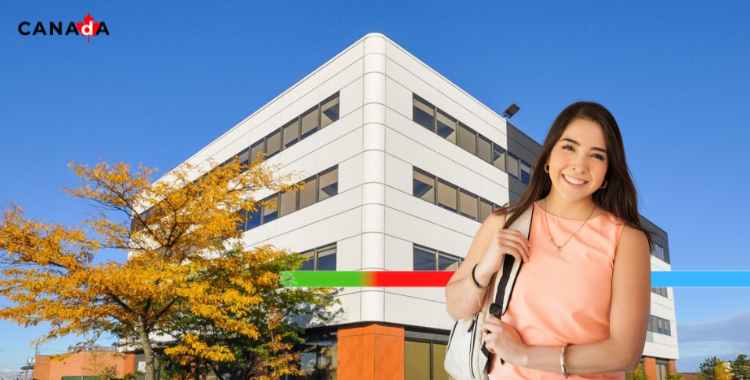 MISSION AND GOALS
Winston College is on a mission to serve its students by helping them develop career skills and real-world industry experience, so that they become assets to the global workspace.
The college aims to offer the best quality education based on the demands of the market and industry, and guide its students along the path of greater success. The greater vision of the college is to contribute to the society and people in need through its quality career education.
WHY CHOOSE WINSTON COLLEGE?
Winston College offers a solid core of academic programs that provide the students with practical experience and training in their chosen field of study. Every instructor here is trained in industry experience which ensures better guidance and professional training.

There are several good reasons as to why a student should consider studying at Winston College, some which are mentioned below-
Winston College has received PTIB accreditation. The college has also received an EQA designation and features on the list of DLI of CIC.
The institution offers a wide array of programs and courses for students to opt from, ranging from Diploma of Business Administration and Co-op, and Diploma of Hospitality Management, to Diploma of Sports Management, and Certificate of Bookkeeping and Payroll.
The college offers a monthly intake system to students which allows them to start at any time of the year.
The institute's programs have received approval from Human Resources and Skill Development in Canada (HRSDC). These programs also qualify for Student Loans through Student Aid BC.
The faculty comprises people trained in the industry, which ensures the students receive the right coaching and choose the right path.
PROGRAMS AND COURSES
As has been consistently mentioned earlier, Winston College offers several programs and courses to students that are designed to help them enhance their skills, and gain hands-on experience in their respective field of study. Each of these courses are taught by instructors who are trained in industry knowledge, making the educational experience all the more worthwhile.
Listed below are the major programs offered by the institute to both its domestic and international students-
Business Administration and Co-op
Hospitality Management
Hospitality Management and Co-op
Sports Management
ESL-LEAP
Diploma of Accounting
Bookkeeping and Payroll
ELIGIBILITY REQUIREMENTS
The eligibility requirements are somewhat similar for both the domestic as well as international students seeking admission to the college. However, international students need to apply for a Visa or a study permit to be able to live in Canada during the course of their study.
Given below are the general prerequisites to check one's eligibility for a desired program-
Applicants must submit a proof of completed High School or Graduation
Applicant should be minimum 19 years of age or above at the time of applying
Applicants must prove their English Language Proficiency through standard tests like IELTS and TOEFL and score the minimum average on the 'English Placement Test' of Winston College.
DOCUMENT CHECKLIST/FEES
Once the applicant meets the eligibility requirements, they must keep all necessary documents ready while filling out the application form for the college.
Given below are the most important documents to be kept in mind-
Proof of completion of High School
Duly filled application form
Scanned copies of official transcripts and necessary credentials
Payment of non-refundable fee of CDN $200
After receiving the Conditional Letter of Acceptance, the applicant must pay 50% of the total tuition fees. Once the payment is received, the college authorities shall issue an official Letter of Acceptance to the students.
SCHOLARSHIPS AND AWARDS
Funding of the students' education has been designed keeping in mind those who cannot afford post-secondary studies. Winston College offers a wide range of financial aid in the form of scholarships, awards and bursaries to students to aid their academic expenses.
Following are the eligibility conditions for a student to be granted an award or a scholarship-
Be either a Canadian citizen or a Permanent Resident.
The student must have a valid Canadian social insurance number.
The student must be a resident of the province of British Columbia.
The student must be enrolled in full time/part time studies in an eligible study program from an eligible post-secondary institution.
WHY ALWAYS CONSIDER BASICS OF IMMIGRATION?

Expert Visa counselors provide Step-by-step guidance through a secure, online process.
Apt evaluation of credentials and faster visa processing.
Identifying all potential hazards and roadblocks in securing a visa.
Assistance with documentation, immigration rules, citizenship, and border control procedures.
Multiple case assessment for better conflict resolution.
Designated process managers to provide personalized guidance.
Just like the basics of anything act as "building blocks" forming a strong foundation for constructing complex structures. The Basics of Immigration serve as the foundational elements of moving abroad, for any aspiring immigrant.