ST. THOMAS UNIVERSITY
Established in the year of 1910, St. Thomas University counts as Canada's only exclusive liberal arts university. The university is located in the breathtakingly beautiful city of Fredericton, New Brunswick, Canada. The university is home to 1800 undergraduate students who take active participation in discussion and debate. The university offers experiential learning opportunities to students from across the globe, who receive personal support and hands-on training from experienced faculty members. St. Thomas University primarily focuses on a close-knit learning environment in which every student receives personal support and applies their academic knowledge in a practical setting.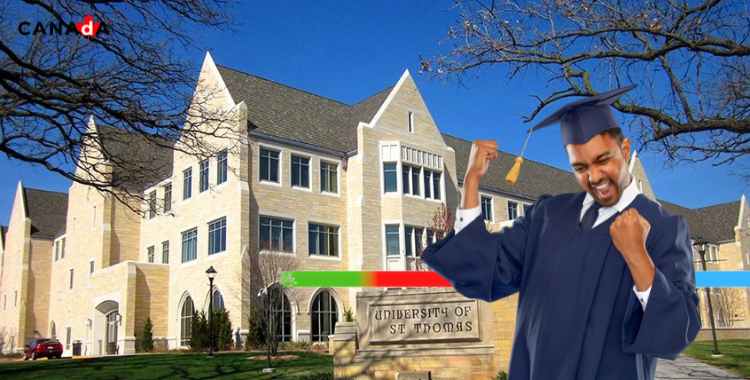 ST. THOMAS UNIVERSITY HIGHLIGHTS
| | |
| --- | --- |
| Application Portal | University Website or the Common Application |
| Application Fees | Bachelor Degree: 55 USD |
| Mode of Payment | Online Payment |
| English proficiency tests accepted | TOEFL, IELTS or MELAB |
| International Application Deadlines | Undergraduate: September Admission: June 1 January Admission: October 1 |
| Scholarship consideration deadline | March 1 |
| Admission Interview | Not conducted |
| Prior work experience | Not required |
| Scholarship for international students | Available |
WHY CHOOSE ST. THOMAS UNIVERSITY?

St. Thomas University is home to thousands of students, both domestic and international. Over the years, the university has achieved excellence in undergraduate liberal arts education. Students have access to more than 30 academic options in the Social Sciences and Humanities.
Highlighted below are the reasons why thousands of international students choose St. Thomas University every year.
The university specializes in Liberal Arts education.
The institute offers more than 30 Bachelor of Arts degree programs ranging from English and Political Science to Psychology and Criminal Arts.
Students of the university are exposed to experiential learning opportunities, including internships, lab work, travel-study, service learning and practicums.
The university lays emphasis on a close-knit learning environment in which every student receives individual support and is guided by a team of experienced professionals.
The maximum number of students is 60, and the average number of students in a class is just 27.
11% of the total student body constitutes international students.
Every student is trained to apply their knowledge in a practical setting.

STUDENT SERVICES AND FACILITIES
St. Thomas University unlocks the doors for innumerable opportunities for students. At the university, students are exposed to several learning opportunities, allowed to explore their interests and gain significant experience in their chosen field of study. Every student receives personalized education, along with hands-on training within a supportive learning community. Such an approach to education offers a broader perspective to students, along with a broader knowledge base and a meaningful experience that leads to a rewarding career.
Alongside big opportunities and several academic disciplines, the the university provides a variety of services, and facilities to its students, some of which are listed as under-
Academic Counseling
Career Support
Food and dining services
IT Services helpdesk
Parking and Transit
Study and Work Permit
Sports and Recreation facilities
Co-op Program
Financial Assistance
Campus Shuttle
Orientation for new students
Health Insurance
Library Services
Day Care Centers
Recruitment Services
Internet Services
Student unions and associations
Social and cultural events
Accommodation (in-campus)
LIST OF PROGRAMS AND COURSES
St. Thomas University offers small classes to students, which allow them to effectively engage in classroom discussions and stimulate collaborative learning. Students can choose from the following three categories-
Bachelor of Arts
School of Social Work
Bachelor of Education
Furthermore, the university helps its students acquire skills through service learning, internships, and experiential learning. These programs help students refine their skills in advanced critical thinking, creative problem solving, research and analysis, and adaptability.
In addition to the above-mentioned programs, the university also offers the following-
Applied Arts (in Criminal Justice, Gerontology for Practical Nurses)
First-year Aquinas: Great Books (close reading of great texts and some of the most influential books in History)
Certificate Programs (in Criminology, Criminal Justice, and Gerontology)
ELIGIBILITY CRITERIA
All international applicants interested in applying to St. Thomas University may apply through the Common Application. Interested students must make sure to meet the eligibility conditions put forward by the university.
Applicants must come from a country of conflict.
Applicants could either be a resident of Canada, or hold a Temporary Resident Visa, or a Permanent Resident Status
Applicants must have completed Higher Secondary School or any other equivalent and must not already possess a university degree.
The English Language Proficiency Requirements must be met by all candidates.
APPLICATION PROCESS
St. Thomas University welcomes Transfer students, Senior Applicants, Adult Learners, and International Students for admissions. Based on the type of students, the admission requirements may, however, vary. If you are interested in applying to St. Thomas University, you must go through the following admission process, which comprises the general prerequisites, while filling out the application-
Interested candidates must begin by creating an account on the application portal and reviewing the admission requirements, which are specific to every country.
Students must submit their applications after filling up the required information and paying the non-refundable application fee of $55
Applicants must send in their High School transcripts, along with English Language Proficiency Test Scores. Those applicants who have acquired Permanent Residence in Canada must provide documents to prove their status.
After receiving all required documents, the students will receive an email which will ask them to keep track of the official letter of admission and subsequent steps.
APPLICATION DEADLINES
Applicant Type
Deadlines
High School Applicants
Bachelor of Arts
August 31, 2023
Bachelor of Applied Arts
February 15, 2023
Bachelor of Social Work
April 30, 2023
Post-degree Program Applicants
Master of Social Work
May 30, 2023
Post Degree Bachelor of Education
January 15, 2023
International Applicants
January semester
October 1
September semester
June 1
ENGLISH LANGUAGE PROFICIENCY TEST SCORES
| | |
| --- | --- |
| Scores (Minimum Required) | English Proficiency Test |
| 80 | MELAB |
| 89 (Internet-based)573 (Paper-based) | TOEFL |
| 6.5 | IELTS |
| 60 | CAEL |
| C or higher | CEQ |
| 61 | PTE |
| 105 | DET |
Those students who meet the following English Language Proficiency Test Scores are eligible for the ESL program-
TOEFL 61 (Internet-based)
TOEFL 500 (Paper-based)
MELAB 69
IELTS 5.0
CAEL 40, 50
CEQ B2 First
DET 90
PTE 50-61
All official test scores must be sent to the Admissions Office of St. Thomas University. The ETS number of the university is 0803.
COUNTRY-SPECIFIC ADMISSION REQUIREMENTS
The admission requirements tend to differ according to the student's country of origin. The following table shows the country-specific requirements for every international student.
| | |
| --- | --- |
| Country | Requirements |
| India | An average of 70% in five academic courses in Year 12 or Indian senior secondary examination held by the Central Board of Secondary Education and Indian School Certificate. Competitive results in Year 12 exam held by state boards will also be accepted |
| Bangladesh | Higher secondary certificate |
| Nepal | Average of 50% or greater in five academic courses in Higher Secondary School Certificate |
| China | Competitive scores in Chinese National University Entrance Examination and Senior High School Graduation Examination |
| South Korea | An Overall average of 70% in Senior High School Certificate and Transcripts of grade 10, 11 and 12. |
SCHOLARSHIPS AVAILABLE
St. Thomas University offers a good number of scholarships to its students to maintain a community of remarkable scholars and passionate leaders. Moreover, these scholarships aid the academic expenses of international students.
Entrance Scholarships (Academic Excellence)
This scholarship is awarded to first-year students who demonstrate exceptional academic excellence. Applicants must have a minimum of 80% or equivalent to be eligible for this scholarship. The value of the award ranges from $500- $5000 and can be renewable in the second, third, and fourth year if the applicant maintains a grade point average of 3.7
Major Awards (Academic Excellence)
These scholarships are the largest awards which are given to the most brilliant lot of incoming students. In addition to a minimum average of 80% or equivalent, applicants must also submit a scholarship application to make themselves eligible for the scholarship.
Student Leaders Scholarship- Leadership
These scholarships are designed to attract dynamic student leaders who have the ability to create an impact. Valued at $2000 annually, these scholarships are renewable for three years to a total of $8000.
Entrance Bursaries
These bursaries are offered to students who are in financial need. Applicants must submit an application with supporting documents to be considered for these bursaries. These bursaries are valued between $500-$3000.
HOW TO APPLY FOR THESE SCHOLARSHIPS?
In order to apply for these scholarships, the students must follow the below-mentioned steps.
Submit a Scholarship Application form after receiving the official Letter of Acceptance from St. Thomas University.
Upload a typed letter which explains why you are in need of the scholarship.
Upload a detailed resume outlining your activities, including previously held jobs, honors, or awards, if any.
Upload a Letter of Reference that explains why you are a suitable candidate for the scholarship.
WHY ALWAYS CONSIDER BASICS OF IMMIGRATION?

Expert Visa counselors provide Step-by-step guidance through a secure, online process.
Apt evaluation of credentials and faster visa processing.
Identifying all potential hazards and roadblocks in securing a visa.
Assistance with documentation, immigration rules, citizenship, and border control procedures.
Multiple case assessment for better conflict resolution.
Designated process managers to provide personalized guidance.
Just like the basics of anything act as "building blocks" forming a strong foundation for constructing complex structures. The Basics of Immigration serve as the foundational elements of moving abroad, for any aspiring immigrant.