ST. MARY'S UNIVERSITY
Established in the year of 1802, the St. Mary's University welcomes no less than 7000 international students from across the globe. Primarily a public university with more than 45 student societies, it is also the second-largest research institute of the province of Nova Scotia, Canada. Located in Halifax, Nova Scotia, the university has a total of 44 undergraduate courses, 27 graduate courses, 5 continuing courses, and 9 certificates and diplomas. Entirely funded, the university thus is most preferred for higher education in Canada. Furthermore, the university is ranked at #1708 in the world by CWUR 2022.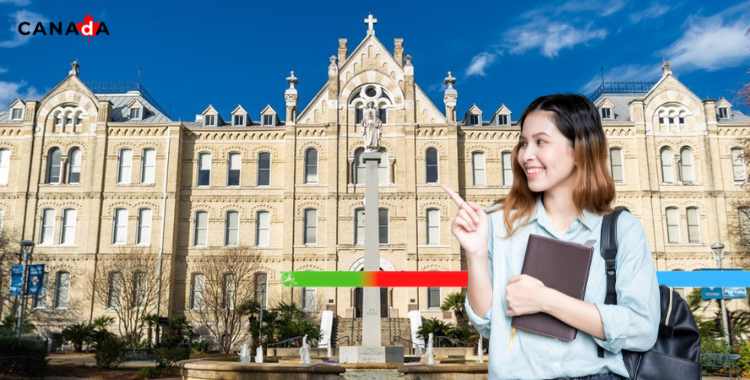 MORE INSIGHTS ON ST. MARY'S UNIVERSITY
With over 45 student societies, the university campus has 11 significant buildings. The university is certainly affordable for international students who wish to study in Canada and offers a wide range of courses and programs to its students.
| | |
| --- | --- |
| University Type | Public |
| Percentage of International Students | 29% |
| Total number of full-time and part-time students | 7,000 |
| Average Class size | 40 |
| On-campus Housing | Available |
| Academic Programs Offered | Undergraduate, Graduate, Co-op Education, Extended Learning, Online Learning, Certificates, and Diplomas |
| Total Undergraduate Tuition for International Students (per-course) | 1,906- 2,115 CAD |
| Total Graduate Tuition for International Students (per-course) | 1,288- 2,000 CAD |
BEST PROGRAMS IN ST. MARY'S UNIVERSITY
Although the university offers a wide array of courses and programs to its students, it has achieved notable excellence in certain fields of study. Some names worth mentioning include Liberal Arts, Science and Engineering, Environmental Science and Business.
Given below is the list of the best/top courses offered by the college to its students-
| | |
| --- | --- |
| Program | Annual Fees (in CAD) |
| B.Sc. Computing Science | 13,987 |
| Grad. Diploma Management | 8,295 |
| Master of Finance | 37,600 |
| Master of Business Administration | 43,000 |
APPLICATION PROCESS FOR ST. MARY'S UNIVERSITY
While applying to a university/college of your choice, students must ensure they have all the required documents ready, and meet the eligibility requirements. The application process and eligibility requirements differ from one college to another. However, there are some general prerequisites for admission to colleges/universities.
Given below are the steps you need to follow while considering applying to St. Mary's University-
The students need to fill the application form available in the admission portal online.
Students must submit their official transcripts of previously attended educational institutions.
Students must appear for English Language Proficiency Tests, like IELTS and TOEFL and earn the minimum score-
Students need to submit a Letter of Recommendation (LOR) and an essay in addition to other supporting documents.
COST OF LIVING IN CANADA
For an international student wanting to study in Canada, it is necessary to consider the cost of living in Canada so as to be able to plan out their stay in a foreign land in a better way. The right choices would make your journey even smoother and better. It is therefore necessary to avoid those things which could eat up your budget.
Given below is a cost breakdown that would help you analyse the underlying expenses when moving to Canada to study-
| | |
| --- | --- |
| Type of Expenditure | International Students (in CAD) |
| Tuition Fees | 14,750 |
| Ancillary Fees | 1,228- 1428 |
| Books & Supplies | 1,800 |
| Total | 17,778- 17, 978 |
HOUSING AND MEAL CHARGES
| | |
| --- | --- |
| Rooms | Charges (in CAD) |
| Single/Double room Apartment + kitchen | 6300 – 8000 |
| Senior apartments (single) | 7650 – 8000 |
SCHOLARSHIPS IN CANADA FOR INTERNATIONAL STUDENTS
Most international students look out for scholarships that would aid them in their academic expenses. Considering the expenses of living in a foreign country, such scholarships offer great help to students coming from outside countries. Most colleges offer scholarships to students based on either merit or need. Students may apply for these scholarships from the Aids and Awards page on the official website.
Following are the most important scholarships offered by St. Mary's University to international students-
Academic Achievement Scholarship worth 1000 CAD to 3500 CAD
Accounting Achievement Award worth 1000 CAD
Presidential/Presidential International Baccalaureate/Santamaria Scholarships worth 5000 CAD to 9000 CAD every year, which is renewable for over 4 years
TD Insurance Alumni Scholarship worth 1500 CAD each year, which is renewable up to 4 years
Scholarships based on financial need worth 200 CAD to 500 CAD to students who are in need of financial aid
Students pursuing a full-time course are eligible to apply for Student Employment Programs by applying through the Student Employment Program Application portal after uploading their resume and cover letter.
CAMPUS PLACEMENTS
The St. Mary's University has several career centers and services that specialise in career counselling, job search support, service learning, co-operative education, and other related things that aid students with finding employment opportunities. Furthermore, the University organizes several career fairs where students get to interact with potential recruiters, such as the Summer Job fair, and Volunteer Fair among several others.
WHY ALWAYS CONSIDER BASICS OF IMMIGRATION?

Expert Visa counselors provide Step-by-step guidance through a secure, online process.
Apt evaluation of credentials and faster visa processing.
Identifying all potential hazards and roadblocks in securing a visa.
Assistance with documentation, immigration rules, citizenship, and border control procedures.
Multiple case assessment for better conflict resolution.
Designated process managers to provide personalized guidance.
Just like the basics of anything act as "building blocks" forming a strong foundation for constructing complex structures. The Basics of Immigration serve as the foundational elements of moving abroad, for any aspiring immigrant.