ST. LAWRENCE COLLEGE (KINGSTON, CORNWALL, BROCKVILLE) (KINGSTON, CORNWALL, BROCKVILLE)
St. Lawrence College (SLC) is a College of Arts and Technology with three campuses in Eastern Ontario: Brockville (1970), Cornwall (1968), and Kingston (founded September 1969). In addition to its three campuses, SLC also offers distance learning and other educational opportunities for students.
The university has a long history of providing quality education to students from all walks of life. Its liberal arts curriculum emphasizes critical thinking, ethical decision-making, and social responsibility. Lawrence University is also committed to providing access to affordable education, with a generous financial aid program and a commitment to keeping tuition costs low.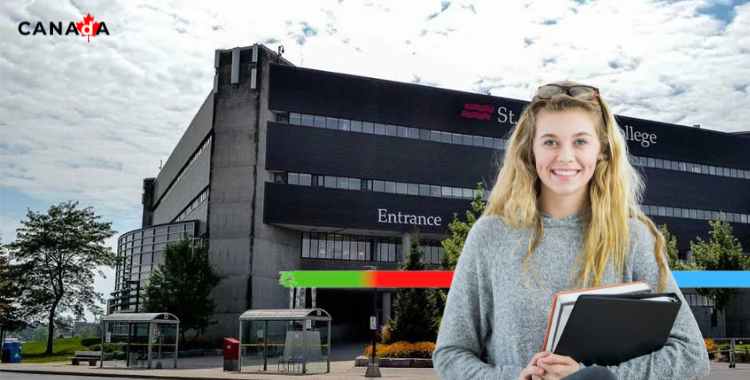 ACADEMIC REPUTATION

St. Lawrence University has approximately 7,700 full-time students and 20,000 part-time registrants in its 89 academic programs. Also, the college has 829 full and part-time staff, which includes 414 faculty.
St. Lawrence College has received accreditation to offer Baccalaureate Degree programs in the following areas:
Bachelor of Science in Nursing (BScN) (in partnership with Laurentian University)
Bachelor of Business Administration (in partnership with Laurentian University)
Honours Bachelor of Behavioural Psychology
AREA OF STUDY
The institution has set up a scholarship program to assist qualified students in paying less for their tuition.
Additionally, they put a lot of emphasis on delivering high-quality, individualized education, as seen by their standing in academia and the commitment of their teachers.
CHECK OUT THE AREAS OF STUDY THEY OFFER
Arts, media & design
Business
Community and social services
Graduate certificates
Health services
Hospitality & Culinary
Justice & technology
Skilled trades
CAMPUS
KINGSTON CAMPUS
The biggest campus is in Kingston, which a recent survey ranked as Canada's greatest city for students.
Kingston is a genuine student city. The Kingston campus offers over 85 programmes (about 55 of them are open to foreign candidates), ranging from the arts and business to health care and skilled crafts and everything in between.
Campus Highlights
Student Life and Innovation Center
St. Larry's Pub, which is owned and operated by the Student Association and is open to the public
State-of-the-art group study rooms with SMART boards
Outdoor atrium, deck and open courtyard
Upgraded fitness facilities and a double gym
State-of-the-art healthcare simulation labs with high-fidelity manikins
A dedicated gathering place for Indigenous students
Tim Horton's, Pita Pit, and Papa John's Pizza on campus
BROCKVILLE CAMPUS
In addition to a brand-new library with individual and group study areas, a recently refurbished cafeteria, common student lounges, and other improvements, the Brockville campus underwent a significant makeover in 2018.
Campus Highlights
There is plenty of room for socializing and studying in the huge student lounge and café-style student commons.
Modern group study rooms with SMART boards and quiet study areas have just been added to the library.
High-fidelity manikins are used in the new, state-of-the-art healthcare simulation lab.
A $1 million investment in financial help for students
The Marianne van Silfhout Gallery is a cutting-edge community gallery on campus that hosts exhibits of artwork by regional, Canadian, and foreign artists.
pita pits in the newly remodelled cafeteria
, a freshly renovated gym featuring a weight room and cardio equipment
Access to the city's Brock Trail cycling and pedestrian trail, which passes through campus
CORNWALL CAMPUS
To make your transition to college life simple, the Cornwall campus now boasts a new library, new health simulation labs, updated student common areas, and more.
The Campus Life in Cornwall
A movie depicting the SLC Cornwall experience, both on and off campus, was recently produced by students in the Supply Chain Management and Project Management programmes in collaboration with the City of Cornwall and the CFDC. This film was not only conceptualized by students, but it was also shot and edited by SPARK, the SLC student-run creative firm.
Campus Highlights
Campus by the St. Lawrence River; study or enjoy lunch outside next to the water
The apartment, the library, and other classrooms all have river views.
Modern group study rooms with SMART boards and quiet study areas have just been added to the library.
an area for students with pool tables
High-fidelity manikins are used in newly refurbished healthcare simulation laboratories.
There is a residence on campus, so there is no need to go outside in the cold to come to class.
Pita Pit Athletic facilities, including a cardio room, weight room, and gymnasium, are available in the recently rebuilt cafeteria.
Access to the 75-km walking and biking trail that passes through campus
SERVICES ST. LAWRENCE COLLEGE PROVIDE
Student Success
Athletics and recreation
Campus services
Career services
Financial supports
Housing services
Indigenous services
Information technology
International services
Libraries
Student life
Student government
Wellness & accessibility
Student's Rights and Responsibilities
WHEN PREPARING TO STUDY AT SLC, IT IS IMPORTANT TO CONSIDER ALL COSTS.
Use the information below to help you prepare a monthly/yearly budget.
When reviewing the cost of studying at SLC and Canada, here are some tips to help you:
Make a budget- monthly and annually.
Be realistic about your finances.
Expect the unexpected- there are always unexpected extra costs when moving abroad.
Do not rely on potential Canadian employment income. In Canada, finding a job can take months, and the minimum wage cannot support you while you are in school.
Speak with them to clearly understand your family's financial capacity..
To get an accurate idea of costs, always review costs using the country's currency converted into Canadian Dollars (CAD$) at the time.
Get Access to a currency converter from the Bank of Canada to get a basic idea of exchange rates.
COSTS FOR INTERNATIONAL STUDENTS
The cost of tuition at St. Lawrence College varies by site and program type. Tuition and ancillary/compulsory fees make up the SLC's fees.
ANCILLARY/COMPULSORY FEES PER YEAR:
Have Access to all Student Services on campus
Have International health insurance coverage – Guard. Me
Have YMCA Gym Pass (Kingston only)
Have a Bus Transportation pass (Kingston only)
Have Other student benefits
Tuition + Ancillary Fees = Full 1 Year Fees
Many programs will have extra costs involved. The materials included below are mandatory and could include the following:
Books
Software/Laptops
Tools/Kits
Clothing: Uniforms (Culinary/Hospitality)
Safety Equipment: Workboots, hard hats, and safety goggles
Immunizations are required for programs in health care/social service settings.
School fees are set by the Ministry of Education in Canada and cannot be changed for individuals by St.Lawrence College. When planning your Canadian budget, please consider the costs below.
AVERAGE PROGRAM COSTS
Average tuition costs (one academic year)
K: Kingston
B: Brockville
C: Cornwall
| | |
| --- | --- |
| Programs | Tuition Costs |
| Bachelor of Business Administration | $21,722 (K) |
| Certificates & Diplomas | $16,672 (K), $16,130 (B&C) |
| English as a Second Language (ESL) – Level 1 & Level 2 | $6,057 (K) |
| English as a Second Language (ESL) – Level 3 & Level 4 | $6,830 (K) |
| Post-Graduate & Fast-Track Programs | $16,672 (K), $16, 130 (C) |
HOW TO PAY
There are many options to pay your tuition fees: you can do it online via Flywire or a bank transfer.
The costs below are based on approximate fees and will be used as a guide while preparing your budge
| | |
| --- | --- |
| Category | Costs |
| Accommodation | $500-$900 monthly​ |
| Grocery/Hygiene | $250 monthly​ |
| Phone/Internet | $150​ monthly |
| Entertainment | $200​ monthly |
| Total | $1,100​ to $1,500 Monthly |
School Materials
| | |
| --- | --- |
| Items | Costs |
| Books | $400 – $800 start-up cost |
| Additional tools/software | $200 – $800 |
| Supplies | $40 – $80 |
| Total | $400 – $1200 yearly |
WHY ALWAYS CONSIDER BASICS OF IMMIGRATION?

Expert Visa counselors provide Step-by-step guidance through a secure, online process.
Apt evaluation of credentials and faster visa processing.
Identifying all potential hazards and roadblocks in securing a visa.
Assistance with documentation, immigration rules, citizenship, and border control procedures.
Multiple case assessment for better conflict resolution.
Designated process managers to provide personalized guidance.
Just like the basics of anything act as "building blocks" forming a strong foundation for constructing complex structures. The Basics of Immigration serve as the foundational elements of moving abroad, for any aspiring immigrant.