SELKIRK COLLEGE
Considered one of the oldest community colleges, located in the picturesque province of British Columbia, Canada, the Selkirk College has earned the reputation of an innovative and opportunistic center ever since its establishment in the year of 1966. The campus is home to both residential and international scholars, providing over 100 University courses to its students. Clearly, the institute has earned the title of being one of the coveted institutes of higher education. Statistically speaking, 76% of students seek admission to Selkirk College every year, owing to the specialty courses offered by the institute.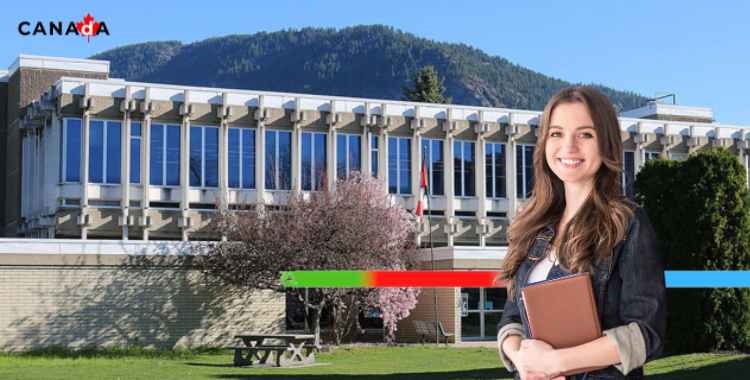 HIGHLIGHTS
| | |
| --- | --- |
| University Type | Public |
| Campus | Urban |
| Annual Endowment | 75 Million CAD |
| Academic Calendar | Semester Based |
| % Of International Students | More Than 10% |
| Programs Offered | Undergraduate, Graduate, Online |
| Campus Housing Capacity | 500/Building |
| Student To Faculty Ratio | 15: 1 |
| Total Enrollment | 12,000 |
| English Proficiency Test | TOEFL/IELTS |
| Financial Aid | Scholarships, Loans, Grants |
| Official Website | https://selkirk.ca/ |
VISION AND MISSION
Selkirk College is on a mission to provide personal experiences to every student that turns them into confident and imaginative learners who are prepared for the dynamic world of today.

The Selkirk College is governed by five fundamental commitments, which are as follows-
Reconciliation- The institute is committed to reconciliation with Indigenous Peoples, aimed at maintaining respectful and rightful relationships with governments, organizations, families and learners of the Indigenous community.
Research
Innovation- the institute is inspired by the concept of innovation, which emphasizes creating new ways of thinking and new ways of delivering education that helps its students adapt to and thrive in the dynamic world.
Sustainability- the institute respects the natural environment and, in doing so, incorporates sustainable practices like responsible use of natural resources and footprint reduction.
Wellness- the institute believes that education is a key determinant of health. Therefore its commitment to wellness is guided by the nine dimensions of the wellness wheel.
WHY CHOOSE SELKIRK COLLEGE?
Located in the Canadian province of British Columbia, the Selkirk College is spread across six campuses. The main campus of Castlegar is the most sought-after location for students from across the globe. The college is home to students from more than 34 countries, making the student body extremely diverse and multicultural.
Given below are the reasons why Selkirk College has become amongst the most preferred institutes of higher education in Canada–
Affordable, quality education
Facilities and initiatives aimed at supporting students build a future characterized by ideas of innovation, inclusion, sustainability, and creativity.
Transfer agreements with other colleges and universities.
80 nationally recognized programs.
Comprehensive student services.
Small class sizes ensure personalized teaching.
Hands-on learning experience.
STUDENT INTAKE IN NUMBERS
| | |
| --- | --- |
| Full time students | 2,370 |
| Part time students | 10,000 |
| International full-time students | 311 |
LIST OF COURSES AND PROGRAMS
The Selkirk College offers courses to students in over 150 areas of interest and enrolls students in undergraduate, graduate, doctoral, and online programs. Additionally, the college also offers Certificates, Diplomas, Degrees, Associate Degrees, University Transfers, and Post-Graduate Diplomas to students from across the globe.
Following is a list of programs offered by Selkirk College to its students-
Business
Health
Hospitality and Tourism
Human Services
Industry and Trade Services
Peace and Justice Studies
Environment and Geomatics
Arts and Sciences
Some of the most popular courses offered by the college are Biochemistry, Anthropology, Forest Technology, Forest Technician, and Philosophy. English Language Programs are also available to International Students.
| | | | |
| --- | --- | --- | --- |
| Program | Application Deadline | Fees | Exams Score |
| Graduate Diploma Business Administration 2 years | Application Deadline (31st Aug 2023) | ₹8.7 L/YrCA$13,990 /Yr | TOEFL80IELTS6 |
| Diploma Business Administration- Professional Management2 years | Application Deadline (31st Aug 2023) | ₹8.7 L/YrCA$13,990 /Yr | TOEFL80IELTS6 |
| Graduate Diploma Hospitality Management2 years | Application Deadline (31st Aug 2023) | ₹9.1 L/YrCA$14,708 /Yr | TOEFL80IELTS6 |
| B.N4 years | Application Deadline (31st Aug 2023) | ₹9.8 L/YrCA$15,750 /Yr | TOEFL80IELTS6 |
| Graduate Diploma Accounting 2 years | Application Deadline (31st Aug 2023) | ₹9.4 L/YrCA$15,219 /Yr | TOEFL80IELTS6 |
| Graduate Diploma Gerontological Nursing2 years | Application Deadline (31st Aug 2023) | ₹9.8 L/YrCA$15,750 /Yr | TOEFL80IELTS6 |
APPLICATION PROCESS
If you wish to apply for any specific program at Selkirk College, you must make sure to complete the application form by adhering to the instructions listed below.-
Applicants must first choose a program of study. Students can explore transfer opportunities and postgraduate programs or choose from over 80 nationally recognized programs.
Applicants need to go through the admission requirements, including English Language Proficiency requirements.
Ahead of time applications are encouraged to ensure a seat in their desired program, as popular courses usually have a waitlist for students. Most programs start considering applications 12 months before the start date.
Candidates could either apply online through EducationPlannerBC or apply directly with a Selkirk College application process.
The $100 application fee is non-refundable for applicants.
ENGLISH LANGUAGE PROFICIENCY REQUIREMENTS
DOCUMENTS CHECKLIST
At the time of applying, candidates must keep the following documents ready-
Official transcripts of previously attended educational institutions
English Language Proficiency Test Scores
Scanned copy of the passport ID page
Resume (if applicable)
When all entry requirements are met by the applicant, they are sent a Conditional Letter of Acceptance from the college authorities.
After the payment of tuition fees, students finally get a formal letter of acceptance from the university, which confirms their seat in the institution.
Upon receiving the Letter of Acceptance, students are advised to immediately apply for a Study Permit.
APPLICATION DEADLINES
Term
Deadline
UNDERGRADUATE
FALL
June 1
WINTER
December 1
GRADUATE
FALL
June 1
WINTER
December 1
COST OF LIVING IN CANADA
For any international student immigrating to Canada for purposes of study, it is extremely important to be aware of the inherent expenses so as to be better prepared for their stay in a foreign country. A cost analysis enables students to better prepare for their budgets.
| | |
| --- | --- |
| Expenditure | Cost |
| TUITION | 12,452 CAD |
| MANDATORY FEES | 531.24 CAD |
| STUDENT UNION FEES | 432 CAD |
| BOOKS AND SUPPLIES | 2,494.99 CAD |
| TOTAL | 15,910.23 CAD |
SCHOLARSHIPS AVAILABLE
Selkirk College offers scholarships, bursaries, and awards to students applying for the institution in order to aid them in their academic expenses. Following is a list of scholarships and the amount awarded to students-
Amount Awarded: 1,000 CAD
Selkirk College Scholarships
Amount Awarded: 500 CAD
Amount Awarded: 500 CAD
WHY ALWAYS CONSIDER BASICS OF IMMIGRATION?

Expert Visa counselors provide Step-by-step guidance through a secure, online process.
Apt evaluation of credentials and faster visa processing.
Identifying all potential hazards and roadblocks in securing a visa.
Assistance with documentation, immigration rules, citizenship, and border control procedures.
Multiple case assessments for better conflict resolution.
Designated process managers to provide personalized guidance.
Just like the basics of anything act as "building blocks" forming a strong foundation for constructing complex structures. The Basics of Immigration serve as the foundational elements of moving abroad, for any aspiring immigrant.