HOW TO GET CANADA'S POST-STUDY WORK VISA!
Canada is a burgeoning economic powerhouse that attracts millions of newcomers. Canadian citizenship is one of the most desirable immigration options because the country has one of the highest income levels and excellent job opportunities. It also has a well-functioning government, a secure environment, and a vibrant culture. This article provides a comprehensive overview of Canada's post-study work visa, including the various categories and how to apply for a post-study work Visa.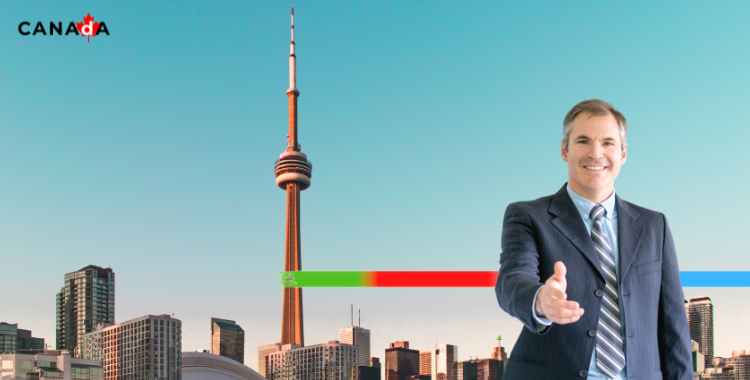 Canada is ranked higher on the list of countries that welcome immigrant workers. Foreigners are also allowed to apply for permanent residency or a PR visa. After three years of maintaining PR status, one can apply for Canadian citizenship.
WHAT IS A POST-STUDY WORK PERMIT?
Immigrants seeking work in Canada may be issued a Canadian Work Permit for a set period. The Canadian government offers a wide range of visas tailored to suit the needs of various types of workers. These include work permits, business visas, and student visas, which allow foreign workers to stay in Canada for a set period.
The post-study work visa is an especially attractive option for international students, as it allows them to stay in Canada for up to three years after completing their studies and gives them a chance to gain valuable work experience there. Those whose visas are only valid for less than 8 months are given post-study work visas.
WORK AFTER STUDY IN CANADA

Work after studying in Canada – One important factor students consider when selecting a study abroad destination is the country's post-study work opportunities. This is critical because opportunities to work after studying in Canada allow them to recoup some of the money they paid for the course and work experience to become a permanent resident of Canada.
International students studying in Canada are fortunate because the country provides a post-study work visa, allowing students to work for a set period after finishing their course. This option to work after studying in Canada is one of the reasons many international students choose the country.
WORK AFTER STUDY IN CANADA!
International students who have completed an educational degree from a participating Canadian post-secondary institution are eligible to work after completing their studies in Canada under the Post Graduate Work Permit (PGWP).
The PGWP entitles the candidate to work for the duration of the program of study completed in Canada. So, if a student comes to Canada for a two-year course, his or her work permit will be valid for two years. The maximum duration of a work permit under the post-study work Visa, however, is three years.
Candidates who complete a course in Canada that is less than 8 months in duration are eligible for post-study work Visa but not PGWP. Furthermore, regardless of whether the candidate is pursuing a three-year or four-year course, the maximum duration of the PGWP will be three years.
The table below has more details:
| | |
| --- | --- |
| Program Duration | PGWP |
| Less than 8 months | Not eligible for PSWP |
| Less than 2 years | PGWP of the same time duration as your study program |
| 2 years or more than 2 years | PGWP for 3 years |
POST GRADUATE WORK PERMIT ELIGIBILITY
After completing their studies in Canada, applicants must meet certain requirements to be eligible for post-study work Visa or post-graduation work permit. To be eligible for a work permit, an applicant must have completed at least eight months of study in a school with a designation from Canada. In addition, the candidate must meet the following requirements:
The candidate must:
You must be at least 18 years old to apply.
have spent at least eight months in Canada pursuing a full-time course of study.
Must have completed a public post-secondary institution, such as a college, university, or trade/technical school. For the professional diploma, a private secondary or post-secondary institution in Canada that is authorized to grant degrees must offer programs lasting at least 900 hours.
Within 90 days of finishing the program of study, submit an application for the PGWP.
When applying for the PGWP, possess a current study permit.
Candidates with more than eight months of intermittent study in Canada are not eligible for the PGWP. Additionally, those ineligible to work after studying in Canada are candidates who took a semester off during their program.
Applicants with a work permit tied to another program of study are also ineligible. You are not eligible to apply for the PGWP if you meet the following criteria:
if you applied for PGWP Canada after the study permit had expired but more than 180 days had passed.
If a PGWP Canada has already been sent to you.
if you took the majority of your classes online, through e-learning, or through correspondence.
if you finished your education at a non-Canadian institution that is located in Canada.
if you took part in the Government of Canada Awards initiatives supported by Global Affairs Canada.
However, if you were awarded the "Study in Canada Scholarship," you are qualified for PGWP Canada if you received funding from Global Affairs Canada.
WHY ALWAYS CONSIDER BASICS OF IMMIGRATION?

Expert Visa counselors provide Step-by-step guidance through a secure, online process.
Apt evaluation of credentials and faster visa processing.
Identifying all potential hazards and roadblocks in securing a visa.
Assistance with documentation, immigration rules, citizenship, and border control procedures.
Multiple case assessment for better conflict resolution.
Designated process managers to provide personalized guidance.
Just like the basics of anything act as "building blocks" forming a strong foundation for constructing complex structures. The Basics of Immigration serve as the foundational elements of moving abroad, for any aspiring immigrant.