HOW TO GET A PR VISA AFTER STUDYING IN CANADA!
Canada not only offers the world's advanced education and immigration options but also gives them a chance to apply for a work permit and become permanent residents of Canada.
Canada, regarded as one of the best places in the world to study, work, and settle, is renowned for providing equal opportunities to everyone. With first-rate institutions offering education in various fields, first-rate infrastructure, and a wide range of employment opportunities, Canada offers a luxurious standard of living. Another factor contributing to the nation's popularity among students is its pro-immigration policies.
Here is a detailed explanation of why many international students worldwide move to Canada for higher education and work to obtain permanent residency (PR). The article also discusses how to obtain PR in Canada following the study.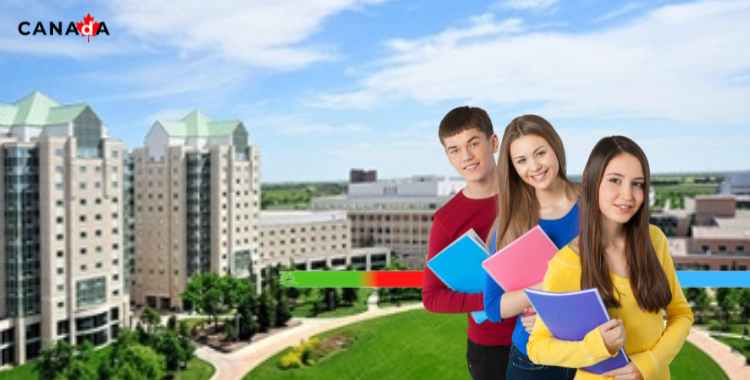 WHAT IS A POST-GRADUATION WORK PERMIT?
In simple terms, post-graduation work permits allow international students who pass out from DLI (Designed learning institutes) to gain work permits or to get Canadian work experience. Open work permits imply that international students can work anywhere with an employer. This visa has validity from 8 months to 3 years, depending on the situation.
Now getting Canadian work experience also means you have a work experiment in Canada with automatically makes you an eligible candidate for a PR visa in Canada.
WHO IS ELIGIBLE FOR A POST-GRADUATION WORK PERMIT?
A candidate must fulfill the following conditions before applying for a post-graduation work permits:
They must have attained a minimum of 18 years of age.
They had to have spent at least eight months in Canada enrolled full-time in a program.
The training course must have been finished at a DLI.
After finishing their program or course, international students must apply for a post-graduation work permits within 180 days.
When a student's study permit is about to expire, they must first apply for visitor status before submitting their post-graduation work permits application.
PGWP applicants who submit their applications before their study permit expires are eligible to start working full-time as soon as they do so.
HOW TO APPLY FOR A CANADIAN PERMANENT VISA?
Many international students can apply for residency programs (PR) in Canada once they have sufficient work experience there. The following PR programs are available to international students who want to learn more about how to get PR in Canada after a study visa:
CANADIAN EXPERIENCE CLASS (CEC)
Interested candidates in the Canadian experience class are ranked using the Comprehensive Ranking System (CRS) under the Express Entry system. Candidates with competitive CRS scores receive the invitation to apply for the Canadian PR.
A student must have at least 12 months of full-time skilled work experience in the country to be eligible for CEC application. However, work experience gained during the studies is not counted as work experience to apply for CEC. Hence, after completing their studies, the students can apply for post-graduation work permits, gain experience, and later apply for CEC.
PROVINCIAL NOMINEE PROGRAM (PNP)
International students can apply for Canadian permanent residency (PR) through the provincial nominee program (PNP) if they want to move to a specific Canadian province or territory. In Canada, PNP requirements differ from province to province. A student connected to a specific province, whether through study or employment, is more likely to be eligible for the PNP program.
FEDERAL SKILLED WORKER PROGRAM
The FSW Program selects candidates based on their skills and experience through the Express Entry immigration system. International students are not required to have prior work experience to apply for FSW, which is also based on CRS scores to rank and invite eligible international students to apply for PR after studying in Canada.
QUEBEC IMMIGRATION PROGRAM
The immigration system in Quebec may differ from that in other provinces. International students can apply for Canada PR by meeting the requirements of the Quebec immigration programs. International students can apply to the PR program in two subcategories:
QUEBEC EXPERIENCE PROGRAM (PEQ):
To qualify, students must have completed their studies at an institution based in Quebec or will be completing their studies within six months. A high level of French language proficiency is required for international students to qualify for PEQ.
QUEBEC SKILLED WORKER (QSW):
International students applying for QSW must have completed or are about to complete their studies at a Quebec-based institution, similar to PEQ. They are not, however, required to demonstrate their French language skills in QSW; however, they must score and meet the QSW requirements.
SWITCHING TO A WORK PERMIT BEFORE COMPLETING THE STUDIES IN CANADA
A Labour Market Impact Assessment (LMIA) is necessary for international students who choose to discontinue their studies and obtain a work permit. But if these students decide to stop taking classes and apply for a work permit, they must let Immigration, Refugees, Citizenship, Canada (IRCC) know.
International students may need to leave the country before receiving their work permit in the event of a change in status.
An employer must make a legitimate job offer to an international student in order for them to be granted an LMIA, and the employer must also support their request for a work permit.
Additionally, the employer must demonstrate that they are unable to fill the position with a Canadian citizen or permanent resident.
A closed LMIA enables a student to be linked to a particular job, location, and employer, in contrast to an open post-graduation work permits.
DOCUMENTS REQUIRED TO APPLY FOR CANADIAN PR AFTER STUDY
If an international student wants to return to Canada after completing their course, they must submit the following documents when applying for a post-graduation work permit post-graduation work permits:
Valid Passport
Proofs of Education (copies of degrees/certificates/diplomas)
Proofs of Work Experience (valid offer letters, appointment letters, relieving letters, pay slips, reference letters from employer (if required)
Proof of funds
Proofs of dependents (marriage or birth certificates of dependents, if any)
Copies of fee receipts
Medical certificates
Police clearance certificate
Current photographs
PROCESSING TIME FOR CANADA PR
For students seeking Canada PR, the processing period may last up to six months. But it depends on several variables, including the number of applications, the province, and the kind of work permit. The processing time is additionally influenced by the type of application currently being used and that which is being applied.
For instance, processing a work permit application in Canada from an existing study application could take up to 160 days. However, the time needed for the biometrics is separate from this time frame.
COST OF APPLYING PR AFTER STUDY
International students must pay a variety of fees based on their status and requirements. The following are a few of the total fees that are due from international students:
Citizenship application fee – $CAN 630
Processing fee – $CAN 850
Permanent residence fee – $CAN 515
Study Permit including extension – $CAN 150
Temporary resident permit – $CAN 200
Work permit including extension – $CAN 155
Restore work permit status – $CAN 355
Biometric fee – $CAN 85
OTHER ECONOMIC CLASS PR PATHWAYS TO CONSIDER
Canada provides more than 100 different economic class pathways, some of which reward applicants who are international students. Examples include:
Atlantic immigration program: This is an option for those that have studied in Nova Scotia, New Brunswick, Prince Edward Island, or Newfoundland and Labrador
HongKong: Canada offers immigration pathways to Hong Kong nationals that have studied in Canada
Rural and north immigration program: This pathway offers permanent residence to international students that reside in participating rural and northern communities across Canada.
WHY ALWAYS CONSIDER BASICS OF IMMIGRATION?

Expert Visa counselors provide Step-by-step guidance through a secure, online process.
Apt evaluation of credentials and faster visa processing.
Identifying all potential hazards and roadblocks in securing a visa.
Assistance with documentation, immigration rules, citizenship, and border control procedures.
Multiple case assessment for better conflict resolution.
Designated process managers to provide personalized guidance.
Just like the basics of anything act as "building blocks" forming a strong foundation for constructing complex structures. The Basics of Immigration serve as the foundational elements of moving abroad, for any aspiring immigrant.