NORTHERN LIGHTS COLLEGE
As the name suggests, the Northern Lights College is named after the breathtaking Aurora Borealis. The sheer brilliance of the natural light signifies the institution's effort to guide its students to a brighter future. Established in the year of 1975, Northern Lights College offers academic programs that are designed to provide hands-on training to its students, as well as give them a unique educational experience that would ensure a successful transition to the global workspace. Graduates of the college are trained to build healthier communities, support their families, and power the economy of British Columbia.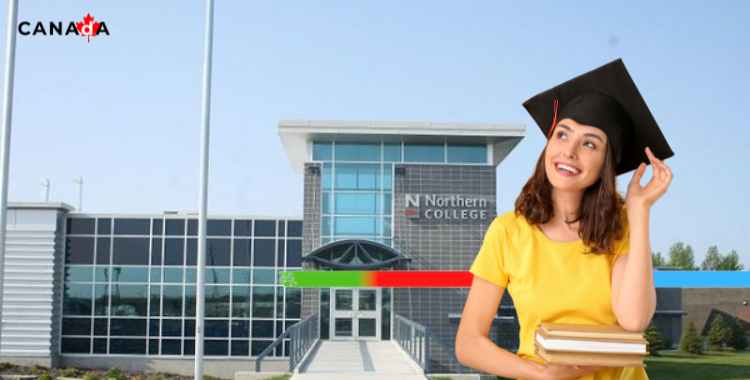 QUICK INSIGHTS
| | |
| --- | --- |
| Type of University | Public |
| Faculty Members | N/A |
| Number of Seats | 2000 full-time students (Dawson Creek campus) |
| Percentage of International Students | N/A |
| Annual Acceptance Rate | N/A |
| Basic Tuition Fee for International Students | $359.00 /credit |
| Test Scores Accepted | IELTS, Duolingo English Test |
| Official Website | https://www.Northern Lights College.bc.ca/ |
| Employment Rate | 95% |
| Application fees | 100 CAD |
VISION AND GOALS
The Northern Lights College is on a mission to transform the lives, communities, and industries in Northern British Columbia and the world through a process of learning that is accessible, applied, and academic. It aims to become the most preferred college for academic and lifelong learning, both within and beyond the classroom.

The college intends to maintain the following values-
Heart- the institution values the emotional connectedness between itself and the communities that it serves.
Respect– despite all differences, the institute has mutual trust and respect for one another.
Integrity– the institute bears accountability for all of its actions irrespective of the outcomes or repercussions.
Innovation– the institute welcomes innovation that creates constructive change.
Excellence– the institute is devoted to producing work that is accurate and insightful at the same time.
WHY CHOOSE NORTHERN LIGHTS COLLEGE?
Northern Lights College has been welcoming overseas students for the past 25 years. The college has been providing dozens of programs that combine classroom teaching and applied learning. For building a successful career, it is very important to take the right step.
Given below are some good reasons stating why you should choose the Northern Lights College-
Recognized diplomas and associate degrees ensure excellent education
Low cost of living, and lowest annual tuition fee for two-year programs
Inclusive and hospitable college atmosphere
Small class-sizes ensure individual attention and focused learning 
Employment opportunities both during and after the course of study
One of Canada's picturesque landscapes
STUDENT SERVICES
The Northern Lights College offers a wide range of services and facilities to its students. Broadly speaking, the campus has access centers, training centers, and several student services like bookstores, cafeterias, learning support, and the like. 
Given below is the list of student services provided by the college- 
Bookstores
The cafeteria offers low-cost meals for both breakfast and lunch.
Conflict Resolution advisors who ensure a safe and confidential environment for the students, college staff, and faculty regarding conflicts, complaints, disputes, discrimination, and harassment of any sort.
On-site child care operating Monday to Friday
Financial Aid and Awards to aid students in meeting their academic expenses
Learning support specialists assist students across learning areas, including career planning, overcoming learning barriers, and wellness.
Student libraries that are equipped with research materials specific to the course of study.
Spa and Salon services
IT support services and computer and internet access throughout the campuses.
Exam supervision for both online and offline exams.
Indigenous services cater to indigenous communities.
PROGRAMS AND COURSES
The Northern Lights College offers a diverse range of in-person as well as online courses to its students. Broadly speaking, it has the following areas of study-
Business
Education
Health and Human Sciences
Trades and Apprenticeship
University Arts and Science
The following is the list of courses that the college has to offer- 
| | | |
| --- | --- | --- |
| Course Name | Annual Tuition Fees | Annual Tuition Fees |
| Diploma, Aircraft Maintenance EngineeringBasic Training | INR 12,84,351 | CAD 20,712 |
| Advanced Certificate, Business Management | INR 5,02,529 | CAD 8,104 |
| Diploma, Business Management | INR 13,62,422 | CAD 21,971 |
| Diploma, Practical Nursing | INR 23,01,253 | CAD 37,111 |
| Diploma, Criminology | INR 13,62,422 | CAD 21,971 |
| Bachelor, Practical Nursing | INR 23,01,253 | CAD 37,111 |
ACADEMIC INTAKES
The academic intakes of the Northern Lights College are-
13-20 August (Fall term)
10-17 December (Winter term)
15-22 April (Spring Term)
HOW TO APPLY?
If you are thinking of starting your Canadian academic journey at the Northern Lights College in the beautiful Canadian province of British Columbia, here are a few steps that you need to follow while considering applying for your desired course-
STEP 1- Find a program of your choice
Students must review the program-specific prerequisites before filling up the application form. Every program has different prerequisites and English language requirements. 
STEP 2- Request an application form
After receiving the application form, the students must fill in all necessary details and must submit scanned copies of official transcripts, English Language Proficiency Test scores, and a copy of the photo page of their passport. Once the application form is received by the college, students need to make a payment of $100 CAD as part of the application fee. 
STEP 3- Submit your application
If the application meets all necessary requirements, then the students will receive a Letter of Offer from the college authorities. Students will have to pay a deposit of $6,000. This deposit however, may vary depending on whether the applicant is applying for a study permit through the Regular Stream or Student Direct Stream.
STEP 4- Application is reviewed
If the application passes the review, then a Letter of Acceptance is issued by the college authorities. Furthermore, the college will also send in a welcome guide for students to better prepare for their travel to Canada.
STEP 5- Apply for a study permit
After receiving the Letter of Acceptance, students will have to complete their study permit application with the Government of Canada, at the Immigration Refugee and Citizenship Canada (IRCC) website.
ENGLISH LANGUAGE TEST REQUIREMENTS
| | |
| --- | --- |
| ELP test | Test score requirements |
| IELTS | 6.0 |
| TOEFL iBT | 78 |
| CAEL | 60 |
| PTE | 57 |
COST OF ATTENDANCE
It is extremely important for every international student seeking to study abroad to be aware of the inherent costs involved when immigrating to a foreign country. A better knowledge of the expenses involved helps in planning your finances in a better way so as to make your journey hassle-free and smooth.
Shown below is the list of expected expenses of living in Canada-
| | |
| --- | --- |
| Program type | Fees (USD/contact hour) |
| Academic(credit hour) | 359.00 |
| Career & College Prep | 11.96 |
| Trades/Apprenticeship | 11.16 |
| Vocational/Career Technical | 11.16 |
| Job Education & Training | N/A |
| Practical Nursing Diploma | 19.67 |
| English as a Second Language | 15.00 |
SCHOLARSHIPS AND AWARDS
When considering studying abroad, paying for one's education becomes a cause of worry. The Northern Lights College addresses this issue by providing its students with scholarships, bursaries, and awards, as well as loans and lines of credit.
The following list mentions the awards granted by the college-
| | | | |
| --- | --- | --- | --- |
| Financial aid | Amount(USD) | Application Dates | Eligibility |
| Daryl Becotte Memorial Award | 840 | 25 January | Full-time Dawson Creek student |
| Dave Johnson Academic Studies Award | 1,000 | 25 January | Academic achievement (minimum 2.33(72%-74% GPA) |
| Dave Johnson Memorial Award | 1,500 | 25 January | Pursuing a career in the environmental field |
| BC Oil & Gas Commission Award | 1,000 | 25 January | Must be in University Arts and Science at Fort St John |
WHY ALWAYS CONSIDER BASICS OF IMMIGRATION?

Expert Visa counselors provide Step-by-step guidance through a secure, online process.
Apt evaluation of credentials and faster visa processing.
Identifying all potential hazards and roadblocks in securing a visa.
Assistance with documentation, immigration rules, citizenship, and border control procedures.
Multiple case assessment for better conflict resolution.
Designated process managers to provide personalized guidance.
Just like the basics of anything act as "building blocks" forming a strong foundation for constructing complex structures. The Basics of Immigration serve as the foundational elements of moving abroad, for any aspiring immigrant.