LOYALIST COLLEGE (MISSISSAUGA)
Loyalist College is a close-knit community full of unique and talented individuals coming together to build a brighter future. As an international student, you are a valued member of our community and we are committed to creating an inclusive postsecondary experience for you. Loyalist expert faculty, industry partnerships, employment network, student success and services and innovative applied research projects are designed to empower you to succeed.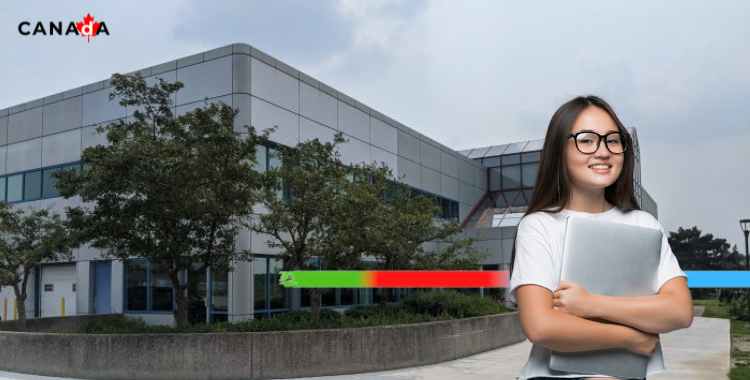 Loyalist College offers international students the ideal combination of academic excellence, extraordinary activities program placement hands-on experience. Loyalist College is like an all-inclusive resort, providing international students with everything they need to have a successful experience – from academic courses to a robust activities program.
WHY STUDY AT LOYALIST?
Small class sizes
Place to live on campus as well as the availability of living off campus options
International student scholarships
Programs starting in September, January and May
University transfer agreements (diploma at Loyalist to a degree at a partner university)
Placement opportunities for further experience in the field
Fast-track options – finish your diploma faster!
Opportunities to work on and off campus
STUDENT SUCCESS

At Loyalist College, your success is important to us. The staff and teachers at the college will help you because they genuinely want to see you succeed academically, socially, and personally. Our Student Success team provides a range of services and support. As a student at Loyalist College, you have access to:
Academic Centre for Testing
AccessAbility Services for students with disabilities
Counselling Services (on campus)
Keep Me Safe – virtual mental wellness service
Student Success Mentors
Tutoring Services
TOP COURSES
Health, Wellness and Sciences
Arts, Media & Design
Law, Justice and Security
Environment and Life Sciences
Computer & Information Technology
Management, Administration and Organisation
Mechanical Engineering
Education, Social Studies and Community
Hospitality, Culinary and Tourism
Civil, Construction and Architecture
Journalism
Electrical Engineering
Trade and Technology
ADMISSION PROCESS
DOCUMENT REQUIREMENTS FOR ADMISSION
Transcripts from any post-secondary school (if applicable) and proof of academic status equal to the Ontario Secondary School Diploma (OSSD) (Grade 12) are required from international candidates.
For entrance, the following certifications are acceptable:
Original transcripts of graduating from secondary school.
Original transcripts from your college or other post-secondary institution (for post-grad).
If necessary, a certified translation. All paperwork should be in English.
Results of an English proficiency test.
For any study gaps, our admissions staff may ask for a backlog certificate as well as papers pertaining to experience/work.
LANGUAGE REQUIREMENTS
Within Loyalists, all instruction is given in English. Skills including communication, listening comprehension, reading comprehension, and writing must be at a level adequate to satisfy the demands of post-secondary studies in order to be successful in a programme.
It is essential for all Loyalist candidates whose first language is not English, or whose prior education was conducted in a language other than English, to take an English proficiency exam for their applications to be considered.
Having an adequate level of English proficiency is also necessary to demonstrate that the candidate can achieve the programme's academic standards and will be able to successfully complete the programme.
AS PART OF THE ADMISSION APPLICATION, APPLICANTS ARE REQUIRED TO SEND TEST RESULTS FROM ONE OF THE FOLLOWING EXAMS:
| | | |
| --- | --- | --- |
| English Language Proficiency Test | Certificate/Diploma Programs/Advanced Diploma | Post-Graduate Programs/Fast-Track |
| TOEFL: (Test of English as a Foreign Language) | 550 (paper-based test)While the iBT internet-based test requires a minimum of 84 with a minimum of 20 in each section. | 560 (paper-based test)84 (iBT internet-based test) with a min of 21 |
| IELTS (International English Language Test Service) | 6.0 overall with no bands less than 6.0 (under SDS)6.0 overall with one band at 5.5 6.5 overall but no less than 6.0*7.0 overall but no less than 6.5** | 6.5 overall with no bands less than 6.0 in each section |
| CAEL (Canadian Academic English Language Assessment) | Overall band of 60, writing 60 | Overall band of 70, writing 60 |
| Cambridge English Exam | C1 Advanced or C2 Proficiency | C1 Advanced or C2 Proficiency |
| Pearson PTE Academic | Overall 54 | Overall 60 |
HOW TO APPLY DIRECTLY
Through the Ontario Colleges International Application Service (IAS), international applicants can submit a direct application to Loyalist Colleges. You can do the following things on the International Applicant Service portal:
Create a new application
Upload any necessary supporting documents, such as transcripts, receipts for payments, and study permits.
Obtain letters of acceptance (LOA) and notices of offers.
Download the necessary VISA application paperwork to prove your payment.
Download LOA for a VISA application
Send the College a copy of the approved VISA or study permit by uploading it.
It is crucial to return to the IAS portal and select SUBMIT once the applicant has used Flywire to pay the $110 application fee.
APPLY FOR A VISA/STUDY PERMIT
In order to start the process of applying for a student visa or permit after receiving their LOA, applicants should get in touch with the closest Canadian embassy or consulate as soon as possible. In order to initiate pre-registration on the IAS portal after the visa has been approved, the applicant must upload their visa and/or study permit to the IAS portal and click Visa-received.
After pre-registering, details about registration and myLoyalist portal access will be made available. When planning their travel, applicants should keep the College's key date in mind.
SCHOLARSHIP PROGRAM
Every student-athlete on a varsity team at Loyalist College will be qualified to receive $1500 per semester in which they engage in athletic activity beginning in the 2022–2023 season; athletes on two-semester teams (basketball & volleyball) may receive up to $3000 per season, the maximum permitted by the Ontario College Athletic Association (OCAA).
The Lancers are dedicated to giving student-athletes an outstanding experience that will make Loyalist College a sought-after post-secondary institution. They are one of the few colleges in the country to offer a scholarship program of this size.
INTERNATIONAL TUITION & STUDENTS FEES
The costs listed below do not include living expenses, books, or additional program-specific costs or supplies.
| | |
| --- | --- |
| Two Semester | cost |
| Tuition | $15,000 |
| Ancillary Fees | $1,536 |
| Health Insurance (Mandatory) | $600 |
| Total | $17,136 CAD |
WHY ALWAYS CONSIDER BASICS OF IMMIGRATION?

Expert Visa counselors provide Step-by-step guidance through a secure, online process.
Apt evaluation of credentials and faster visa processing.
Identifying all potential hazards and roadblocks in securing a visa.
Assistance with documentation, immigration rules, citizenship, and border control procedures.
Multiple case assessment for better conflict resolution.
Designated process managers to provide personalized guidance.
Just like the basics of anything act as "building blocks" forming a strong foundation for constructing complex structures. The Basics of Immigration serve as the foundational elements of moving abroad, for any aspiring immigrant.