LAKELAND COLLEGE
The Lakeland College is a post-secondary institution that was established for the promotion of agricultural and environmental sciences. The college is entirely funded by the Government of Canada. The college campus is home to almost 7000 students. Located in Alberta, Canada, this university has an acceptance rate of 55% and has been ranked #827 in the United States in 2020, for Unirank's University Rankings. The university maintains two campuses in Vermilion and Lloydminster respectively. The college offers award-winning programs that are designed to transform the students into skilled working professionals, thereby actively contributing to the Canadian workforce.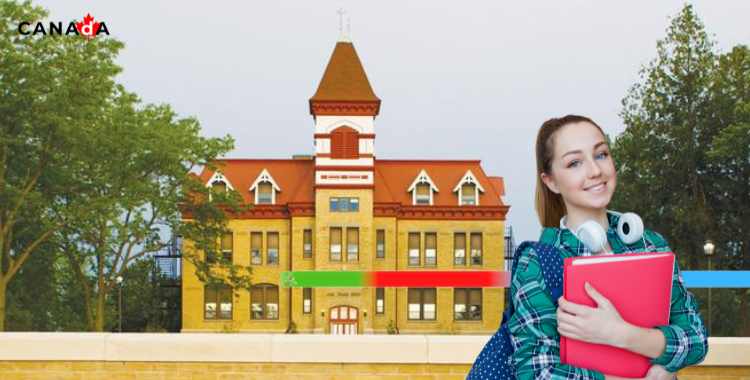 MAJOR INSIGHTS ON LAKELAND COLLEGE
| | |
| --- | --- |
| University Type | Public |
| Location | Alberta, Canada |
| Campus Setting | Rural/suburban |
| Standardized Test Scores | TOEFL, IELTS, CAEL, MET, and PTE. |
| Application fees | 90 CAD |
| Acceptance rate | 55% |
| Phone Number | Vermilion 780 853 8400 Lloydminster 780 871 5700 Toll – free number – 1 800 661 6490 |
| Email ID | hello@lakelandcollege.ca |
| | |
LAKELAND COLLEGE PROGRAMS
The Lakeland College offers a wide array of interesting courses and academic disciplines to international students. Broadly classifying the study options, we could talk of four categories-
Certificate
Diploma
University transfer
Online programs
Providing over 50 different study options, inclusive of the above mentioned ones, the college offers a range of other courses as well. However, it is important to note that international students are not eligible for all programs that are offered by the college. Two of the most popular programs offered by the college are Diploma General Business, and Diploma AgriBusiness respectively.
GIVEN BELOW IS A LIST OF THE PROGRAMS OFFERED AT THE LAKELAND COLLEGE-
Agricultural Sciences, human services, interior design, business, fire and emergency services, technology apprenticeship, environmental sciences, and energy petroleum technology
Diploma General Business and Diploma AgriBusiness
Although the majority of programs are available to the international students, there are certain exemptions as well. Compared to domestic students, international students can choose from a small number of options.
Therefore it is advisable to double-check the availability of a certain program.
LAKELAND COLLEGE APPLICATION PROCEDURE
The application process varies from one college to another. The application process for Lakeland College is comparatively unique and slightly complicated. Candidates must pay an application fee of 90 CAD while applying to the college, and make sure they meet the following requirements-
Students must apply in the online application portal called 'Apply Alberta Application Portal'.
Students must submit copies of original transcripts of previously attended educational institutions.
Students must submit their English Language Proficiency Test Scores.
Passport's biographical page including name, age, and birth date must also be submitted along with other documents.
THE ENGLISH PROFICIENCY TEST SCORES FOR STUDENTS ARE MENTIONED BELOW
| | |
| --- | --- |
| Test | Required Scores |
| TOEFL IBT | 78 or above |
| DUOLINGO | 100 and above |
| IELTS | 6.0 and above |
| CAEL | 60 and above |
| PTE | 53 and above |
SCHOLARSHIPS OFFERED
For any international student applying to study abroad, the ensuing costs of living and academic expenses can be overwhelming. This is why most students look out for scholarships that would aid them in their education during their course of study.
The Lakeland College, like many other colleges in Canada, offers a range of scholarships and bursaries to international students. Students can apply for these scholarships after the complete submission of their application forms. Given below is a detailed list of the range of scholarships offered by the institution.
| | | |
| --- | --- | --- |
| Scholarships | Eligibility | Amount (in CAD) |
| Academic Excellence Entrance Scholarship | Students accepted directly from high school to the first year of specific programs (Environmental sciences, Interior design, Business) Selection criteria: grade 11 marks | 15,00-3500 |
| Coca-cola Scholarship | Students enrolled full-time in the first and second years of a human service program at the Vermillion campus Selection criteria: academic excellence | 1000 |
| Bursary | Full Time students with financial need Excellent academic performance | 500 |
| Bocock Indigenous Entrance Award | Academic excellence | 1000 |
Apart from solely academic expenses, students must also consider the additional expenses involved while studying in Canada. Such a focused evaluation of finances help students plan out their stay throughout the duration of their course in Canada. These expenses include aspects like tuition fees, accommodation, transportation, and the like. Given below is a list that highlights the cost breakdown when you choose to study in Lakeland College–
| | |
| --- | --- |
| Expenses | Costs (in CAD) |
| Tuition | 5,000-8,000 |
| Accommodation | 5,040-5,270 |
| Food | 1,896 |
| Travel | 450 |
| Personal expenses | 1,464 |
| Phone and other utilities | 1,600 |
PLACEMENTS/EMPLOYMENT OPPORTUNITIES IN CANADA
The Student Employment Center at Lakeland College deals with the campus placements for its students and helps them in getting a significant number of employment opportunities in Canada. One-on-one career fairs are often organized by the institution to aid its students with employment offers. Additionally, the institution also has an online application website which allows students to apply for job opportunities. However, it must also be noted that the students are expected to learn and research about the firm before deciding to apply, as the college shall bear no responsibility for the same.
Mentioned below are the names of some companies that hire students of the Lakeland College-
Trace associates
Richardson pioneer
Impres
G-mac's agteam
WHY ALWAYS CONSIDER BASICS OF IMMIGRATION?

Expert Visa counselors provide Step-by-step guidance through a secure, online process.
Apt evaluation of credentials and faster visa processing.
Identifying all potential hazards and roadblocks in securing a visa.
Assistance with documentation, immigration rules, citizenship, and border control procedures.
Multiple case assessment for better conflict resolution.
Designated process managers to provide personalized guidance.
Just like the basics of anything act as "building blocks" forming a strong foundation for constructing complex structures. The Basics of Immigration serve as the foundational elements of moving abroad, for any aspiring immigrant.