KENSLEY COLLEGE
Located on Sherbrooke Street in Montreal, Kensley College is the key to unlocking the doors of unbelievable opportunities. The institute is managed by a team of diligent and passion-driven individuals who intend to redesign the careers of their students in a way that they conquer all their career goals. The college boasts of its commitment to providing skills-based, simple education that promotes student academic success and a multicultural mix of the student community. The students at Kensley College are treated as family, and they receive assistance in every step of their journey to achieve their goals and ambitions.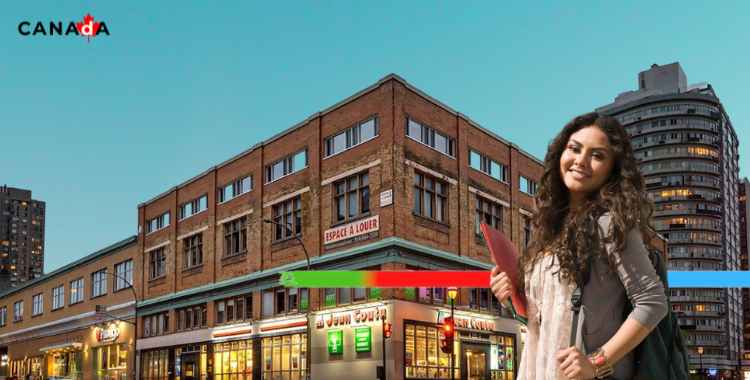 RANKINGS OF KENSLEY COLLEGE
| | |
| --- | --- |
| Webometrics- World | 26711 |
| Webometrics- National | 188 |
VISION AND MISSION
Kensley College aims to provide hands-on training to its students, which would help them build the practical skills necessary for being a part of the contemporary workforce.
The college is on a mission to help every student discover their true potential. The institute is extremely passionate about the learning process and strives to maintain its reputation of being amongst the best colleges for higher education in Canada. Dedicated to assisting its students in building a bright future, Kensley College seeks to instill practical skills in its students so they are better prepared for the global workspace.
WHY CHOOSE KENSLEY COLLEGE?

Kensley College is located in the Canadian province of Montreal, which is regarded as one of the best places for students to live and learn. With over 180,000 university students, Montreal City has the highest rate of graduate students in North America.
Kensley College strives to help its students realize their dreams and career goals through innovative programs and specialized courses. Clearly, it is amongst the most preferred institutes for higher education in Canada.
Discussed below are the reasons why you must choose Kensley College as your next study destination-
Safe living conditions- Quebec is known for being a just and respectful society which is inclusive and democratic at the same time. Moreover, the city has the lowest crime rate in the whole of North America.
Ultramodern infrastructure- The college is characterized by state-of-the-art laboratories,well-equipped computer labs, sports facilities, and work halls.
Low cost of accommodation and affordable tuition fees.
Kensley College offers educational excellence through its solid core of internationally recognized courses.
Outstanding academic reputation and a campus that is lively, engaging, and vibrant, with a multicultural mix of the student community.
Easy and inexpensive transportation, including metro services.
STUDENT SERVICES AND FACILITIES
Kensley College offers a wide range of services and facilities to its students including an Advisory Center, Employment Activities, International Student Advising, Mentoring, Student Wellness, and Student Safety.
ADVISORY CENTER
The Advisory Center helps the students manage their academic experiences, which include course registration, program progression, and counseling services, which are provided by Counselors, Faculty, Program Directors, and Chief Academic officers.
STUDENT EMPLOYMENT ACTIVITIES
For many students, part-time work is an excellent way to tackle the financial obligations of a college education. The programs at Kensley College are designed in such a way that students are allowed flexible schedules that let them maintain both classroom time and study time. The student employment activities help students in getting a part-time job while they are pursuing their course of study simultaneously.
INTERNATIONAL STUDENT ADVISING
The college is dedicated to providing maximum assistance to its international students whenever needed and possible. It provides a safe and comfortable space to all the international students who will get to participate in social work with other international students as well as Canadian students. Such opportunities will also enable them to learn about Canadian culture.
MENTORING
The college offers Peer Mentors to newly inducted students during the first term for support and guidance.
STUDENT WELLNESS
All students have access to free, cost-effective counseling services 24/7.
STUDENT SAFETY
The college offers a security plan to its students each quarter. These plans focus on areas such as personal security, prevention of sexual harassment, and identity theft, among others.
LIST OF PROGRAMS
Kinsley College offers two specialized programs to international students-
Cyber Security and Ethical Cyber Piracy
Software Quality Assurance
Each of these programs is discussed in detail below-
CYBER SECURITY AND ETHICAL CYBER PIRACY
| | |
| --- | --- |
| Duration | 2 years (4 semesters) |
| Language of Instruction | French/English |
| Credential | AEC |
| Delivery options | Hybrid (on-campus and virtual) |
| Intakes | January, March, May, and September |
In this course, the student is introduced to new-age technology and skills required to defend and append the computer OS. The course, therefore, prepares the students for on-demand openings of Cybersecurity professionals.
The students would learn about the following-
Computer network and security bases.
Network security threats, attacks, controls, agreements, and devices.
Use of firewall security, VPN, and IDS management.
Predicting and managing various network security risks and vulnerabilities.
Complete information on network, telecom, web and computer systems.
Information on current security agreements for multiple operating platforms.
The skills of "hacking", with authorization, to audit existing and potential weaknesses.
Defensive, remedial measures to protect systems from attack by malicious networks.
Information on various cyber vulnerabilities and exploitation.
Skills to protect web communications and technology.
Ability to copy and write program codes.
Soft skills, such as writing reports, and being a team player.
Command line control, OS concepts, communications, and different protocols.
SOFTWARE QUALITY ASSURANCE
| | |
| --- | --- |
| Duration | 2 years (4 semesters) |
| Language of Instruction | French/English |
| Credential | AEC |
| Delivery options | Hybrid (On-campus and Virtual) |
| Intakes | January, May, and September |
This course covers all aspects of manual and automated testing methods. The curriculum is designed in such a way that it ensures the fundamentals of testing, languages used and databases.
The students would learn about the following-
Understand the key concepts of software testing.
The role and responsibilities of Quality Analysts in various stages of the SDLC.
How to follow up on challenges in the JIRA app.
Read and understand what RUP (Rational Unified Process) means and what RUP sections are.
Understand the life cycle tests and the different types of test methods used by Quality Analysts.
How to prepare a Review Strategy and Plan by Quality Analysts.
Understand test rating strategies such as Best Guess, Ad-hoc method, WBS, Delphi, Three Point Estimation and Test Point Analysis.
Read and understand how JIRA is used as a test management tool by quality analysts.
This Software Quality Assurance (SQA) course also helps you understand a different framework for automatic testing.
able to perform tasks such as managing the evaluation process, analysis, and other administrative-related tasks in the HP Quality Control (HP-QC) application
receive practical information on Automation testing tools such as Selenium WebDriver, HP UFT, and LoadRunner.
understanding of how SQL queries need to be done in a database
ELIGIBILITY CRITERIA
Kensley College welcomes students from across the globe to come and seek admissions at the college. All interested students are required to secure a minimum of 55% as an aggregate of core subjects in the recent higher education completed. Additionally, students must provide their English Language Proficiency Test Scores.
| | |
| --- | --- |
| Test Name | Required Scores |
| IELTS | 6 overall or more |
| TOEFL (i-BT) | 75 overall or more |
| CAEL | 60 overall or more |
| PTE | 60 overall or more |
APPLICATION PROCESS
If you meet the eligibility conditions, you are all set to fill out the application form for the institute.
Eligible candidates need to follow the below-mentioned steps during the process of applying-
Choose your program of study and check for availability
Check for the specific program requirements
Look for country requirements
Submit all required documents
Keep track of your application status and Letter of Acceptance
After final approval of your application, apply for a CAQ, Study Permit, and a Temporary Resident Visa (if applicable)
DOCUMENT CHECKLIST
Students must submit the following documents while filling out the application form-
High School transcripts and Diplomas
Passport ID
Proof of English Language Proficiency
Post-secondary transcripts and Degrees (if applicable)
SCHOLARSHIPS AVAILABLE
Kensley College offers the following scholarships to international students to aid them with their academic expenses-
Ontario Graduate Scholarships Ogs Western University
Doris Dixon Scholarship
University of Calgary International Entrance Award
Ontario Graduate Scholarship Master's Program
WHY ALWAYS CONSIDER BASICS OF IMMIGRATION?

Expert Visa counselors provide Step-by-step guidance through a secure, online process.
Apt evaluation of credentials and faster visa processing.
Identifying all potential hazards and roadblocks in securing a visa.
Assistance with documentation, immigration rules, citizenship, and border control procedures.
Multiple case assessment for better conflict resolution.
Designated process managers to provide personalized guidance.
Just like the basics of anything act as "building blocks" forming a strong foundation for constructing complex structures. The Basics of Immigration serve as the foundational elements of moving abroad, for any aspiring immigrant.