FOCUS COLLEGE KELOWNA 
Focus College Kelowna welcomes students from all walks of life and believes in their success. Located in the Canadian province of British Columbia, the campus was established in the year of 1992. The institution boasts of its rich array of courses which attract thousands of overseas students every year. The most popular disciplines include Business, Information technology, Travel, and Tourism among others. The college strives to foster individual growth and success for every student. Primarily a post-secondary educational institution, the college has been designated by The Ministry of Advanced Education through the PTIB branch.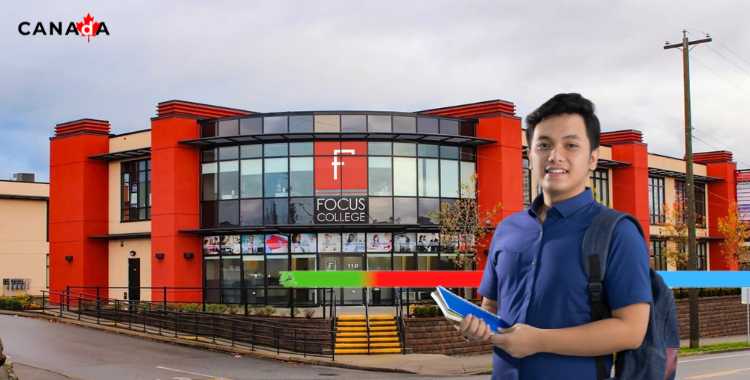 WHY CHOOSE FOCUS COLLEGE KELOWNA?
Being a student at Focus College lets you be a part of a multicultural community which includes students from all walks of life. Furthermore, the academic curriculum is designed in such a way that the instructors follow 'employment-focused teaching', which trains the students in becoming successful in their careers. Additionally, the amazing location of British Columbia only adds to the interest of the student wishing to apply to the college.

Given below are some of the reasons why you should choose Focus College Kelowna for your further studies-
Students receive personal attention from instructors who are qualified industrial experts. These instructors make sure to thoroughly guide the students in their journey to success.
The teaching process is customised to meet the needs of every student. This careful restyling leads to the creation of a more engaging and effective learning environment, which drives student success.
The instructors are always available for doubt clearance and feedback, providing one-on-one support and mentorship to students, which help boost their confidence and enhance their skills.
Focus College is a globally recognized institution, and has been designated by the Ministry of Advanced Education through the Private Training Institute Branch(PTIB) under the Private Training Act.
The college has been awarded the Education Quality Assurance designation, meaning it has either met or exceeded the quality assurance standards of British Columbia.
The college has partnered with University of the Fraser Valley, providing an academic pathway to its Advanced Certificate in Business graduates to continue with their further studies by transferring to UFV in the General Studies Diploma Program.
STUDENT SERVICES
Every year, thousands of students from all over the world come to British Columbia to study at Focus College Kelowna. Owing to Canada's easy immigration policies, and the advantages offered by the college to the students, the annual intake has only been increasing every year.
Mentioned below are the several student services that the college has to offer to its students-
Safety, Security, and Parking
Libraries with computer labs and group study rooms
Healthcare and Medical, including counselling and mental health services
Bars, restaurants, and cafes
Student tutoring and support, academic tutoring and support, and Peer and Buddy program
IT support and Campus Wireless Connectivity
Workshops and Skills classes
PROGRAMS AND COURSES
At Focus College Kelowna, students are exposed to an amazing array of programs and courses to choose from. Each of these programs are designed to help the students develop their skills further and achieve greater success in their careers.
Given below are the list of programs offered by Focus College, Kelowna, to its students-
Business
Information Technology
Travel and Tourism
English as a second language
Short Certificate
Office short courses
ELIGIBILITY CRITERIA
If you wish to apply for any specific program at Focus College, Kelowna, you have to ensure that you qualify for the said program or course. After you qualify as an eligible candidate, you can apply for your desired program by filling out the application form, and following the required process.
Following are the eligibility conditions that must be met by potential candidates in order to apply for the program of their choice-
The candidate has to prove that he/she is a mature student by providing the document stating the minimum completion of grade 12, or any equivalent Canadian qualification.
The candidate must be proficient in English. English Language Proficiency may be demonstrated through tests like IELTS with the minimum score of 6.0
HOW TO APPLY?
If you wish to apply to study at Focus College, you need to consider the following instructions while filling up the application form for the institution-
Choose your program of study. The agent assigned by the college will aid you in filling up the application form.
Your application form must consist of the following details-
– Your first and second choice of program of study
– Important documents like report cards and certificates
– Scanned copy of passport's biodata
– Document showing your official IELTS score
– An application fee of $200 CDN
After the application process is complete, the college will send in a conditional acceptance letter within 3-5 days from the date of receiving your application. Your complete application must include all required documents and fees.
Once you accept all the terms and conditions outlined in the conditional acceptance letter, an official Letter of Acceptance will be issued to you by the college.
Upon receiving the Letter of Acceptance, you must immediately apply for your student visa or study permit to Canada.
Upon approval of your study permit, you must send a copy of the approval via email to the college authorities.
In case of refusal of study permit, a copy of the refusal letter has to be sent to the college authorities via email, in order to receive a refund.
COST OF LIVING IN CANADA
| | |
| --- | --- |
| Tuition Fees in Canada (1st Year Average) | BE / BTech: CA$22,600 | MBA: CA$25,375 | MS: CA$17,225 | BBA: CA$20,560 | MEng: CA$22,225 | BSc: CA$20,745 | MASc: CA$20,375 | MIM: CA$28,900 | MA: CA$12,970 | MFin: CA$32,785 | BHM: CA$20,560 | MEM: CA$17,040 |
| Average Accomodation & Food Costs in Canada | CA$8890 Per Year |
| Entrance Exams in Canada | TOEFL: 86 | IELTS: 6.5 | PTE: 60 | GRE: 309 | GMAT: 560 | SAT: 1177 |
| Work and Study in Canada | Permitted for 20 hours/week with a valid study permit. |
| Post Study Work Permit in Canada | Up to 3 Years after graduation depending on the course. |
| Cost of Student Visa in Canada | CAD 150 |
| Student Visa in Canada | A Canada student permit is a document issued by IRCC (Immigration, Refugees and Citizenship Canada) for international students in Canada. To study in Canada, you will require a student permit, which serves as a student visa. |
| Intakes in Canada | There are Three Intakes in Canada: Fall (September), Winter (January) and Spring (May) |
| Top Job Sectors in Canada | Business Management, Engineering, Economics, Dentisty, Law, Computer Science. |
| Economy in Canada | GDP Growth of 1.9% (2018) 1.5% (2019e), 10th Largest Economy in the World by Nominal |
WHY ALWAYS CONSIDER BASICS OF IMMIGRATION?

Expert Visa counselors provide Step-by-step guidance through a secure, online process.
Apt evaluation of credentials and faster visa processing.
Identifying all potential hazards and roadblocks in securing a visa.
Assistance with documentation, immigration rules, citizenship, and border control procedures.
Multiple case assessment for better conflict resolution.
Designated process managers to provide personalized guidance.
Just like the basics of anything act as "building blocks" forming a strong foundation for constructing complex structures. The Basics of Immigration serve as the foundational elements of moving abroad, for any aspiring immigrant.