ETON COLLEGE VANCOUVER
Located in the heart of Vancouver City, in the picturesque province of British Columbia, Eton College stands tall as an outstanding higher education institution, offering several communication disciplines, business management, hospitality, and flight attendance courses, taught by extremely qualified professors. Founded in the year 2003, in the month of July, the College has been designated by the Private Training Institutions Branch (PTIB) and Education Quality Assurance (EQA). The College is committed to providing each student with a unique educational experience to help meet their goals and a homely environment for both domestic and international students.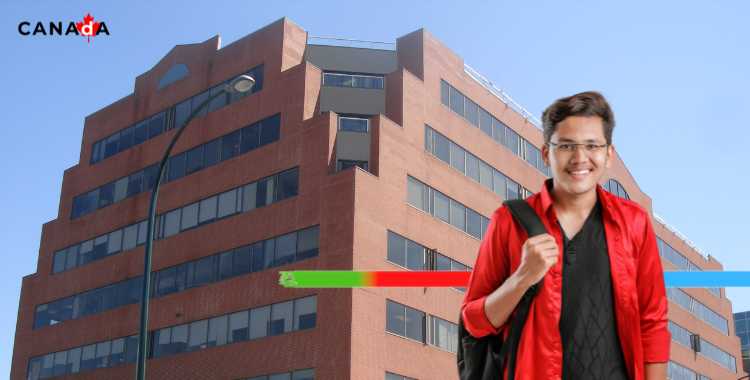 VISION
Eton College aims to provide an environment to its students that is vibrant, inclusive, and diverse and enriches their lives in the process. They aim to inspire lifelong learning and help students achieve their career goals through a curriculum of innovative programs and courses. Its main goal, therefore, is to equip its students with all the necessary skills and knowledge that are required for them to succeed in a global society.
WHY CHOOSE ETON COLLEGE VANCOUVER?
Eton College offers a wide range of interesting courses and programs that are taught by instructors who are industry professionals. Moreover, the international framework of its curriculum ensured a balanced mix of theory and applied learning, which helps students get hands-on training.

Considering the innumerable advantages of being an Eton College student, the best reasons why you should opt for the College are enlisted below-
Small class sizes ensure students receive personal attention, and the mentorship style of the instructor meets the needs of every student.
An academic curriculum based on international standards ensured a balanced mix of theory and applied learning, so much so that students are trained to bring theories to life by making use of personal experiences.
Students become a part of an inclusive environment where they are exposed to innumerable opportunities that would help them grow. In this process, they end up developing transferable employability skills.
Eton College graduates are hired by reputable Canadian or international employers. Students also stand a chance to get a degree from the top Canadian universities.
The extremely caring and supportive College staff are a source of great guidance to the students. The College offers academic support and tutorials, volunteering opportunities, and extra-curricular activities along with lifetime career support.
The College boasts of its hallmark of success and takes great pride in its student care services.
MOST IMPORTANT FEATURES OF THE ETON COLLEGE
The Eton College campus boasts amazing facilities and student services. Every year, the College welcomes thousands of international students from across the globe. The countless benefits and services offered by the campus act as one of the many reasons for such a high annual intake.
Stated below are some of the distinct features of Eton College–
Academic counselling
Health insurance
Career support
Library services
Recruitment services
Peer mentorship
Scholarships and awards
Financial assistance
Co-op program
Work while studying
Orientation for new students
Volunteer and Community Outreach Programme
PROGRAMS AND COURSES
Graduating from Eton College will land you a fulfilling career, as the institute offers exceptional professionalism and job readiness. The diverse courses offered by the College help broaden the knowledge base of the students and upskills them for the global workspace.
The following is the list of courses and programs offered by the College to both its domestic and international students-
Introduction to Hospitality Facilities Management
Innovation and Entrepreneurship
Leadership fundamentals
Professional report writing
Intro to Security and forensic tools
Introduction to the hospitality industry
Fundamentals of integrated business system
Basic-Computer crime and digital assurance
Travel and Tourism Management
Business administration
ELIGIBILITY CRITERIA
If you wish to apply for Eton College, you will have to make sure that you meet the listed eligibility conditions-
It must be noted that international students are considered on a case-by-case basis. The eligibility requirements tend to vary depending on the type of program that you decide to opt for.
Students must be 18 years of age at the time of applying.
Students are required to submit the certificate issued by the International Qualifications Assessment Service, which is used to compare the educational credentials from other countries to the prevalent, educational standards in Canada.
HOW TO APPLY?
All candidates who are interested in enrolling themselves for any program at Eton College are expected to take part in the admission procedures put forward by the institution. Interested candidates must sit for an in-person or telephonic interview with the Admissions Officer to confirm the suitability of the program as well as further employment opportunities and challenges. During this interview, the candidates would be assessed on the basis of their motivation, needs, and expectations.
Candidates are expected to provide evidence of English Language Proficiency when considering applying to the College.
The following is the detailed process, inclusive of the steps required to follow during the process of applying-
STEP 1- Submit all necessary documents
Scanned copy of the passport
Scanned copy of highest diploma/degree attained
Copy of official transcripts of previously attended post-secondary institution
Proof of English Language Proficiency Test
Completed and signed College application form
Payment of the non-refundable application fee of CAD $125
STEP 2- Wait for the confirmation letter
After duly filling in the application form and submitting it, your application will be reviewed and approved by the authorities.
After your application has been successfully approved, you will receive a confirmation letter from the College.
STEP 3- Deposit the tuition fees
After receiving the confirmation letter, candidates are expected to deposit their tuition fees.
The tuition deposit amount is CAD $6000
STEP 4- Final deposit
The application form must be accompanied by a non-refundable application fee of CAD $350.
APPROXIMATE TUITION FEE PER YEAR
8000 – 18000 Per year
SCHOLARSHIPS AND AWARDS
For any international student wanting to study abroad, it is extremely important to look out for scholarships and awards that would help them in funding their education throughout the course of their study in a foreign country. Eton College also offers several scholarships and grants to its students.
ELIGIBILITY-
Applicants must meet the GPA standards set by the College.
They must keep track of the start dates and apply ahead of time to avoid delays.
DETAILS OF THE SCHOLARSHIPS-
These scholarships are based on Canadian dollars and will suffice for the applicant's first 8 months' tuition fee on a prorated basis.
These scholarships are non-transferable, non-refundable, and cannot be combined with any other awards or fee waivers.
The award allocation strictly depends on the student's GPA score.
HOW TO APPLY?
All applications sent within the requested time frame and meeting the desired GPA score are eligible for the scholarships.
WHY ALWAYS CONSIDER BASICS OF IMMIGRATION?

Expert Visa counselors provide Step-by-step guidance through a secure, online process.
Apt evaluation of credentials and faster visa processing.
Identifying all potential hazards and roadblocks in securing a visa.
Assistance with documentation, immigration rules, citizenship, and border control procedures.
Multiple case assessment for better conflict resolution.
Designated process managers to provide personalized guidance.
Just like the basics of anything act as "building blocks" forming a strong foundation for constructing complex structures. The Basics of Immigration serve as the foundational elements of moving abroad, for any aspiring immigrant.