COLLEGES IN NOVA SCOTIA
Nova Scotia is a maritime province in Canada and is among the four Atlantic provinces, well-known for being amongst the best places to live in Canada. The place takes immense pride in preserving its historical culture. The capital city of Halifax, which is a sizable metropolitan city, is the economic hub of Atlantic Canada and is home to a wide variety of businesses and occupations. Nova Scotia is home to top-notch educational institutions and offers a supportive learning environment to its students. Colleges in Nova Scotia offer a diverse learning experience to their students.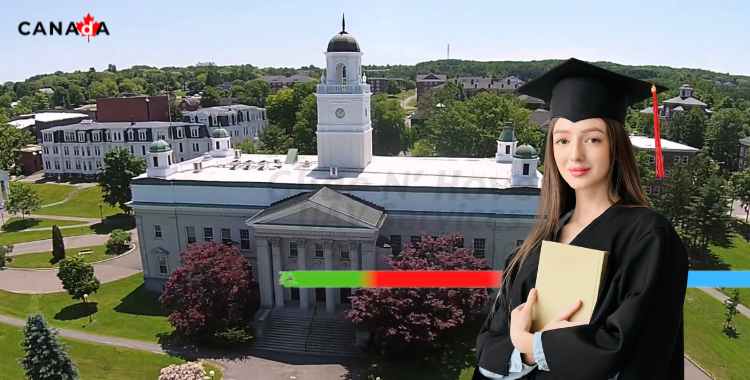 NOVA SCOTIA: AN IDEAL CHOICE FOR INTERNATIONAL STUDENTS
Colleges in Nova Scotia offer a unique and rewarding experience to their students. Offering a wide range of academic programs, the educational curriculum includes popular fields such as business, engineering, and sciences. For international students, colleges in Nova Scotia offer them a recreational paradise coupled with the benefit of academic innovation and tradition. With relatively affordable costs of living, these educational institutions offer high-quality education at reasonably low prices that are accessible to all.

Given below are the top reasons why colleges in Nova Scotia serve as an ideal choice for international students from across the globe.
High-quality education: Nova Scotia houses the top universities and colleges in Canada. All courses and programs offered by the educational institutions are recognized for their excellence and innovation.
Low-cost of education and affordable courses: The province of Nova Scotia is popular among students because of its affordable costs of living. Students wanting to study in Nova Scotia can save a lot of money on transportation, housing, and other related expenses. Additionally, the tuition fees are also lower as compared to other Canadian provinces.
Picturesque location: The breathtakingly beautiful landscape of Nova Scotia offers a serene and peaceful environment to students. Such a calm environment enables the students to escape the usual stress of academic life and gives them an opportunity to appreciate the natural beauty of the place.
Multiculturalism: The province of Nova Scotia is home to different cultural groups including Indigenous peoples, African Nova Scotians, and Immigrants from across the globe. This diverse character of the region is a major signifier of inclusivity and tolerance.
Students studying in colleges in Nova Scotia are trained by a team of highly experienced and skilled professionals who are committed to student success, and deliver professional guidance to students throughout their journey of building successful careers.
LIST OF BEST/TOP COURSES IN NOVA SCOTIA
In the linked and diverse world of today, the diverse culture of Nova Scotia can help students gain a global perspective and an appreciation for many cultures. Additionally, it can help students feel accepted and at home in their environment, thereby increasing their level of comfort and happiness. Nova Scotia has a variety of employment options for students wishing to kickstart their careers.
Colleges in Nova Scotia provide a wide range of options to international students to choose from. These include-
Technology, Healthcare, Education, and Public sectors.
Hospitality, accommodations, and tourism services offered by the burgeoning tourism industry.
Local companies and organizations provide co-op programmes and internships.
Options for on-campus employment and research for students to gain considerable work experience.
Colleges in Nova Scotia offer the following range of courses to its students:
Business and Management including Accounting, Finance, Marketing, and Entrepreneurship.
Engineering, including Electrical, Mechanical, Civil, and Computer.
Sciences including Biology, Chemistry, Physics, and Environmental.
Educational courses.
Art and Design including Visual Arts, Graphic Design, and other acceptable Art courses.
Technology including Computer Science, Information Technology, and Digital Media.
Humanity and Social Sciences including History, Sociology, Psychology and Political Science.
Health Sciences including Nursing, Medicine, Dentistry, and Veterinary Medicine.
TOP COLLEGES IN NOVA SCOTIA
| | |
| --- | --- |
| Dalhousie University | Offers undergraduate and graduate business, engineering, sciences, health sciences, and humanities programs. |
| Mount Saint Vincent University | offers programs in the sciences, humanities, social sciences, business, and education. |
| University of King's College | offers undergraduate programs in arts, sciences, and journalism |
| Acadia University | offers programs in the arts, sciences, professional studies, and business. |
| Cape Breton University | offers a range of undergraduate and graduate programs in fields such as business, arts, sciences, education, and health sciences |
HOW TO APPLY TO COLLEGES IN NOVA SCOTIA?
Generally speaking, every college/university has different requirements concerning the process of admission and eligibility conditions for students. However, when applying to any educational institution in Canada, there are certain general prerequisites that are followed by every institution. International students seeking admissions in Nova Scotia must apply for a Student Visa or Study Permit when applying to the educational institutions.
If you are interested in applying to Colleges in Nova Scotia, you must ensure to follow the below-mentioned steps.
Decide the program that you wish to study and the institution that you wish to apply to.
Submit the application form along with supporting documents.
Wait till you receive a Letter of Acceptance from the respective college.
Apply for a Student Visa immediately after receiving your official Letter of Acceptance.
DOCUMENTS CHECKLIST
All the supporting documents required while filling out the application form of the college/university include-
Documents proving academic qualifications
Documents demonstrating English Language Proficiency
Proof of funds to support your study
Health Coverage
WHY ALWAYS CONSIDER BASICS OF IMMIGRATION?

Expert Visa counselors provide Step-by-step guidance through a secure, online process.
Apt evaluation of credentials and faster visa processing.
Identifying all potential hazards and roadblocks in securing a visa.
Assistance with documentation, immigration rules, citizenship, and border control procedures.
Multiple case assessments for better conflict resolution.
Designated process managers to provide personalized guidance.
Just like the basics of anything act as "building blocks" forming a strong foundation for constructing complex structures. The Basics of Immigration serve as the foundational elements of moving abroad, for any aspiring immigrant.