CODECORE COLLEGE
Located in Downtown Vancouver, CodeCore College was founded in 2008 and has been providing intensive practical programming training to students since. Primarily a technology institution, CodeCore College has become a dynamic University Transfer College, offering several technology and business programs over the years. The College strives to deliver excellence in education and empower individuals. Their vision is to be recognized by both domestic and international students for the quality of programs that they have to offer while continually adapting to industry demands. Over the years, they have gained recognition for cutting-edge programming education in Vancouver, Canada.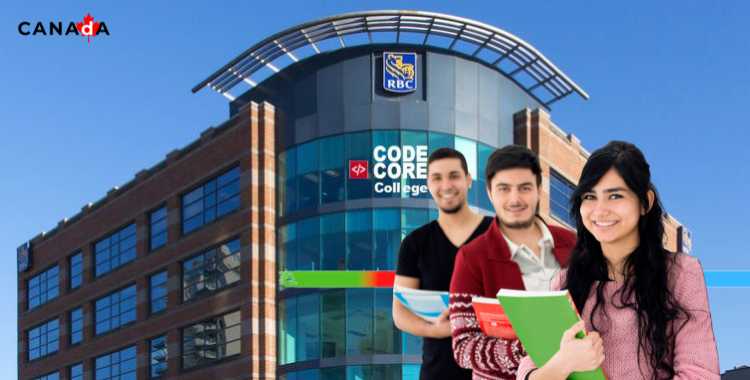 WHY CHOOSE CODECORE COLLEGE?
CodeCore College is well-known for offering advanced programming courses to its students. Delivering high-quality education by instructors who bring industry knowledge to the four walls of the classroom, the College is preferred by most international students.

Following are the reasons why one should opt for CodeCore College-
Provides intensive practical programming training to its students.
A dynamic University Transfer College offering several technology and business programs.
Instructions are professionals skilled in industry knowledge which help the students integrate practical knowledge with real-world experiences.
Has several accreditations, including British Columbia EQA and British Columbia StudentAid BC.
AVAILABLE PROGRAMS IN CODECORE COLLEGE
The CodeCore Bootcamp curriculum has been created by a team of industry veterans, which is constantly reviewed, updated, and optimized in collaboration with the corporate Hiring Partners. Apart from teaching its students the fundamentals of coding and programming, the College also focuses on providing hands-on training to students in Software Architecture and Development Methodologies. Furthermore, Web Development graduates have a 96% placement rate after course completion.
CodeCore College offers a wide range of programs across the following categories-
Technology
Coding
University Transfer
Business
Education
The following are the programs offered by the College-
Web Application Diploma
Cyber Security Diploma
Business Administration Diploma
CodeCore Developer Bootcamp
Elixir and Phoenix
ACCREDITATIONS
The CodeCore College has worked hard to establish itself as one of Canada's most comprehensive and well-known college and university affiliations networks, so much so that its list of affiliations continues to grow impressively.
The College is accredited by the following-
British Columbia EQA (Education Quality Assurance)
British Columbia PTIB (Private Training Institutions Branch)
SQA (Scottish Qualifications Authority)
British Columbia StudentAidBC
The College has an authorized user for the EduCanada Brand.
HOW TO APPLY?
If you wish to apply to the CodeCore College, make sure to follow the below-mentioned steps-
STEP 1
Decide your program of study
Select your choice of campus.
Decide what program you wish to apply for.
Select your intake session.
STEP 2
Academic Details
Fill in all your academic details.
It is mandatory to have completed your High School education.
STEP 3
Personal Information
Fill in all your details, including your name, qualifications, and transcripts.
STEP 4
Upload Documents
Scanned copy of your passport
Proof of identity
Official transcripts of previously attended educational institutions
Official Score of English Language Proficiency Test
TUITION FEES
When applying to a foreign university, it is essential for every international student to take a closer look at the tuition fees, so as to effectively prepare for their budget. Given below is a detailed list highlighting the fees for different courses offered in the CodeCore College-
| | |
| --- | --- |
| Program | Fees (per year) |
| CodeCore Developer Bootcamp | $10,700.00 |
| Programming Fundamentals | $950.00 |
| Advanced Web Application Development Diploma | $16,500.00 |
| Advanced Digital Design and Development Diploma | $16,500.00 or $18,500.00 with Co-Op |
| Business Administration-Accounting Specialization | $18,500.00 |
| Business Administration Diploma – Management Specialization | $18,500.00 |
| Cyber-Security Diploma | $18,000.00 |
| Cyber Security with Practicum | $20,000.00 |
| DevOps Professional | $25,000.00 |
| DevOps Professional Co-Op | $25,000.00 |
| Elixir and Phoenix | $3,500 |
| Education Assistant | $19 000.00 |
WHY ALWAYS CONSIDER BASICS OF IMMIGRATION?

Expert Visa counselors provide Step-by-step guidance through a secure, online process.
Apt evaluation of credentials and faster visa processing.
Identifying all potential hazards and roadblocks in securing a visa.
Assistance with documentation, immigration rules, citizenship, and border control procedures.
Multiple case assessment for better conflict resolution.
Designated process managers to provide personalized guidance.
Just like the basics of anything act as "building blocks" forming a strong foundation for constructing complex structures. The Basics of Immigration serve as the foundational elements of moving abroad, for any aspiring immigrant.