COAST MOUNTAIN COLLEGE
Established in the year of 1975, Coast Mountain College is an accredited post-secondary institution that has been serving the rich and diverse communities of the picturesque province of British Columbia, Canada. Previously called the Northwest Community College (NWCC), the institute has five regional campuses serving a total of 34 communities, 21 of which are First Nation communities. The College offers innovative programs and aims to be the most preferred College for experiential learning. This publicly-funded educational institution is a member of the University of the Arctic network and Colleges and Institutes Canada.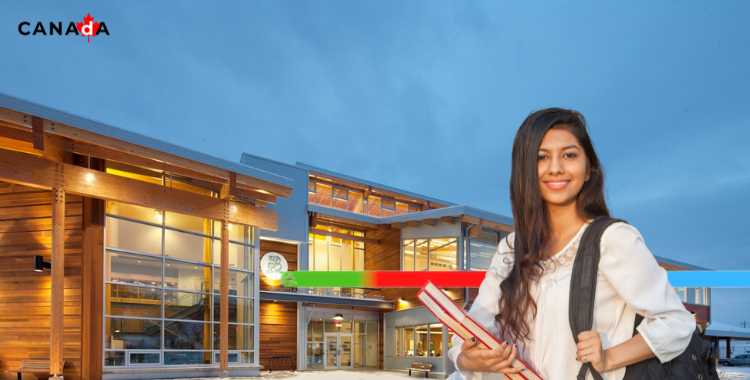 GUIDING PRINCIPLES OF THE COLLEGE-
The Coast Mountain College has some core values/guiding principles that it seeks to abide by. These core values are Adventure, Transformative, and Integrity, respectively. These three core values are explained as under.
Adventure- the College intends to explore and take enough risks to engage in learning. In doing so, it explores new ways to move courses into the field and seeks out new approaches and pedagogy.
Transformative- the College intends to transform lives during the process of learning. It includes experiential learning and helps students discover new career opportunities.
Integrity- the College is respectful, transparent, accountable and inclusive and does the right things always. It focuses on communicating with clarity and is consistent with everything it does.
CAMPUS FACILITIES
When studying at Coast Mountain College, students are exposed to a number of facilities/services at the Campus. All these services are designed to provide maximum comfort to students and make their academic experience wholesome and worthwhile throughout the course of their study. Some of the advantages offered by the College campus obviously include the small class sizes that enable effective student interaction, online programs, University credit programs, health and human services programs, and trades foundation and apprenticeship programs. It's innovative and flexible mobile training, moreover, helps reach communities beyond the campuses.
The services/facilities offered by the campus are enlisted as under-
Campus Store- one can find textbooks, course materials, and supplies for respective courses and programs. Moreover, the store also has an inventory of CMTN gear and accessories.
Food Services- the Terrace campus provides on-campus food services to students.
IT Services- these services provide the best learning and working experiences to both students and faculty of the College. Each Campus has an IT technician to help with troubleshooting technical issues.
Safety and Security- the College boasts of a safe and secure campus location.
Parking and transportation- the College provides affordable options for traveling to and from campuses.
Conferences and Events- the College also provides event and conference services to clients spanning Northwestern British Columbia.
WHY COAST MOUNTAIN COLLEGE?
Coast Mountain College is well-known for integrating lifestyle and learning together. Serving 34 communities with an adventurous education that helps them build sustainable careers, there are many good reasons why Coast Mountain College should be your next study destination!

Connecting education to community- the College focuses on experiential learning and project-based studies.
Cultural connections- the College has partnerships with the First Nations Communities, thereby developing programs which are connected to the cultural, social, political, and economic values and realities of these communities.
Offering adventurous pathways- the College intends to transform a student's life through elevated learning experiences and university transfer opportunities.
Campuses and communities- Coast Mountain College is home to rich cultures and picturesque landscapes, binding several communities together.
PROGRAMS AND COURSES
The Coast Mountain College offers a wide range of courses to international students from across the globe. The categories of study range from Arts, Business, Health and Social Services to Science, Trades, and Upgrading.
Following are the list of programs offered by the institution-
Applied Coastal Ecology – Applied Earth & Environmental Studies
Automotive Service
Business Administration
Carpentry
Cosmetology
Criminology
Early Childhood Care & Education
Education Assistant
First Nations Fine Arts
Health Care Assistant
Heavy Mechanical
Millwright
Northern Collaborative Baccalaureate Nursing (NCBNP) – Registered Nurse
Professional Cook
Social Service Worker
University Credit
Welding
West Coast Culinary
ADMISSION CHECKLIST
The interested applicants have been admitted on a first-qualified, first-admitted basis. Every applicant is helped by an Educational Advisor appointed by the College for easy guidance and doubt clearance at every step. Once accepted by the institution, applicants are expected to proceed by registering for the desired course and paying the required tuition fee.
If you wish to apply for admission to the Coast Mountain College, there are just three steps that you need to follow, which are-
Apply for admission
Register for courses
Pay the tuition fees
All these steps are discussed in detail as below-
STEP 1-
Apply for admission
Review the program entry requirements and pay the application fee ($100 CDN) – candidates need to check for entrance requirements which are available on the program homepage.
Determine when to apply– due to the limited class sizes, candidates are expected to apply early. They must keep a check on application deadlines, competitive application process, and keep the additional supporting documents ready.
Apply online to save time– candidates are advised to apply online, and mail all the required documents and transcripts to info@coastmountaincollege.ca
English Language Proficiency- candidates must demonstrate their English Language Proficiency through a method of evaluation, like IELTS or TOEFL.
Submit all necessary documents- all supporting documents including high school transcripts are to be submitted via email or at any of the campus locations in-person.
Receive Conditional Acceptance upon successfully filling up the application form and meeting all requirements, based on your respective study stream.
| | | | |
| --- | --- | --- | --- |
| Application process | Deposit amount | Wire transfer fee | Total due |
| Regular Study Stream | $7,800 | $15 | $7,815 |
| Study Direct Stream | $13,000* | $15 | $13,015* |
STEP 2-
Register for courses
Login to the website of the College, myCMTN.
Make a deposit through a credit card. No Visa debits or Debit transactions are accepted.
Register for classes under the Registration header.
Upon selection of class schedule, your course will be successfully registered.
STEP 3-
Pay the tuition fees
After duly filling up the application form, and successfully registering the course, candidates must pay the required tuition fee to complete the application process.
Getting a study permit –
It is advisable to apply for the Study Permit as early as possible since the processing time tends to vary depending on your country of origin. The process for acquiring a study permit depends on the kind of study stream that you opt for.
Additionally, students also require an Electronic Travel Authorization, which will be anyway approved once the study permit has been issued
Pre-arrival checklist-
Upon receiving the Letter of Acceptance from the College, you must apply for the study permit immediately. After the study permit has been approved by the authorities and an approval letter has been issued by the IRCC for the same, a scanned copy of the documents must be sent to along with your CMTN student number. Lastly, after the registration of your course by the International Educational Advisor, you must submit the acknowledgement of the travel plan form, declaring your travel intentions.
Estimated living expenses
Student Housing
$600 monthly
Meals
$450 monthly
International tuition fees (10 courses)
Depends on the type of program chosen
Total living expenses per month
$1,050
WHY ALWAYS CONSIDER BASICS OF IMMIGRATION?

Expert Visa counselors provide Step-by-step guidance through a secure, online process.
Apt evaluation of credentials and faster visa processing.
Identifying all potential hazards and roadblocks in securing a visa.
Assistance with documentation, immigration rules, citizenship, and border control procedures.
Multiple case assessment for better conflict resolution.
Designated process managers to provide personalized guidance.
Just like the basics of anything act as "building blocks" forming a strong foundation for constructing complex structures. The Basics of Immigration serve as the foundational elements of moving abroad, for any aspiring immigrant.