GET PARAMOUNT EDUCATION AT CAMBRIAN COLLEGE SUDBURY CANADA
Canada is still regarded as one of the top nations in the world for a high-class living, working, and studying experience! Due to the intrinsic worth of Canadian educational credentials, studying abroad in Canada allows international students to gain advanced skills and a future in Canada.
International students in Northern Ontario can live in smaller, contemporary, safe, and reasonably priced villages with all the services and amenities of large urban areas.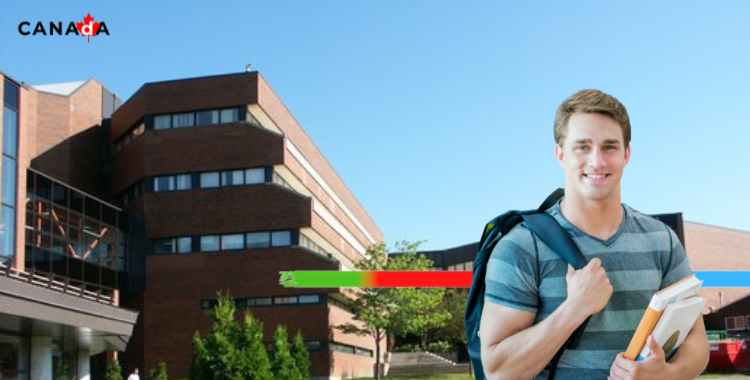 CAMBRIAN COLLEGE SUDBURY OVERVIEW

Canada's Greater Sudbury is home to the Cambrian College Sudbury for applied arts and technology. With more than 11,000 students enrolled, it is the most prominent institution in northern Ontario, Canada. with over 7000 students enrolled in around 900 part-time courses, and over 4100 students enrolled in 80 full-time programs. Three Cambrian College campuses—in Sudbury, Espanola, and Little Current/Manitoulin Island—are open to new students.
The college is supported by the Province of Ontario, which built its infrastructure with the goal of facilitating the exceptional applied arts instruction provided at the institution. Undergraduate and graduate programs in applied arts and technology are taught at the college, and these programs place a strong emphasis on students and help them get ready for outstanding futures.
BENEFITS OF MOVING TO CAMBRIAN COLLEGE SUDBURY CAMPUS
Due to the benefits of learning and living in an environment with big-city amenities but the reasonable cost, safety, and hospitality of a small town, international students are selecting Cambrian College Sudbury Campus.
Cambrian College provides a distinctive setting for learning:
Study in cutting-edge classrooms, laboratories, and workshops.
Learn from knowledgeable, approachable professors who know your name and will open the door to industry networks while taking advantage of small class sizes.
You will gain insider knowledge of the newest practices and market trends as you are coached by working experts with substantial industry experience.
Take part in experiential learning opportunities like co-ops, placements, and volunteer work.
IELTS REQUIREMENTS FOR CAMBRIAN COLLEGE SUDBURY IN CANADA
English is the medium of teaching for all Cambrian College programs. The English language proficiency and experience of applicants must be sufficient for them to engage fully in-class lectures, assignments, debates, and exams.
Cambrian evaluates foreign applications on a case-by-case basis. All program requirements, including the English proficiency test.
The following language competence tests are accepted by Cambrian Sudbury Campus as meeting the English requirements:
| | | | |
| --- | --- | --- | --- |
| | | | |
| IELTS | TOEFL | PTE (Pearson) | *Duolingo |
| Diploma / Certificate6.0 (no band under 5.5) | Diploma / Certificate550 (paper-based test)80 (internet-based test) | Diploma / Certificate58 | 105-115 |
| Grad Certificate6.5 (no band under 6.0) | Grad Certificate570 (paper-based test)84 (internet-based test) | Grad Certificate61 | 120+ |
| Degrees6.5 (no band under 6.0) | Degrees88 (internet-based test) | Degrees58 | |
CANADA STUDENT VISA REQUIREMENTS
If their program of study lasts more than six months, international students need a visa to study in Canada. Participants in programs with required fieldwork or co-op study alternatives must additionally submit an application for a study permit to cover their employment during that period.
The following documents must be submitted by students in order to be considered for a visa and study permit:
An acknowledgment letter from Cambrian College
Financial documentation demonstrating your ability to sustain yourself while attending Cambrian College (including tuition and living costs)
Willingness to cooperate with a mandatory medical examination
Ability to supply immunization records if necessary for your program of study
FUNDS REQUIRED FOR CAMBRIAN COLLEGE SUDBURY CANADA
To be eligible for a study permit, every foreign student who applies to study in Canada must have the means to support themselves. Many additional types of financial aid, like Ontario provincial financial aid, that may be offered to Canadian students, are not available to international students.
In the event that you satisfy Citizenship and Immigration Canada's study permit requirements, students are permitted to work both on and off campus. For more information, please get in touch with the nearby certified ICCRC-accredited Canadian representative or visit the website for Citizenship and Immigration.
SUDBURY ONTARIO CAMBRIAN COLLEGE FEES
Depending on the program of study, tuition prices might range from $11,000 to $20,000 each year. All costs are expressed in Canadian dollars and must be paid with health insurance.
| | |
| --- | --- |
| Programs | Fees Per Semester (in INR) |
| Additions and Mental Health | 4.26 lakhs |
| Animation | 4.95 lakhs |
| Art and Design Fundamentals | 4.9 lakhs |
| Bachelor of Science in Nursing | 8.65 lakhs |
| Business | 4.57 lakhs |
| Business Administration | 4.53 lakhs |
| Business Analytics | 3.36 lakhs |
| Business Fundamentals | 4.96 lakhs |
Table reference – https://collegedunia.com/canada/college/112-cambrian-college-sudbury#aplicatioProcess
CAMBRIAN SUDBURY CAMPUS SUPPORT FOR FOREIGN STUDENTS
The Cambrian foreign department at Cambrian College assists foreign students with their journey by assisting in the hiring of students from over sixty nations as well as providing assistance for international students during their stay in Canada and at Cambrian College Sudbury Canada.
Pre-arrival services, relocation assistance, international orientation, immigration counseling, and other services are provided by the Cambrian International department as a way of helping new international students on their way to Cambrian.
Services for International Orientation and Resettlement
Bus and Airports Pickups
Lodging assistance international orientation sessions
Social gatherings, plus more!
Social networking activities, immigration counseling, and cultural programming
Fund for International Student Success
The International Student Assistance
HOW TO APPLY FOR CAMBRIAN COLLEGE SUDBURY?
After being approved, international applicants to Cambrian College must also submit an application for a Canadian study permit or visa. At the moment, the college offers three intakes in January, May, and September. Following are the steps and prerequisites for admission to Cambrian College Sudbury Canada:
Step 1
To Prepare Your Documents Including
Portfolio
Proof of English competence
Official, notarized transcripts from your prior high school, college, or university
A copy of your current passport
Step 2
To Submit an Application on the Website
Contact BOI and decide programs you want to apply to as well as all of your educational documentation. All our agents have access to the Cambrian College online application site, where they will submit your application on your behalf.
Step 3
To Wait for the Acceptance Letter
Our consultant or agent will be notified of your offer via the online application portal for Cambrian College. Please make sure you receive a copy of your offer or LOA from your consultant or agency.
Step 4
The Payment of Fees
Before the fee payment deadline, pay the fee in the manner specified in the offer letter.
The fee receipt will then be uploaded.
Please make sure you receive a printed version of the fee receipt.
Step 5
To Apply for a Study Visa/ Student Visa
If your program requires an obligatory co-op or placement, you may submit applications for your study permit or visa as well as your work permit once you have paid your fees, obtained the final offer/LOA, and received your fee receipt.
CAMBRIAN COLLEGE SUDBURY CANADA PROGRAMS FOR INTERNATIONAL STUDENTS
Cambrian's BBA Honors Program
You can gain both general and specific business skills and knowledge through Cambrian's Honours Bachelor of Business Administration (BBA) program, making you the ideal candidate for companies looking for well-rounded, qualified employees who can start working right away.
Through workshops, case studies, simulations, a capstone Applied Learning Project, industry experts, experienced instructors, and industry professionals, you will receive training and practice using your abilities throughout the whole program. You also have the option to study abroad.
Graduate Certificates
Do you already hold a college diploma or a university degree and wish to continue your studies in another discipline or in your field of expertise at a higher level? Get the job you've been wanting by upgrading your resume in as little as eight months by adding a graduate credential to it. It's the ideal strategy for advancing your studies. Cambrian College Sudbury Canada provides flexible study alternatives, a variety of student services, and on-campus resources to help you succeed in today's demanding jobs.
Health Sciences and Nursing
Some of the industries with the highest need for workers are those in the health sciences. You can use these programs to get ready for a job in this fascinating sector! These programs now have three intake periods: January, May, and September.
Skilled Trades Training
Pursue a career in the trades if you want a profession that is in demand. The programs at Cambrian Sudbury will position you to be the expert your coworkers look to for help with any issue or project in your line of work. Take pleasure in the technical and artistic abilities you'll get working on equipment of the highest caliber in our fully equipped labs and shops.
Engineering Technology
Consider a career building skyscrapers or suspension bridges, working in an underground facility 5,000 feet below the surface, or in a cutting-edge laboratory. Your enthusiasm for influencing the world around you will be combined with your passion for science and technology through our engineering technology programs.
This school of study now offers two intakes, which means that for some programs, you can begin your studies in either September or January.
Business and Information Technology
Are you interested in the dynamic business world? Become a competent business professional who supports businesses, non-profits, and organizations of all shapes and sizes in running efficiently, increasing their revenue, and dominating their industry.
Community Services
Are you trying to find a job where you can change people's lives? Do you enjoy giving back, getting engaged, and positively influencing your neighborhood? Community Services courses will help you with developing the specialized skills required to operate in this rewarding field, where you will advise, mentor, guide, and instruct others to be their best selves no matter what obstacles they encounter in life.
Law and Justice
Are you looking for a job where you can positively impact your neighborhood? Consider Cambrian College for the most thorough and intensive training facility for professions in security, private investigation, policing, and more!
Creative Art, and Design
Looking to improve your trade and seek a profession that will allow you to use your creative abilities to have a rewarding career? You can develop your artistic skills and get ready for the workforce with the aid of these programs, which are taught by professionals from the field who have had success as leaders in today's workplace.
Occupational Safety and Environmental Studies
Think about enrolling in the Workplace Safety and Prevention Technician program if you're interested in maintaining the safety of our workplaces. Graduates are eligible to take the Canadian Registered Safety Technician (CRST) examination and get the CRST designation provided they fulfill the academic standards outlined by the Board of Canadian Registered Safety Professionals.
General Studies
Are you searching for a flexible, personalized study plan or are you unclear about your future professional path? The General Studies programs will provide you the chance to advance your academic abilities and foster personal development. You can pursue your career interests while taking courses in general education.
CONCLUSION
Basics of Immigration, BOI, India's leading immigration consultancy in India to help students migrate to Canada for study purposes. Contact BOI for further information regarding Canada immigration.
WHY ALWAYS CONSIDER BASICS OF IMMIGRATION?

Expert Visa counselors provide Step-by-step guidance through a secure, online process.
Apt evaluation of credentials and faster visa processing.
Identifying all potential hazards and roadblocks in securing a visa.
Assistance with documentation, immigration rules, citizenship, and border control procedures.
Multiple case assessment for better conflict resolution.
Designated process managers to provide personalized guidance.
Just like the basics of anything act as "building blocks" forming a strong foundation for constructing complex structures. The Basics of Immigration serve as the foundational elements of moving abroad, for any aspiring immigrant.