BRIGHTON COLLEGE (BURNABY)
Brighton College seeks to offer an opportunity to develop personal growth, build marketable skills, and establish a foundation that paves the way for education and employment success. The College provides training programs that are designed based on the current industry demands and several other vocational programs. The skilled and professional instructors bring industry experience to the classrooms and train the students through learning activities and projects. The institute aims at providing a supportive learning environment to its students who come from a variety of backgrounds and seeks to combine classroom achievement and practical application.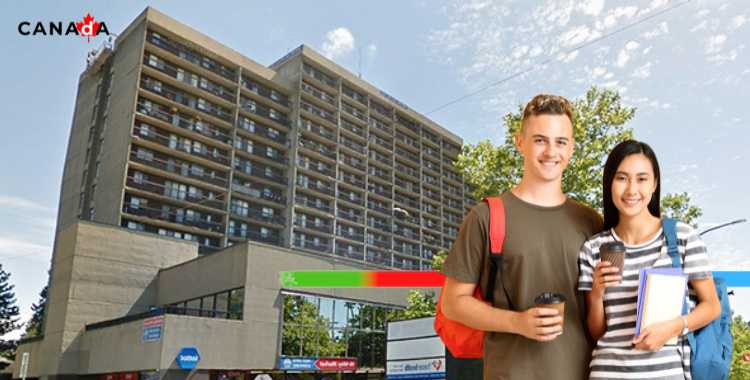 GOALS OF BRIGHTON COLLEGE
Brighton College seeks to provide a supportive learning environment to its students, who come from a variety of backgrounds and speak distinctly diverse languages. It values the holistic development of a student, along with the growth of its staff and faculty, in building meaningful relationships with communities and industries.

The broader mission of Brighton College may be broken down into the following points-
Providing a supportive learning environment that helps students enrich their lives through education.
Providing nationally recognized degrees.
Combining classroom achievement and practical application to foster individual growth and development.
Helping students develop high-quality communication skills, analytical skills, and professional skills that fit the demands of the workplace.
ACCREDITATIONS AND PARTNERSHIPS
Brighton College was established in the year 2000, and its main campus is located in Central Burnaby, Canada. Offering over 30 programs to students from across the globe, a significant majority of these programs are developed with accreditations and partnerships from industry-recognized certifications.
The College has accreditations and partnerships with the following-
BC Career Colleges Association (BCCCA)
Forum for International Trade Training (FITT) – Accredited Educational Partner
Canadian International Freight Forwarders Association (CIFFA) – Certified Partner
Applied Science Technologists and Technicians of British Columbia (ASTTBC) – Program Accreditation
National Payroll Institute (NPI) – Certified Partner
American Hotel and Lodging Educational Institute (AHLEI) – Academic Partner
Sage 50 – Educational Partner
WHY STUDY IN BRIGHTON?
At the time of its establishment, Brighton College was known as Vancouver Central College. It was renamed as Brighton College in the year of 2011. The College is a part of the Private Training Institutions Branch and has gained the designation of British Columbia Education Quality Assurance. Offering both full-time and distance learning options, the College specializes in courses like Business, IT, Engineering, and Building.
Following are the advantages/benefits of choosing Brighton College over any other institutions-
Hands-on training opportunity- a careful combination of technical and practical skills along with hands-on training and interactive learning styles.
Flexible scheduling of classes – programs are designed in a way that full-time and part-time students can continue with their courses with ease, maintaining an easy work-life balance.
Transfer pathways- the College builds articulation agreements with local institutions so as to provide academic pathways to students to expand their career possibilities.
Small class sizes- small class sizes allow students to freely participate in classroom discussions.
Block course format- block courses help in saving time and create focus in students.
100% work experience placement- most programs include a work experience placement after the successful completion of the course.
Convenient location- the College has a central location and is located one block away from the Metrotown Skytrain Station.
Ongoing job search- the Career Service Department of the College helps students with job placements and employment opportunities.
TOP PROGRAMS/LIST OF COURSES
Brighton College offers a wide range of academic courses and disciplines to students from across the globe. All these courses are designed to help the students develop skills and enhance their communication skills which would prepare them better for the global workspace. Since the College is determined to train the students in such a way that they become greater assets to the industries of their choice, it is only expected that the College offers extremely specialized courses to its students, which include in-depth research of topics.
The following is the list of top programs that are offered by the College to students who wish to apply-
College Diploma – Computerized Accounting and Office
College Diploma – Advanced Business Management – Accounting (Co-op)
College Diploma – Business Management (Co-op)
College Diploma – Hospitality Management (Co-op)
College Diploma – Hospitality Management (Accelerated) (Co-op)
College Diploma – Construction Project Management
APPLICATION REQUIREMENTS/ELIGIBILITY
If you wish to apply to Brighton College, you must ensure that you meet the eligibility requirements of the College. The admission requirements for the College are stated as under-.
The applicant must have completed High School and must possess a High School Diploma.
Applicant must submit proof of language proficiency.
Applicant must be legally able to study in Canada.
The applicant must possess program-specific prerequisites (if any).
APPLICATION CHECKLIST
STEP 1
Registration process
Potential students must consult with an Educational Advisor who is responsible for ensuring that the student meets all the necessary eligibility conditions.
Upon meeting the requirements, the Educational Advisor is expected to explain the important policies to the student before letting them sign the enrollment contract.
The method of payment will be discussed and settled upon.
The required paperwork would then be completed by the Educational Advisor.
The student's file would then be passed on to the Registrar's office, which would check for admission requirements and will process the file.
A Brighton student ID will then be assigned to the student, confirming their admission to the desired program.
STEP 2
Submitting transcripts and Academic Credentials
Duly fill out the college application form.
Pay the required application fee.
Submit all the official transcripts of previously attended educational institutions.
Submit all certificates and diplomas (original or certified copies).
EXAMS REQUIRED
| | |
| --- | --- |
| Exams Accepted | Minimum Score Required |
| IELTS | 6 |
| TOEFL | 71 |
| PTE | 50 |
AVAILABLE SCHOLARSHIPS
For any international student wanting to study abroad, it is extremely important to be wary about the inherent costs and expenses involved during their stay in a foreign country. To ease the burden of finances, most colleges offer scholarships and grants to meritorious students or those in need of financial aid. Similarly, Brighton College also offers scholarships to students applying for admission. These scholarships are offered course-wise.
The following are the scholarships offered by the institution-
Fall grants – The amount offered under this scholarship is up to $1000 for certificate courses and up to $2000 for diploma courses. It is an application-based scholarship, and students can apply for this scholarship directly from the college website.
StudentAid BC – this is a need-based scholarship. The amount and assistance, therefore, will vary depending on the situation of the applicant. Students have to go to the official website of the College to apply for this scholarship.
COST OF LIVING
If you are considering immigrating to Canada for admission, it is important to have a look at the expenses involved so as to better prepare yourself. An awareness of the costs involved will only make your immigration journey hassle-free and smoother.
ESTIMATED COSTS
| | |
| --- | --- |
| Monthly Expenses | Costs |
| Average Tution | CAD 18500 |
| Living Cost | CAD 12960 |
WHY ALWAYS CONSIDER BASICS OF IMMIGRATION?

Expert Visa counselors provide Step-by-step guidance through a secure, online process.
Apt evaluation of credentials and faster visa processing.
Identifying all potential hazards and roadblocks in securing a visa.
Assistance with documentation, immigration rules, citizenship, and border control procedures.
Multiple case assessment for better conflict resolution.
Designated process managers to provide personalized guidance.
Just like the basics of anything act as "building blocks" forming a strong foundation for constructing complex structures. The Basics of Immigration serve as the foundational elements of moving abroad, for any aspiring immigrant.