ALEXANDER COLLEGE(BURNABY)
Located in Burnaby, in the Canadian province of British Columbia, Alexander College is a post-secondary private institution that welcomes 3000 students almost every year. The institute provides a wide variety of undergraduate programs and transfer programs, which include University Transfer, Associate of Arts, and Associate of Science degrees, respectively. The institute also offers Integrated English for Academic Purposes to interested students. Alexander College is recognized and accredited by the BC Ministry of Advanced Education and Degree Quality Assurance Board. Furthermore, the College is a proud participant in the BC Transfer System.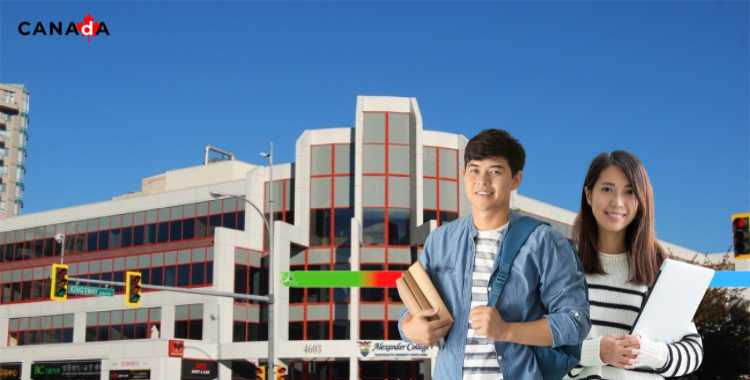 QUICK FACTS!
The College's name comes from Sir Alexander Mackenzie, the fur-trade adventurer and author of Scottish descent.
Established under the British Columbia Ministry of Advanced Education in the year 2006, the College has two campuses in Vancouver and Burnaby, respectively, in the province of British Columbia.
The College has been adding Associate degree concentrations into its curriculum as it realizes that these degrees smoothen the transition from University to working on-site, for students, through a Post-Graduate Work Permit.
FOUR GOALS
Alexander College has four primary goals that broaden its mission for its students. These are-
Student empowerment and successful careers.
Inclusivity and accessibility for all.
Engagement and citizenship.
Community building.
WHY CHOOSE ALEXANDER COLLEGE?
Alexander College aims to provide its students with exemplary higher education. The College also offers a range of campus activities, in addition to internationally recognized degree programs and individual support services, aimed at fostering global and local community engagement.
There are several reasons why Alexander College is often the preference for most international students coming from diverse cultural backgrounds and speaking diverse languages. Stated below are some of the facilities/services that the college offers which may benefit students-
Supportive learning environment to students from different cultural backgrounds through its internationally recognized courses and programs.
Wide range of transfer courses and degree programs for students.
Promotes community engagement and academic achievement to foster individual growth and development in students and prepare them for a successful future.
STUDENT-FACING SERVICES
Alexander College provides a range of non-academic student support services that are aimed at helping the students navigate their program of study from the admission perspective. The College's administrative professionals provide timely and accurate information to students.
Following are the Student-facing Services offered by the College-
Post-admission enquiries
Study authorization
Student Financial Aid
Course Registration
Medical Insurance
Student records
Assessment testing
Forms, letters, and transcripts
Transfer credit
Graduation
RANGE OF PROGRAMS AND COURSES OFFERED
Alexander College offers a wide array of transfer courses and transfer programs to students who apply every year. In recent times, it has also begun to introduce several Associate Programs to its students. The institute's academic programs are specifically designed to prepare students for work, citizenship, and an elevated and enhanced life as educated individuals.
Offering courses with in-depth study, the College offers the following programs as listed below-
Associate of Arts (in Business, International Relations, Psychology, Sociology, Economics, Mathematics, etc)
University Transfer
Associate of Science
Pathways and Block Transfers
English
APPLY FOR ADMISSION
During the application phase of the students, every applicant is assigned an Enrollment Officer. These enrollment officers are responsible for helping the students with general questions, providing personalized support, and ensuring that every student is connected to the College staff, so much so that they have direct contact with them. These Enrollment officers are also trained to offer services in several other languages like Mandarin, Punjabi, Korean, and Spanish.
For the application process, the College uploads the application form on the Student Portal, which has additional instructions to go ahead with the process.
SCHOLARSHIPS OFFERED
Alexander College, Canada, offers scholarships worth CAD 1200 each. These scholarships are awarded to students who display outstanding achievement in their disciplines. Furthermore, these scholarships are offered every term, namely Fall, Winter, and Spring.
These scholarships are listed below-
FALL TERM (AWARD GIVEN IN WINTER)-
Norman Swartz Philosophy Scholarship
English Scholarship
Biology Scholarship
Asia Studies Scholarship
Computing Science Scholarship
Film Scholarship
WINTER TERM (AWARD GIVEN IN SPRING)-
Commerce Scholarship
History Scholarship
Chemistry Scholarship
EAP Scholarship*
Psychology Scholarship
Communications Scholarship
SPRING TERM (AWARD GIVEN IN FALL):
Physics Scholarship
Sociology Scholarship
Peter Kennedy Economics Scholarship
Math Scholarship
French Scholarship
ELIGIBILITY REQUIREMENTS FOR SCHOLARSHIPS
Students are nominated for the scholarships by their respective instructors once the grades are entered after the completion of a term. The rest of the decision rests on the Selection Committee. If you wish to apply for any of the scholarships as mentioned above, you must ensure that you meet all the eligibility conditions described as under-
Academic excellence in one's respective field of study
Strong attendance record in one's respective field of study
A cumulative GPA of 2.67 with a minimum of 9 credit points
The Alexander College, therefore, is devoted to providing an excellent learning experience to its students. The institute focuses on the holistic development of its students through engagement, empowerment, and lifelong learning.
WHY ALWAYS CONSIDER BASICS OF IMMIGRATION?

Expert Visa counselors provide Step-by-step guidance through a secure, online process.
Apt evaluation of credentials and faster visa processing.
Identifying all potential hazards and roadblocks in securing a visa.
Assistance with documentation, immigration rules, citizenship, and border control procedures.
Multiple case assessment for better conflict resolution.
Designated process managers to provide personalized guidance.
Just like the basics of anything act as "building blocks" forming a strong foundation for constructing complex structures. The Basics of Immigration serve as the foundational elements of moving abroad, for any aspiring immigrant.