STATEMENT OF PURPOSE FOR CANADA STUDENT VISA
Are you looking to study in Canada? Educational excellence, extensive research possibilities, cultural differences, a safe and peaceful environment, lively campus life, and an international environment are some of the factors that make Canada one of the most preferred education destinations for international students.
Per Immigration, Refugees, and Citizenship Canada (IRCC), the country welcomed 550,000 international students from 184 countries, including a large number of Indians. In this article, you will be briefed about the statement of purpose for Canada student visa, which is one of the essential requirements in the visa process. For starters, let's understand the concept of a statement of purpose.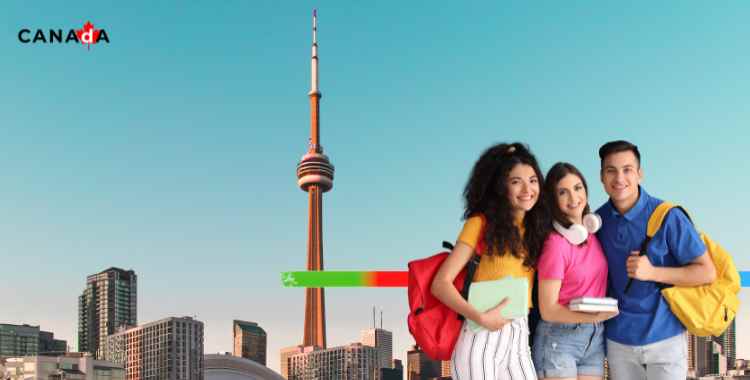 WHAT'S "STATEMENT OF PURPOSE FOR CANADA STUDENT VISA"
A Statement of purpose (SOP) is a letter of essay written by students seeking admission, highlighting their academic and professional recognitions, career goals, the motive to choose the particular program, and other driving situations that have motivated them to seek education at a Canadian university. The SOPs help the admissions crew assess your future aspirations, objectives, subject knowledge, and expectations.
It explains the reasons why they should choose you over other applicants who have also applied to study in Canada.
TYPES OF SOP FOR CANADA STUDY VISA
Only writing an academic SOP won't help you reserve admission at your chosen university. Nonetheless, applicants require to write two separate Statement of purpose for Canada student visa which is the following:
SOP FOR CANADIAN STUDENT VISA
A Statement of purpose for Canada student visa focuses on your motivations for selecting Canada as a dream destination to study, your financial situation, your intention to return to your country, along with academic and professional background. Visa officers and immigration authorities validate it.
SOP FOR CANADA UNIVERSITIES
A well-written SOP for Canadian universities gives the university an insight into your aspirations, personality, and capacity to handle the course. It helps the institute to understand how you would fit into their curriculum and if you are the right candidate for the program.
HOW TO WRITE A SOP FOR A CANADA STUDENT VISA
The writing style and for which country you are writing the SOP matters because the statement of purpose format is different for every country. Some countries demand to know their academic achievements and work experience while other countries just want your reasons to come to their specific country. Here is a quick rundown of the right format you should follow while writing a visa SOP for Canada.
Address
Start your letter by writing the address of the statement of suppose to the visa officer in the top right corner. You can find the address of the officer of the particular country for which you are applying online.
Mention the Subject
This is the section of your SOP where you discuss the topic/ purpose.
Introduction
The introduction paragraph is the most challenging part of an SOP. The opening sentences of an SOP should be clear and serve to establish the tone for the content that follows. Consider the sheer volume of SOPs a visa officer must read. As a result, you must make your content easy to understand.
You can start off by mentioning the course name and college you have chosen to enrol in.
Academic And Professional Background
You can mention your experiences related to your bachelor's degree in a brief essay if you are applying for a master's degree. When applying for a PhD program, you put the most emphasis on any papers you have published or any projects you have worked on with the help of a professor.
WHY PURSUE THAT SPECIFIC COURSE?
When mentioning the curve, you will need to elaborate on everything including past academic pursuits, prior experiences, or future goals. Any particular module or ground-breaking research that birthed your interest in that field may help you build the base of an officer's trust.
WHY THE PARTICULAR UNIVERSITY/ COLLEGE?
It would be beneficial if you provided a compelling justification for your preference for the university. These reasons could include academic resources, employment prospects, student-faculty ratios, research initiatives, etc. with this, your visa counsellor will not doubt your study visa application nor reject Statement Of Purpose for Canada student visa.
WHY STUDY IN CANADA?

Mentioning how the country adds something valuable to your resume would be beneficial. Additionally, talk about the international faculty and top MNCs in the nation that will give you global exposure.
Future Prospects
Your short- and long-term goals must be explained in this section. Your short-term objectives should include the work you want to do either during or after the course, such as an internship, a desirable job, a research project, and more.
HOW IS A SOP FOR CANADA STUDENT VISA DIFFERENT FROM OTHERS?
An SOP must be written for both the visa application process and Canadian universities by a candidate who wishes to study there. The Statement Of Purpose for Canada student visa is an essay in which the applicant is required to explain why Canada is the best study destination for him, as well as his academic goals, post-study plans, and the reasons he chose a particular course and university. Applicants can apply for their visa application and universities from the same SOP.
IMPORTANT TIPS FOR WRITING AN SOP
Some feature pointers for writing a statement of purpose for Canada student visa that will help you formulate a good SOP for a Canadian university:
Unique and Plagiarism Free
Every day, admissions committees and SOP officers read a number of SOPs. As a result, they are qualified to differentiate between an original and a plagiarized SOP. Put your skills and knowledge to use in pursuing the course, as well as how you hope to build a career in a related field, in your SOP.
Say NO to Repetitive Information
You must refrain from using the same language that is in your CV. Your SOP will become boring as a result. Write an interesting SOP about yourself using current and compelling information.
Mention your Goals
You must list all of your short- and long-term objectives so that the admissions committee and visa officer have a clear understanding of what you hope to accomplish in life.
WHY ALWAYS CONSIDER BASICS OF IMMIGRATION?

Expert Visa counselors provide Step-by-step guidance through a secure, online process.
Apt evaluation of credentials and faster visa processing.
Identifying all potential hazards and roadblocks in securing a visa.
Assistance with documentation, immigration rules, citizenship, and border control procedures.
Multiple case assessment for better conflict resolution.
Designated process managers to provide personalized guidance.
Just like the basics of anything act as "building blocks" forming a strong foundation for constructing complex structures. The Basics of Immigration serve as the foundational elements of moving abroad, for any aspiring immigrant.