AUSTRALIA STUDENT VISA
Ever wondered what it'll be like on the other side of the world? Australia offers world renowned education institutes and a safe, secure environment for international students to grow. With an annual international enrollment growth rate of 7%, around 4,50,000 Indians students have already made Australia their new home. Apply for an australia student visa.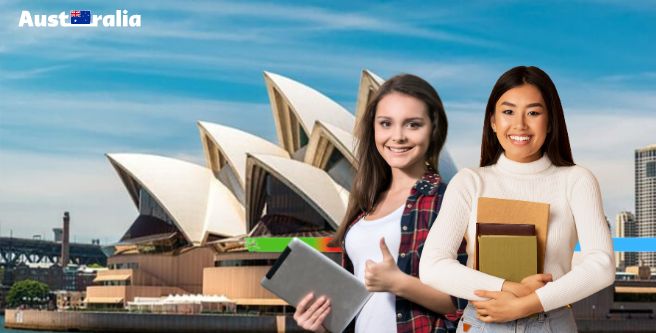 WHY AUSTRALIA?
Australia not only offers world class education and has a safe environment, there is more to it!
It offers the following to Australia student visa immigrants.
Globally recognised education
Financial support from australian government
Work opportunities even on student visa
Affordable education
INTAKES IN AUSTRALIAN EDUCATIONAL INSTITUTIONS
There are two intakes in Australia –
INTAKE 1
FEBRUARY INTAKE
This is the main intake and has a large number of universities and courses to offer.
Since most universities follow the February intake for maximum student admission, the activity calendar is also developed keeping the February intake as primary.
If you apply in February, you can attend loads of events, activities and gatherings.
If you wish to apply for February intake, ensure that you have sent all your applications by October and await results in november.
INTAKE 2
JULY INTAKE
Australia only offers 2 intakes, the July intake is not preferred as lesser universities take admissions during this time and even lesser courses are available.
Financial aid is also difficult to arrange for during the July Intake as funding from the federal government is more during Intake 1.
However, if you miss your chance to qualify for the February intake and your university offers the course during July intake, there is absolutely no harm in taking it up.
ELIGIBILITY TO STUDY IN AUSTRALIA
If you're looking to apply for australia study visa but don't know whether you are eligible or not, read the following requirements of australia study visa to clear your doubts,
'You should have completed at least 12th grade
You should have an undergraduate degree if you are applying for masters.
You should have atleast a band of 6 in IELTS test, if you are applying for UG programs
You should have atleast a band of 6.5 in IELTS test, if you are applying for UG programs
You should have a minimum of 50% in academic for admission to UG programs
You should have a minimum of 55% in academic for admission to PG programs
AUSTRALIAN STUDY VISA – WHAT ARE YOUR POWERS?
The Australian stamp is a powerful one, one of the most advanced countries in the world. Australia treats its immigrants with respect and ensures that they have a smooth stay.
With your study visa, you can do the following
You can be accompanied by your family members or dependents/spouse to Australia
You can enroll in your desired program and university
DOCUMENT CHECKLIST FOR AUSTRALIAN VISA
You should have the following documents when applying for an Australian study visa.
A valid passport
Your visa application
Your visa application fee slip
Your genuine temporary entrant (GTE) statement
Your proof of enrolment (eCOE)
Details of your health insurance
You should hold an overseas student health cover for the duration of the program
Evidence of english proficiency skills (IELTS score)
The minimum IELTS score for australian student visa is 5.5
Courses like Business, IT and engineering require a minimum score of 6.5
Courses like nursing, physiotherapy require a minimum score of 7.0
Note that these are the least, minimum score. Good universities require a better score of even 7 or above.
Evidence of financial ability / proof of funds
Proof of funds for Australia are required so the government knows that you will be able to support yourself for the duration of your stay and won't be dependent on federal schemes for monetary or welfare support.
If you're under 18 years of age, you will need additional documents like Parental consent.
HOW TO APPLY FOR AN AUSTRALIAN STUDY VISA
Follow these steps to apply for an Australian study visa.
STEP 1
check your eligibility to apply for australian study visa
STEP 2
if you're eligible, gather all the aforementioned documents.
STEP 3
Submit your application with all the required documents
STEP 4
Upon approval of visa application, you will be notified regarding the interview with the embassy.
STEP 5
Once selected, you can travel to Australia with your Australian study visa.
AUSTRALIAN STUDENT VISA APPLICATION FEES
The average cost of an application for an Australian student visa is AUD $630.
AUSTRALIAN STUDENT VISA PROCESSING TIME
The processing time of Australian Student Visa varies from application to application but the average processing time is anywhere between 30 days to 3 months.
TOP COLLEGES IN AUSTRALIA
If you want to study in Australia and are hoping to apply for australian student visa but undecided which college to choose. You can apply in the following colleges.
Australian national university
University of melbourne
University of sydney
University of south wales
University of queensland
University of western australia
University of technology sydney
TOP CITIES FOR INDIANS IN AUSTRALIA
If you're applying for Australian study visa, consider living in these cities
1. Perth
2. Sydney
3. Brisbane
4. Canberra
5. Melbourne
FEES OF COURSES IN AUSTRALIA
Fees for undergrad programs in Australia is about AUD $15,000- AUD $33,000 annually.
Fees for postgraduate programs in Australia is about AUD $20,000- AUD $37,000 annually.
Fees for doctoral degrees in Australia is about AUD $14,000- AUD $37,000 annually.
COST OF LIVING IN AUSTRALIA FOR INDIAN STUDENTS
| | | |
| --- | --- | --- |
| MONTHLY EXPENSES | IN AUD | IN INR |
| Rentals (on campus accommodation) | $860 | 48,500 |
| Transportation pass | $210 | 11,850 |
| Basic amenities | $800 | 28,150 |
| entertainment | $300 | 16,800 |
| Estimated total monthly expenses | $2170 | 1,05,200 |
WHY ALWAYS CONSIDER BASICS OF IMMIGRATION?

Expert Visa counselors provide Step-by-step guidance through a secure, online process.
Apt evaluation of credentials and faster visa processing.
Identifying all potential hazards and roadblocks in securing a visa.
Assistance with documentation, immigration rules, citizenship, and border control procedures.
Multiple case assessment for better conflict resolution.
Designated process managers to provide personalized guidance.
Just like the basics of anything act as "building blocks" forming a strong foundation for constructing complex structures. The Basics of Immigration serve as the foundational elements of moving abroad, for any aspiring immigrant.