SUPER VISA CANADA
If you want your parents or grandparents to live or visit you in Canada, then we got you covered!
Under the provisions of Super visa, you can get your parents and grandparents to visit and stay with you hassle free for a time period of 10 years! That means you won't have to worry about refreshing their visa or applying again and again for a decade!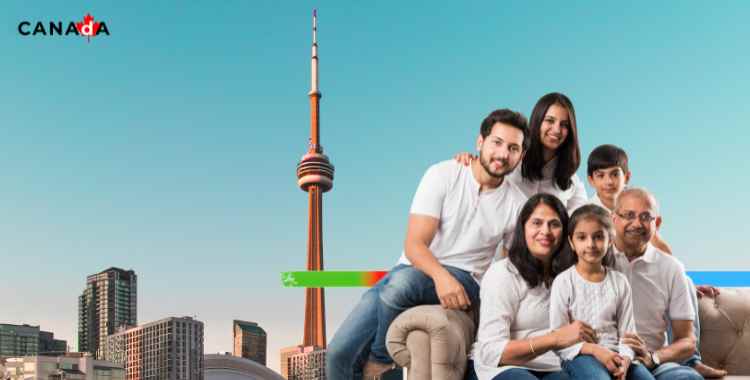 Explained here are the details about grandparent super visa and parent supervisa.
This article covers
Super visa canada requirements
Super visa canada eligibility
Super visa canada processing time
Documents required for super visa
Among other things.
WHAT IS SUPER VISA CANADA?
The super visa canada is a multi entry temporary visa which allows parents and grandparents of permanent residents of canada or citizenship holders to stay in the country for a maximum time period of 5 years. The parent and grandparent super visa is eligible for 10 years and unlike visitor visa which limits the duration of stay to 6 months, this visa allows eligible candidates of super visa canada to stay in the country.
It comes under the family sponsorship program that aims to bring families of immigrants together and reunite them. Another branch of the family sponsorship program is the spouse visa.
However, unlike a spouse visa,
A parent and grandparent super visa canada can not be converted into canadian permanent residency.
As per the changes made in July 2022, if you are staying in Canada and are near the end of your 5 year stay, you can request an extension of 2 years.
Thus, making the maximum duration of stay under super visa canada to 7 years.
WHO CAN APPLY FOR SUPER VISA CANADA?
Parents and grandparents of Canadian residents are eligible to apply under the parent and grandparent super visa.
The grandparents or parents, however, can not include anyone else or tag along someone else. If any sibling or relative is traveling from India to Canada along with a parent or grandparent who has a super visa, then the sibling or relative will have to apply separately for the visa.
They will be granted a visitor visa, and can stay in the country for a maximum time period of 6 months. Moreover, their visa is one time applicable only unlike super visa canada which is a multi entry visa.
SUPER VISA CANADA ELIGIBILITY
You need to match the following details to be able to apply for super visa canada under the sponsorship visa.
You are a parent or grandparent of a permanent resident of canada
Your grandchild or child should invite you to visit them in Canada and write a letter of invitation (LOI) . The letter should be submitted to the visa authorities during application processing time and should be carried when going to the country as well.
Your grandchild or child is financially stable and meets a minimum income threshold as established under the guidelines of family class sponsorship.
Your grandchild or child should buy medical insurance from a Canadian insurance company for your well being. The medical insurance should be valid for a year.
You have to pass the immigration medical exam. It is mandatory to examine you in case you have any serious health conditions and traveling to a different country is not appropriate for your age/health condition.
DOCUMENTS REQUIRED FOR SUPER VISA CANADA
Your medical examination documents
Medical insurance document
Proof of relation, like
Birth certificate
Any government document stating names
Your grandchild or child's proof of funds, that is
They should have a recent copy of their federal income tax notice of assessment
Recent copy of T4 or T1 documents
A letter from employer stating job title, description, date of hiring and salary
Letter of invitation copy
HOW TO APPLY FOR SUPER VISA CANADA?
Step 1
Get your aforementioned documents in order
Step 2
Apply for Super visa canada online through the IRCC portal
Login to IRCC portal
Create an account
Sign in
Upload all original document transcripts
Pay application fees with credit card
SUPER VISA CANADA FEES
| | |
| --- | --- |
| Fee for | COST IN CAD |
| Application of super visa canada | CAD $100 per person |
| Biometrics | CAD $85 per person |
| Electronic travel authorization | CAD $7 per person |
| Medical insurance for super visa canada | CAD $800 (varies according to age and health) |
SUPER VISA PROCESSING TIME
Super visa canada processing time is 8 to 9 months. The process starts once IRCC receives your application and begins scrutinisation.
DIFFERENCE BETWEEN SUPER VISA AND A VISITOR VISA
Some key differences between a super visa and a visitor visa are listed below –
| | |
| --- | --- |
| VISITOR VISA | SUPER VISA |
| Visitor visa is a temporary resident visa that allows people to visit canada on short term basis. | A super visa is a type of Visitor Visa, through which only parents and grandparents of Canadian citizens or permanent residents are allowed to visit the country. |
| Can only stay in canada for upto 6 montha. | Allows multiple entries through 10 years. An inditividual can stay for upto 7 years at a time. (as per the july 2022 update) |
| Visitors that want to stay on longer are required to apply for an extension of their visa and pay a fee. | Single-entry option is also available, at the discretion of the visa officer. |
REASONS WHY A SUPER VISA MAY GET REJECTED
If the applicant or sponsor have any kind of criminal background
If the applicant is not in a good health and at risk
If the sponsor has insufficient funds to support the stay of their parent or grandparent after super visa Canada grand
If the applicant fails to provide necessary documents.
WHY ALWAYS CONSIDER BASICS OF IMMIGRATION?

Expert Visa counselors provide Step-by-step guidance through a secure, online process.
Apt evaluation of credentials and faster visa processing.
Identifying all potential hazards and roadblocks in securing a visa.
Assistance with documentation, immigration rules, citizenship, and border control procedures.
Multiple case assessment for better conflict resolution.
Designated process managers to provide personalized guidance.
Just like the basics of anything act as "building blocks" forming a strong foundation for constructing complex structures. The Basics of Immigration serve as the foundational elements of moving abroad, for any aspiring immigrant.