SPOUSE VISA CANADA
Canada, being a very welcoming and loving country, provides not just an ideal standard of living but the country's immigration refugee and citizenship ministry considers uniting family as one of its prime goals.
Such a country always prioritizes its citizens and even the foreign nationals who have acquired Canada as permanent residents through the permanent residency process.
If you are looking to sponsor your spouse or are getting sponsored, don't worry!
More than 64,000 spouses attained Canadian PR visa in 2021 including 10,715 Indian spouses.
The spouse visa canada is one of the easiest attainable visas.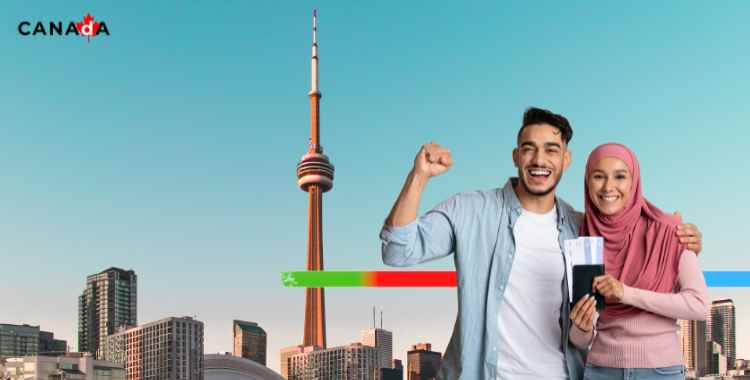 WHAT IS SPOUSE VISA?
Spouse visa canada is for the canada permanent residents who wish to bring their spouse or common-law partner to Canada. Spouse visa canada allows the spouses of canadian residents to become canada permanent residents.
A Canadian spouse visa is one of the easiest and fastest ways to secure Canadian permanent residency. This sponsorship program comes under the Family Sponsorship Program and Sponsor Visa.
CATEGORIES OF SPOUSE VISA CANADA
There are two categories under spousal sponsorship canada,
OUTLAND SPONSORSHIP
Outland sponsorship program under spouse visa can allow a Canadian citizen in the country to sponsor their spouse who is residing in a different country. By sponsoring their spouse, the Canadian citizen is taking the responsibility of their spouse.
This method is the fastest way a person can attain canada permanent residency.
INLAND SPONSORSHIP
Inland sponsorship program under spouse visa canada allows citizens to sponsor their spouse or common law partners for canada permanent residency status only if the couple is already residing together in the country on a temporary basis.
The temporary basis may include work permit, visitor visa etc.
CRITERIA FOR SPOUSE VISA CANADA
The Canadian government considers spouse and common-law relationships the same. In either of the categories, the sponsor and sponsored person have to prove that they have been together for a year or longer in a marriage or marriage-like relationship as a couple.
The immigration officers may ask either of the two parties to show the following evidence –
Relationship information
Sponsorship evaluation questionnaire
Birth certificates/adoption records of your children (if any)
Photos of you and your spouse/common law partner that demonstrate they are in a conjugated relationship
Proof that you both have lived together for at least one year
You should also have at least two of the following
documents indicating that the applicants are recognised as each other's spouses or common law partners in their homeland
Evidence of financial support or shared expenses between the two
Proof that the relationship is recognised by the society and their family
ELIGIBILITY FOR SPOUSE VISA CANADA
ELIGIBILITY TO BE A SPONSOR UNDER SPOUSE VISA CANADA
Applicants must be canada permanent residents and hold canadian citizenship
Must be 18 years of age or above
Should be willing to live in canada in future
Must be in possession of a marriage certificate
Must be financially capable to fulfill the fundamental and basic needs to sponsor their spouse
Must not have any criminal history
Applicant should not be insolvent
While there is no specific level of income required to become eligible to sponsor a spouse, immigration, refugees and citizenship canada (IRCC) will conduct an assessment to check whether the applicants are financially capable to fulfill the fundamental needs to sponsor their spouse or not.
ELIGIBILITY TO APPLY FOR SPONSORSHIP UNDER SPOUSE VISA CANADA
Must be above 18 years of age
Must be legally married or living together as a common law partner
Must be in possession of marriage certificate
Must not have any criminal history
Should not be suffering from any serious mental or physical health conditions
The sponsored candidate should take the IELTS exam and prove that they are proficient in English and French. Their IELTS score should have a bandwidth of 6 or above
The sponsored candidate also has to prove that they will be willing to work and partake in economic activities once they are granted permanent residency.
In order to work in Canada, the sponsored candidate should get their educational credentials assessed through the ECA process.
DOCUMENTS REQUIRED FOR SPOUSE VISA CANADA
If you are sponsoring your spouse, you should have the following documents
Complete application forms
Proof of funds, that is,
The sponsor will be able to fund the lifestyle, fundamental and basic needs of their spouse till they are able to find work
The sponsor is financially independent
The sponsor is not bankrupt or in debt
Marriage certificates
Police certificate and clearances of your spouse
Medical certificate of your spouse
Proof of payment of applicable government fees
Wedding invitations and photos
Digital photos
HOW MUCH DOES IT COST TO APPLY FOR SPOUSE VISA CANADA?
In order to process your Spouse visa for Canada from India, you must pay a fee to the Canadian government.
| | |
| --- | --- |
| Sponsor your spouse or common law partner | CAD 1080 |
| Sponsor your spouse or partner (without right to permanent residence) | CAD 550 |
| Sponsor a dependent child | CAD 150 (per child) |
CANADA SPOUSE VISA PROCESSING TIME
Spousal visa does not have a fixed processing time. It varies according to documents submitted and complexity of the application.
It usually takes about one year to process a spousal sponsorship application.
MEASURES TO ENSURE THAT SPOUSE VISA CANADA DOES NOT GET REJECTED OR DELAYED
It is important to ensure the following in order to avoid refusals or delays of your Canada Spousal Sponsorship application:
1. Make sure you fill out your application forms properly
2. Gather all the necessary documents before you start your visa process
3. Pay your fees and do not forget to take the receipt, attach it with your visa application.
4. Pay the Right of Permanent Residence fees of $490 CAD as soon as you receive a letter requesting it.
WHY ALWAYS CONSIDER BASICS OF IMMIGRATION?

Expert Visa counselors provide Step-by-step guidance through a secure, online process.
Apt evaluation of credentials and faster visa processing.
Identifying all potential hazards and roadblocks in securing a visa.
Assistance with documentation, immigration rules, citizenship, and border control procedures.
Multiple case assessment for better conflict resolution.
Designated process managers to provide personalized guidance.
Just like the basics of anything act as "building blocks" forming a strong foundation for constructing complex structures. The Basics of Immigration serve as the foundational elements of moving abroad, for any aspiring immigrant.