KNOW IT ALL ABOUT CANADIAN PR VISA
Canada is a country of spectacular natural beauty, world-class education, and diverse cultures. It's no surprise that Canadian immigration is becoming increasingly popular among Indians who are looking to relocate abroad. Canada has one of the most smooth and simplified immigration policies in the world.
In the next decade, the Canadian government intends to welcome more than 200,000 immigrants from around the globe. Consequently, Canada is the ideal country for new immigrants to move to and gain Canadian Permanent Residence.
Canada's thriving economy, excellent healthcare, and quality of life make it an ideal destination for Indians seeking better opportunities. There are several benefits of Canada PR that allows them to stay in Canada permanently. The process of obtaining a Canada PR Visa can take several months, but it's a worthwhile investment for long-term settlement in the country.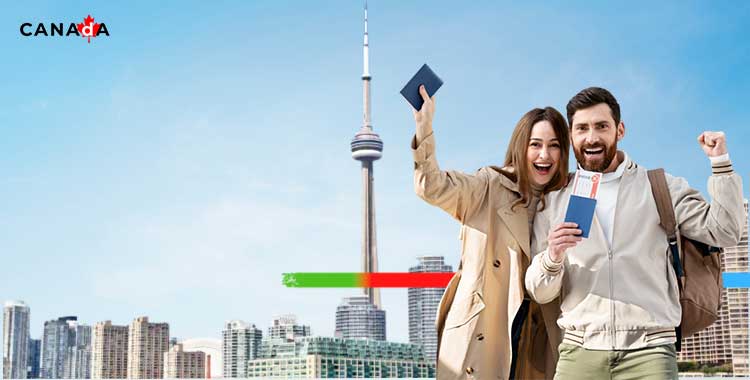 PR VISA OF CANADA
The term Canadian Permanent Resident refers to a person who qualifies to live in Canada legally, but is not a Canadian citizen. In order to become a permanent resident, he/she must apply to the Government of Canada. Citizens with Canadian PR visa can enjoy all the rights that come with being a Canadian citizen.
International students or foreign workers are not considered permanent residents of Canada. Unlike permanent residents, foreign workers do not have the same privileges and rights as permanent residents.
CANADA, A TOP PICK FOR INDIAN IMMIGRANTS: BENEFITS OF CANADA PR
Benefits of Canada PR and why Indians seek canadian PR visa the most is because:

Sensational Job Market: Canada has a thriving job market that offers countless opportunities to skilled immigrants. The Canadian government has set up several programs to help skilled professionals immigrate to Canada, including the Canada immigration Express Entry draw.
World-Class Education: Canada is home to some of the best schools in the world, including the University of Toronto, the University of British Columbia, and McGill University.
Lifestyle upgrade: one of the benefits of Canada PR is that it comes with high standards of living, low crime rates, and excellent healthcare.
Multiculturalism: Canada is known for its multiculturalism, with a diverse population that values inclusivity and tolerance.
Excellent medical and health care treatment for free: Canada, out of all countries, has the best medical and healthcare industry.
In conclusion, Canada is an excellent destination for Indians who are looking to relocate abroad with a Canadian PR Visa. With a vibrant job market, world-class education, high-quality of life, and multicultural communities, it's no wonder why Canada ranks as a top priority for those seeking permanent residency.
An applicant can apply for permanent residency through a number of Canadian immigration programs. It is necessary for immigrants to submit an application to Immigration, Refugees, and Citizenship Canada (IRCC) in order to obtain resident status.
Applicants must stay 5 years or longer in Canada to be eligible to apply for permanent Canadian citizenship.
CANADA IMMIGRATION PROGRAM
An express entry application is meant for skilled workers who wish to live and work permanently in Canada as well as take part in Canada's economy. Express Entry is an online portal that can be used to make immigration applications from skilled workers and a fastest way of getting permanent residency in Canada. Three immigration programs managed through Express Entry programs are:
Provincial Nominee Program (PNP):
The applicants have options to enter their desired provisions by choice, however they must meet the eligibility for it to. Each province and territory has its own set of "streams" and criteria. Provinces and territories, for example, can target students, business people, skilled professionals, and semi-skilled workers in a programme.
Provisions with PNP program:
Keep In Mind That Every Provision Has Its Own Requirement And Eligibility Criteria For Pr.
This is the application process for skilled employees who desire to live in Quebec as permanent residents of Canada. There is a specific immigration agreement between the Quebec government and the Canadian government. The province has its own set of criteria for selecting immigrants who will fit in nicely.
To enter Canada as a Quebec-selected skilled worker, you must apply in two stages:
Request a Quebec Selection Certificate (Certificat de sélection du Québec [CSQ]) from the Quebec government.
The Province of Quebec will evaluate you according to its own regulations.
The certificate proves that you have been approved as an immigrant by the Province of Quebec.
Family Sponsorship
Your relatives can live, study, work and gain benefits of Canada permanent resident if they become permanent residents of Canada. You can sponsor common-law relatives to live in Canada with you if you're at least 18 years old and a:
Canadian citizen or
registered in Canada as an Indian immigrants or
Permanent resident of Canada
ELIGIBILITY REQUIREMENTS FOR CANADA PR
TO APPLY FOR PERMANENT RESIDENCY IN CANADA, YOU MUST HAVE THESE ELIGIBILITIES:
Age: Applicants must be at least 18 years old to apply for PR in Canada. Applicants between the ages of 18 and 35 receive maximum points for the age factor.
Education: provide the Education Credential Assessment (ECA) from WES or any other approved institution to get your overseas qualifications verified.
Language ability: It is a requirement that you have a language proficiency of CLB 7 or above (English or French) for you to be considered for employment in the EE System. Tests of language proficiency from recognized language agencies, such as the International English Language Testing System, must be provided to prove your language proficiency.
Work experience: Apply with work experience of 3 years or more to gain decent points in the express entry system. People with work experience of 6 years or more can get the highest points for the work experience factor.
Adaptability: If you or your spouse/common-law partner has past experience of living, working, or studying in Canada or any of your family members or relatives living in Canada, it can earn you some key points under the Adaptability factor.
Arranged employment: If you have a Job offer from an employer in Canada, you can earn valuable immigration points in an express entry or PNP.
LIST OF DOCUMENT REQUIREMENTS FOR CANADA IMMIGRATION FROM INDIA
Here are some basic documents required for a Canada PR visa in all immigration programs. Since every Canada PR program has different eligibility, we have shortlisted some important documents that must be required in Canada PR.
Valid Passport
Education Credential Assessment (ECA)
Proof of Funds
Language Test score results
Offer letter from a Canadian employer
Marriage certificates or divorce certificate (if applicable)
Your Personal reference code
Express Entry Profile Number
​Job seeker validation code
Medical report
Birth Certificate
Photographs
Police Verification report
Letter of recommendation from previous employers
PROCESS OF CANADA PR APPLY: STEP BY STEP
Now that we know what is the eligibility and document requirements for a Canadian PR visa, let's get to how to apply for a PR visa in Canada. Applicants, who score enough points based on six selection factors of the Express Entry system, get a permanent residency invitation from Immigration Refugees and Citizenship Canada (IRCC).
Collect Documents: The IELTS test for English proficiency and the English Competency Assessment from WES and other recognized institutions are required for applying to the EE system.
Create Profile: get at least 67 points in FSW category as a skilled worker from overseas by creating a profile on the online express entry system.
Get Invite from IRCC: the IRCC will launch periodic draws to issue invitations to apply (ITA) for Canada Permanent residency to the candidates with the best top CRS score in the Express entry pool.
Submit PR Application: Once you have got the ITA, you submit a complete application for a permanent visa to Canada along with essential documents within 60 days
Get Approval: If your submitted application, documents, and overall candidature are found correct and genuine, you will get the PR visa approval from the immigration office.


JOBS AVAILABILITY FOR INDIANS IN CANADA
| | |
| --- | --- |
| Occupation | Average salary in CAD |
| Sales representative | $52,000 to $64,000 |
| Accountant | $63,000 to $75,000 |
| Engineering project manager | $74,000 to $92,000 |
| Business analyst | $73,000 to $87,000 |
| IT project manager | $92,000 to $114,000 |
| Account manager | $75,000 to $92,000 |
| Software engineer | $83,000 to $99,000 |
| Human resources | $59,000 to $71,000 |
| Customer service representation | $37,000 to $43,000 |
| Administrative | $37,000 to $46,0000 |
PR VISA COST FOR CANADA
Fees
$CAN
Your application
Processing fee ($850) and right of permanent residence fee ($515)
1,365
your Application( without right of permanent residence fee)
850
Include your spouse or partner
Processing Fee ($850) and right of permanent residence fee ($515)
1,365
Include your spouse or partner (without right of permanent residence fee)
850
Include a dependent child
230(per child)
HOW MUCH TIME DOES IT TAKE TO MOVE TO CANADA FROM INDIA?
Processing time for the Canada PR application depends on the immigration program you have applied under. Express entry program is the fastest immigration pathway to Canada PR Visa. An ideal application takes around 6 to 8 months to process. In the program, all the profiles are ranked based on the CRS and the higher-ranked profiles are issued ITAs through regularly held express entry draws.
If you have applied through the Provincial Nominee Program (PNP), the processing time is longer in comparison to the Express entry program. It takes around 12 months.
Another immigration program is Quebec Skilled Worker Program (QSWP). Another immigration program's average application processing time is 12-16 months.
If you're considering applying for a Canadian PR Visa for permanent residency, speak to an immigration consultant today for professional advice and guidance on what is best for you and your family.
WHY ALWAYS CONSIDER BASICS OF IMMIGRATION?

Expert Visa counselors provide Step-by-step guidance through a secure, online process.
Apt evaluation of credentials and faster visa processing.
Identifying all potential hazards and roadblocks in securing a visa.
Assistance with documentation, immigration rules, citizenship, and border control procedures.
Multiple case assessment for better conflict resolution.
Designated process managers to provide personalized guidance.
Just like the basics of anything act as "building blocks" forming a strong foundation for constructing complex structures. The Basics of Immigration serve as the foundational elements of moving abroad, for any aspiring immigrant.