APPLY FOR AN EB 5 VISA PROGRAM & START INVESTING IN USA COMPANIES
The American government created the EB 5 Immigrant Investor Visa Program to entice international capital to the nation's economic progress. In accordance with the rules of this scheme, citizenship is granted in return for financial contributions.
You can also apply for permanent residence in the USA if you are eligible for making investments in the ongoing US business. With the EB 5 Visitor Visa, you can also purchase and start and run a business from scratch.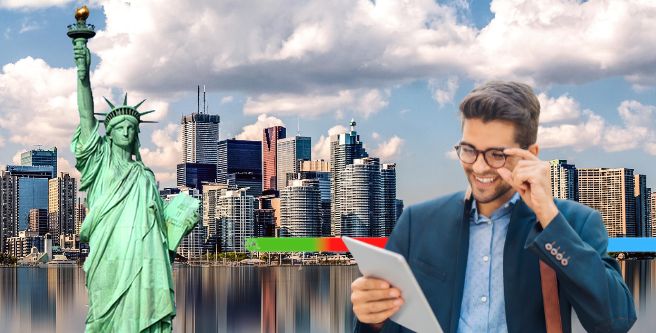 WHAT IS EB 5 VISA USA?
The EB-5 Investor visa, which is granted for a term of one to two years with the prospect of further renewal, enables you to reside and operate a business in the United States. Along with the primary applicant, the spouse and any kids who are not married below the age of 21 are eligible to gain permanent resident status. The EB 5 Visa USA is preferred because it enables the investor to obtain a permit for permanent residence and apply for citizenship in the United States.
TYPES OF EB 5 INVESTOR VISA CATEGORIES
Here are the top immigration alternatives for American businesspeople:
EB – 5 Regional Center Investment
Invest $500,000 USD over the course of around five years in a regional center that has received government approval for Visa EB 5. You and members of your immediate family can enter the United States with restricted green cards that you receive in around 18 months.
There are no prerequisites for education, age, or English language proficiency, and you are free to live, work, and study in any part of the nation.
Your capital will be invested in someone else's business enterprise, like a hotel, apartment building, or office skyscraper, in this passive investment. The catch is that for a minimum of two years, the initiative funded by your money must employ at least 10 Americans.
You can then submit an application for permanent resident green cards once this criteria has been established. The money is given back to you within five years from the date of your admission into the United States.
EB – 5 Direct Investment
You must invest $1 million USD in your own business and directly employ at least 10 people for two years in order to qualify for a conditional green card.
Although the EB 5 Visa USA listed below can speed up your entry into the United States, processing takes roughly 18 months.
You can become eligible for permanent green card citizenship after proving that you kept your minimum $1 million investment and met the two-year employment requirement of at least 10 workers.
The minimum investment amount to be eligible may just be $500,000 US if you invest in a region of the United States with a high unemployment rate. This is a fantastic choice to pair with a potential franchise scenario, like with a chain of eateries or hotels.
EB-5 VISA REQUIREMENTS – WHO IS ELIGIBLE FOR EB 5 IMMIGRANT INVESTOR VISA?
For their permanent residency through the EB-5 visa program, foreign investors must meet the eb 5 visa requirements set by regulatory and United States Citizenship and Immigration (USCIS).
| | |
| --- | --- |
| Investment in Rural Areas | Investment in Urban Areas |
| $800,000 | $1,050,000 |
If the investment was done in a regional center, the EB-5 investor may simply need to demonstrate that 10 full-time indirect or induced employment was generated.
EB 5 Investor Visa applicants have the option of using Regional Center projects in addition to individual business enterprises, which may be more advantageous since the investor won't need to individually set up the EB-5 projects.
SIMPLIFYING THE US EB 5 VISA APPLICATION PROCESS
Investors who wish to immigrate to the United States permanently, along with their spouse and unmarried children under the age of 21, must complete four demanding phases in the US EB 5 visa process. Taking these actions is necessary to become a permanent resident of the US.
Step 1
Selecting an appropriate project that satisfies all program standards and is in line with the investor's financial objectives is the first stage in the EB-5 application process.
Step 2
The investor's immigration lawyer will submit their EB-5 petition to USCIS after they have made their investment. The I-526E petition must provide evidence that the applicant has provided the necessary capital investment and complies with all EB-5 program requirements.
Step 3
Once an investor's I-526E petition is authorized, there are two options to get conditional permanent residency:
If the investor resides in the United States, they submit Form I-485 for status adjustment.
A U.S. Consulate or U.S. Embassy receives Form DS-260 from investors who reside abroad.
EB 5 INVESTOR VISA PROCESSING TIME
The average EB 5 visa processing time according to USCIS is 13.7 months. While waiting for the I-485 to be completed, the petitioner may submit an I-765 Application for Employment Authorization and/or an I-131 Application for Travel Document.
EB 5 VISA USA COST OF APPLICATION
The real EB 5 visa application process will cost you and any other applicants $3,675. Of course, in addition to your investment amount and any additional administrative charges, there may also be:
Fee for processing Form DS-260
Fees for medical evaluations
Fees for obtaining proof of purchase
Any costs associated with getting legal counsel during the investing process
Translation fees from a foreign language to English.
ADVANTAGES OF MOVING TO THE USA THROUGH EB5 INVESTOR VISA
Regardless of industry, businessmen investing in the US benefit from one of the most fiercely competitive markets on the planet.
LARGEST MARKET IN THE WORLD
With a $20 trillion GDP and 325 million citizens, the United States provides the great consumer market on the planet. Nearly a third of all household consumption worldwide is accounted for by household spending, which is the biggest in the world. At the same time, the United States seeks to engage with businesses to expand prospects for American exporters through free trade agreements with 20 additional nations, which provide the opportunity to hundreds of millions of new consumers.
LEADERS IN INNOVATION
The United States files more foreign patents than any other nation and is often regarded as a pioneer in research and development (R&D). While the innovators of tomorrow are fostered at top colleges and incubators around the country, today's inventors are protected by a strong intellectual property protection framework. Companies of all sizes contribute to and profit from a flourishing environment for invention and inspiration, helping to make advancement in the United States a worldwide industry.
STRAIGHTFORWARD PATHWAY FOR OWNING BUSINESS
The United States remains among the top nations in the world for both its general competitiveness and business-friendliness. The business culture in the United States supports free enterprise and rivalry and is supported by a regulatory framework that is particularly favorable for founding and running a business. All businesses, regardless of national origin, compete on a fair field in a stable democracy with a clear and predictable legal framework.
DIVERSE WORKFORCE UNIFIED
American workers are among the most prolific in the world thanks to their diversified, competent, innovative, and mobile workforce. In order to ensure that the workforce can fulfill the demands of a 21st-century economy, the United States has stressed cooperation procedures with public and private sector organizations.
AMPLE ASSETS
As the third-largest country in the world, the United States has a diverse landscape, plenty of natural resources, including oil and gas, and a vast population. An extensive infrastructure structure and services that aid businesses in producing and transporting goods effectively connect these locations.
ACCESS TO MULTIPLE TYPES OF CAPITAL
The world's most advanced, liquid, adaptable, and effective financial markets are found in the United States. Companies in the United States have significant advantages because of the availability of funding sources including banks, investment firms, venture capitalists, and angel investors, enabling innovation and expansion.
CONCLUSION
To assist you in understanding the EB-5 visa program for immigration reasons, the professionals at Basics of Immigration, BOI, will assess your eligibility for an EB-5 visa at no cost to you.
We are aware that filing for an EB 5 Visa USA is a difficult endeavor with numerous requirements. Our experts have worked for many years and have become the leading EB 5 visa consultants in India. Contact BOI if you have more concerns about the EB-5 visa or another aspect of the immigration procedure.
WHY ALWAYS CONSIDER BASICS OF IMMIGRATION?

Expert Visa counselors provide Step-by-step guidance through a secure, online process.
Apt evaluation of credentials and faster visa processing.
Identifying all potential hazards and roadblocks in securing a visa.
Assistance with documentation, immigration rules, citizenship, and border control procedures.
Multiple case assessment for better conflict resolution.
Designated process managers to provide personalized guidance.
Just like the basics of anything act as "building blocks" forming a strong foundation for constructing complex structures. The Basics of Immigration serve as the foundational elements of moving abroad, for any aspiring immigrant.