CANADA INVESTMENT VISA
Canada is a country that offers amazing opportunities to foreign nationals who are willing to establish a business in Canada. Canada's business immigration programs were created to encourage investment and employment by allowing foreign nationals to migrate to the country to start up or invest in businesses. If you want to start a business in Canada, you should apply for a Canada Investment visa to acquire Canada PR by investment.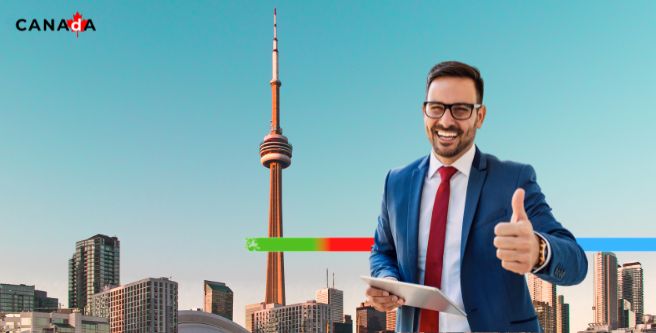 WHAT IS A CANADA INVESTMENT VISA?
The Canada Investment Visa provides opportunities for foreign nationals to secure Canada Citizenship by investment. In return, applicants have to make a qualifying investment in the economy of Canada. You should know that applicants first get Canadian Permanent Residency status. Only after that do they become eligible to apply for Canadian citizenship.
WHY IS CANADA A GREAT PLACE TO MAKE THE INVESTMENT?
Canada is one of the most popular places among ambitious investors and entrepreneurs. Canada is the most suitable destination for entrepreneurs, investors, and business owners who want to expand their business ventures. Strategic location, abundant natural resources, and skilled workforce make Canada an ideal location for business.
Here are some of the advantages that you will get if you start doing business in Canada:
Low corporate Taxes
Canada is a favourite place to start a business because it offers lower corporate taxes compared to other developed countries.
Stable Economy
According to Forbes, Canada is the best country for business. In comparison to other countries such as America and Britain, Canada has a more stable economy which will prevent your business from the risk of shutdown.
Strong growth record
In 2020, all G7 countries experienced recessions, with Canada's economy expected to grow by 5.0% in 2021.
Skilled Workforce
Canada has a skilled and educated workforce. This is one of the main benefits of starting a business in Canada, as you will not have to worry about the skilled workforce required.
Market Access
As an overseas investor, you will have access to both the EU and NAFTA as soon as the Comprehensive Economic and Trade Agreement is signed.
WHAT ARE THE BENEFITS OF A CANADA INVESTMENT VISA?

Some benefits of the Canada Investment Visa are mentioned below:
One of the Easiest ways to obtain Canada citizenship by investment.
Applicants will get profitable or promising investment policies
Applicants can take advantage of low corporate taxes
As an overseas investor, you will have access to international opportunities
Applicants will be able to take benefits of world-class education and healthcare services.
WHAT ARE THE DIFFERENT CATEGORIES OF CANADA INVESTMENT VISA?
There are four subcategories within the Canada Business Immigration Program for individuals with business/managerial experience and high net worth:
Start-up Visa Program
Canada Start-up Visa Program permits qualified overseas entrepreneurs, investors, and business owners permanent residency Canada. Canada SUV program offers opportunities to entrepreneurs to start or establish a new business in Canada.
Eligibility Requirements:-
Applicants must have a qualifying business
Must have professional business ownership or management experience.
Language proficiency is required: Canadian Language Benchmark (CLB) level 5.
Must have a Letter of Support from a designated organisation.
Applicants should have proof of funds 
Applicants have to show intention to settle in Canada other than Quebec province.
Entrepreneur Visa Program
Entrepreneur Visa Program is for overseas entrepreneurs who want to establish their businesses in Canada. This program helps the Canadian government to boost the economic development of the nation.
Eligibility Requirements:
It is essential for applicants to engage actively and take part actively in the management of the business.
Create a minimum of one employment for Canadian Permanent Residents or Citizens.
Within two years of arriving in Canada, the business immigrant must establish a business or make a substantial investment in one.
Self-Employed Persons Program
Canada's Self-Employed Program aims to attract overseas immigrants who are capable of creating their own employment in Canada. This program provides opportunities to self-employed overseas immigrants who have experience in cultural activities, athletics, or possess any type of artistic talent to settle in Canada as Permanent Residents.
Eligibility Requirements:
Must have at least 2 years of experience in the last five years
Applicants need to be between 18 to 50 years old.
Applicants have to score at least 35 points out of 100 points in the points system
Applicants have to undergo medical exams
A police Clearance certificate is required
You must have settlement funds to support yourself and your family members
Business PNP Programs
Business PNP programs help overseas entrepreneurs and investors to get nominated for Provincial Nominee Programs (PNP). Almost every Canadian provinces & territories has its own entrepreneur or investor program.
Eligibility Requirements:
Applicants must have the required financial funds to invest.
Prior business experience is required.
They must have proper business credentials and banking history.
Applicants have to undergo medical exams
A police Clearance certificate is required
WHY ALWAYS CONSIDER BASICS OF IMMIGRATION?

Expert Visa counselors provide Step-by-step guidance through a secure, online process.
Apt evaluation of credentials and faster visa processing.
Identifying all potential hazards and roadblocks in securing a visa.
Assistance with documentation, immigration rules, citizenship, and border control procedures.
Multiple case assessment for better conflict resolution.
Designated process managers to provide personalized guidance.
Just like the basics of anything act as "building blocks" forming a strong foundation for constructing complex structures. The Basics of Immigration serve as the foundational elements of moving abroad, for any aspiring immigrant.