GET CANADA PR WITH NEW BRUNSWICK ENTREPRENEUR PROGRAM
The New Brunswick Entrepreneurial stream may be your best option for Canadian immigration if you wish to move to New Brunswick and are prepared to start and run a business there.
Because of its low cost of living and ease of business migration to Canada, New Brunswick (NB) is a desirable province for immigrants. Due to the province's affordability, recently migrated individuals find it simple to settle down there and also find it simpler to own their own homes within a short period.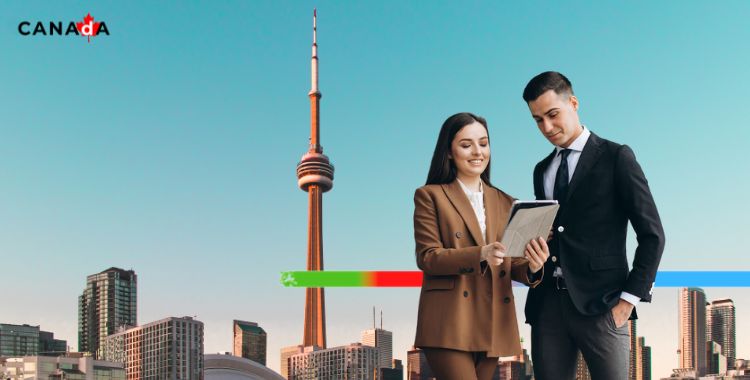 The province of New Brunswick can nominate people who have the potential to successfully contribute to the state's economy through the New Brunswick Entrepreneur program.
WHAT IS THE NEW BRUNSWICK ENTREPRENEUR STREAM?
New Brunswick Entrepreneurial Stream is an economic immigration scheme for seasoned business owners who want to start, run, and actively manage a company while permanently relocating to New Brunswick, Canada.
This stream is a component of the New Brunswick Provincial Nominee Program (NBPNP), which enables the province to propose individuals for Canadian permanent residence per standards established by the region.
ELIGIBILITY CRITERIA FOR NEW BRUNSWICK ENTREPRENEUR PROGRAM
| | |
| --- | --- |
| Factors | Maximum CRS Points |
| Age | 10 |
| Foreign Language | 25 |
| Education | 25 |
| Business Experience | 20 |
| Business Concept | 15 |
| Adaptability | 5 |
Age Requirements
The age range for applicants must fall between 22 and 55 as of the submission date.
Language Level Requirements
All applicants must exhibit language ability in either English or French at the Canadian Language Benchmark (CLB) level 5 in order to get a temporary visa through the New Brunswick Entrepreneur Program.
Education Qualification Requirements
Candidates must have earned either a diploma in a specific profession involving at least two years of full-time study or an academic degree from an accredited institution that needed at least three years of full-time study.
Required Experience in Business Management
Candidates must have enough professional experience to show they can launch and operate a business in New Brunswick. A firm that they actively operated for at least three of the five previous years with at least 33% partnership. The candidate had to have been in charge of at least two workers.
Investment Requirements
Candidates must provide proof of a personal net worth of a minimum of 600,000. Their financial wealth must be immediately available and unencumbered to the extent of at least $300,000 CAD. To be eligible for this stream, an applicant must put a minimum of 250,000 into the company they start, and actively run in New Brunswick.
Adaptability or Connections in New Brunswick
A candidate may only express interest in the New Brunswick Entrepreneur stream if they have a link to New Brunswick. For consideration, applicants must have spent a minimum of five business days in New Brunswick, or have attended an information session about the Entrepreneur Stream.
HOW TO GET CANADA PR THROUGH THE NEW BRUNSWICK ENTREPRENEUR PROGRAM?
Step 1
Submit an Expression of Interest (EOI)
The submission of an Expression of Interest (EOI) for consideration for the program is the initial step toward obtaining permanent residency through the New Brunswick Entrepreneur Program
Step 2
Obtain impressive scores in the CRS Calculator
Candidates are ranked in the pool by the NBPNP using a point-based system known as the Comprehensive Ranking System, and those who score better are more likely to be invited to apply to the New Brunswick Entrepreneur Stream.
Step 3
Research visit for your Business Plan
A business plan outlining the goals and describing how they will be accomplished is required of applicants. You must actively participate in the plan's creation as the business's owner or operator. You are permitted to work with a third party to create the plan; nevertheless, you are expected to fully understand its structure and will be held responsible for its contents.
Step 4
Wait for the Invitation to apply
Successful candidates from the pool receive a documented ITA letter allowing them to apply fully to the NBPNP. Eligible applicants have 90 days to submit a comprehensive application and all required supplementary materials.
Step 5
Apply for New Brunswick Business Stream
Applicants must include a more thorough business strategy with their application along with all signed paperwork and documents in the appropriate format.
Step 6
Appear for an Interview
The purpose of the interview is to verify the business strategy and its implementation as well as to validate the information provided in the application. If the NBPNP Program Officer is not pleased with an applicant's performance during an interview, the application may be rejected.
Step 7
Gain Nomination Letter from the province
The applicant will receive a provincial nomination certificate, with a validity of a period of nine months from the date of issuance, if New Brunswick recommends them.
Step 8
Apply for Permanent Residency in Canada
Within the six-month, business candidates must submit a comprehensive application to Immigration, Refugees and Citizenship Canada (IRCC) for permanent residence in Canada.
ADVANTAGES OF CHOOSING THE NEW BRUNSWICK ENTREPRENEUR STREAM
Low Investment
Low startup and running costs for businesses in comparison with other Canadian provinces
Lower Tax Rates
The province's low tax rates compared to other parts f the country, makes it business-friendly.
Opportunity to compete in the world-class market
Possibility to enter, learn and compete with the rest of the Canadian businessmen
Top-notch transport system
Robust transportation infrastructure for connections to the USA, central Canada, and other maritime provinces
Affordable Stay
The province's affordability is the key draw for new enterprises because immigrants will have to spend less while starting their businesses.
CONCLUSION
Overall, the New Brunswick Entrepreneur Immigration Program offers a unique opportunity for foreign entrepreneurs to invest in and start up a business in one of Canada's fastest-growing provinces. By supporting new business ventures, the program helps to diversify the economy and promote long-term growth and development.
Contact Basics of Immigration, BOI if you want to know more about the Canada Immigration process, or if you are looking for entrepreneur programs for any other province of Canada.
WHY ALWAYS CONSIDER BASICS OF IMMIGRATION?

Expert Visa counselors provide Step-by-step guidance through a secure, online process.
Apt evaluation of credentials and faster visa processing.
Identifying all potential hazards and roadblocks in securing a visa.
Assistance with documentation, immigration rules, citizenship, and border control procedures.
Multiple case assessment for better conflict resolution.
Designated process managers to provide personalized guidance.
Just like the basics of anything act as "building blocks" forming a strong foundation for constructing complex structures. The Basics of Immigration serve as the foundational elements of moving abroad, for any aspiring immigrant.