BE A TYCOON IN CANADA WITH ALBERTA ENTREPRENEUR IMMIGRATION PROGRAM
Starting a business in Canada has become easier than ever. The new and updated immigration programs allow candidates to apply for canada visas based on their purpose and profession. The Alberta Entrepreneur immigration program is one such pathway to enter the Alberta province of Canada. Go through this article to learn about the eligibility criteria and process of getting an Alberta entrepreneur visa.
To qualify for the Alberta Entrepreneur immigration program, applicants must demonstrate their ability to invest a minimum of CAD 500,000 in their new business venture.
They must also have a net worth of at least CAD 1,000,000, which can be verified by an approved third-party professional. Applicants must also have at least 3 years of business management experience.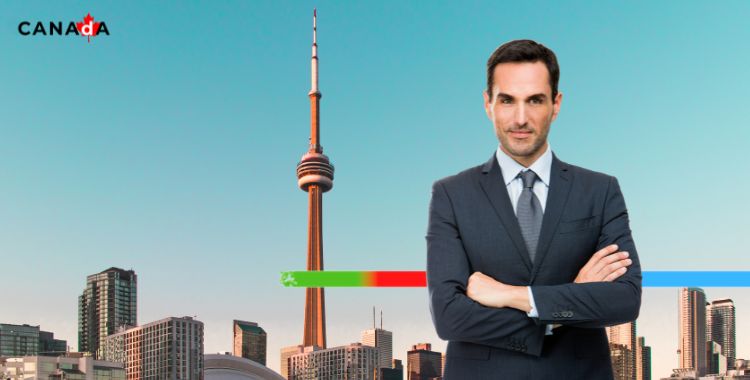 WHAT IS ALBERTA ENTREPRENEUR IMMIGRATION PROGRAM?
The Alberta Entrepreneur Immigration Program is designed to attract foreign entrepreneurs who are interested in investing and starting up a new business in the province of Alberta, Canada. The program is intended to help grow and diversify Alberta's economy by promoting innovation, job creation, and economic development.
POPULAR STREAMS FOR GETTING ALBERTA ENTREPRENEUR VISA
For business owners who intend to get an Alberta entrepreneur visa to live in Alberta and either acquire or launch a firm there, the Alberta Advanced Immigration Program (AAIP) offers four streams:
RURAL ENTREPRENEUR STREAM
Alberta's government initiated a scheme for economic immigration, and it is called the Rural Entrepreneur Stream. An expression of interest can be submitted by business owners who desire to open a new company or purchase an existing one in a rural Alberta region.
GRADUATE ENTREPRENEUR STREAM
The Graduate Entrepreneur Stream enables the AAIP to recommend competent foreign graduates from post-secondary institutions in Alberta who wish to launch or run a business there to petition for permanent residency.
FARM STREAM
This stream is for business owners who have the capital and farm management expertise to start a new farm in Alberta or buy an existing one.
Candidates must submit their applications to the Alberta Advantage Immigration Program (AAIP) for evaluation along with a draft business plan. To make sure the business strategy is realistic, viable, and satisfies the requirements of Alberta's agriculture industry, the AAIP will work with Alberta Agriculture and Irrigation.
FOREIGN GRADUATE ENTREPRENEUR STREAM
An economic immigration program called the Foreign Graduate Entrepreneur Stream is available to qualify foreign graduates from outside of Canada who seek to establish start-up businesses and cutting-edge ventures in Alberta.
ELIGIBILITY CRITERIA FOR ALBERTA ENTREPRENEUR IMMIGRATION STREAM!
Work Experience Requirement
A minimum of six months of full-time job experience, which can include both active management and business ownership or an equivalent (equivalents include work with a business incubator or accelerator).
Educational Requirements
Obtaining an ECA, or Educational Credential Assessment, for the education received from a post-secondary institution located outside of Canada.
That education must have been completed within the past ten years of getting the ECA report and must be comparable to a Canadian degree.
Business Proposal
Reading, writing, hearing, and speaking all require a minimum Canadian Language Benchmark (CLB) level of 5 for English or a Niveaux de compétence linguistique canadines (NCLC) level of 5 for French.
When submitting an EOI, certified test results must be no more than two years old. Only the following language exams are accepted by the AAIP:
Business Establishment Requirements
Must have a minimum of 51% ownership if the company is based in a regional location, or a minimum of 34% ownership if the company is located in an urban center.
Partners in a business must be citizens or legal residents of Canada.
A company shouldn't be on the list of prohibited businesses.
Business Investment Requirements
A minimum amount of investment made before moving to Alberta, either from the candidate's equity or,
From a reputable Canadian financial institution, venture capitalist, or angel investment business.
A metropolitan center must make an obligatory minimum investment of $100,000,
A regional area must make a mandatory minimum investment of $50,000.
More points will be given for greater amounts of investment made before moving to Alberta.
Recommendation Requirements
You need a letter of reference from a designated agency that has received AAIP approval.
Requirement of Settlement Funds
| | | | | | |
| --- | --- | --- | --- | --- | --- |
| Family members | Less than 1,000 | 1,000 to 30,000 | 30,000 to 99,999 | 100,000 to 499,999 | 500,000 and over |
| 1 | $8,922 | $10,151 | $11,093 | $12,961 | $12,960 |
| 2 | $11,107 | $12,636 | $13,810 | $16,135 | $16,135 |
| 3 | $13,655 | $15,534 | $16,977 | $19,836 | $19,836 |
| 4 | $16,579 | $18,861 | $20,613 | $24,084 | $24,083 |
| 5 | $18,803 | $21,392 | $23,379 | $27,315 | $27,315 |
| 6 | $21,208 | $24,127 | $26,367 | $30,807 | $30,806 |
| 7 | $23,611 | $26,861 | $29,356 | $34,299 | $34,299 |
APPLY FOR CANADA PR THROUGH ALBERTA ENTREPRENEUR IMMIGRATION PROGRAM
Once accepted into the program, participants will work with the Alberta Immigrant Nominee Program (AINP) to complete the necessary steps to get the Alberta Entrepreneur Visa for establishing and operating a new business in Alberta. This includes developing a business plan, securing financing, and obtaining all necessary permits and licenses.
Carefully review the terms and conditions
Make sure you fulfill the eligibility criteria
Submit an Expression of Interest if you are eligible
Provide your Business Application Package
Get Your Business Application Assessed
Start your business in Alberta with a temporary visa
Submit the final report for nomination
Successful participants will receive a nomination certificate from the AINP, which they can use to apply for Canadian permanent residency. The AINP provides further support to ensure that participants and their families can settle and integrate into their new communities in Alberta.
WHY CHOOSE ALBERTA ENTREPRENEUR IMMIGRATION?

HIGHEST INCOME
With a typical after-tax income of $72,500, Alberta has the highest income in Canada.
GOVT ASSISTANCE IN GETTING CANADA PR
The Canadian government administered 6K+ immigrants in finding permanent residency in Alberta.
ENVIRONMENT-FRIENDLY PROVINCE
Explore more than 455 national, provincial, and protected sites in Alberta, which include mountains, lakes, rivers, forests, and rolling plains.
8% BUSINESS TAX
Alberta is the best place to start a business because it has the lowest business taxes in Canada, a youthful, educated, and multicultural workforce, and services to help you along the way.
CONCLUSION
Overall, the Alberta Entrepreneur Immigration Program offers a unique opportunity for foreign entrepreneurs to invest in and start up a business in one of Canada's fastest-growing provinces. By supporting new business ventures, the program helps to diversify the economy and promote long-term growth and development.
Contact Basics of Immigration, BOI if you want to know more about the Canada Immigration process, or if you are looking for entrepreneur programs for any other province of Canada.
WHY ALWAYS CONSIDER BASICS OF IMMIGRATION?

Expert Visa counselors provide Step-by-step guidance through a secure, online process.
Apt evaluation of credentials and faster visa processing.
Identifying all potential hazards and roadblocks in securing a visa.
Assistance with documentation, immigration rules, citizenship, and border control procedures.
Multiple case assessment for better conflict resolution.
Designated process managers to provide personalized guidance.
Just like the basics of anything act as "building blocks" forming a strong foundation for constructing complex structures. The Basics of Immigration serve as the foundational elements of moving abroad, for any aspiring immigrant.