ATTEMPT OCCUPATIONAL ENGLISH TEST (OET) TODAY
The OET is a reliable and valid test that enables healthcare professionals to demonstrate their language ability in an English-speaking environment, with an emphasis on professional communication for healthcare purposes. This test aims to evaluate the test-takers' ability to understand, write, read and speak English in a range of relevant medical contexts, enabling them to work with confidence in their new environment.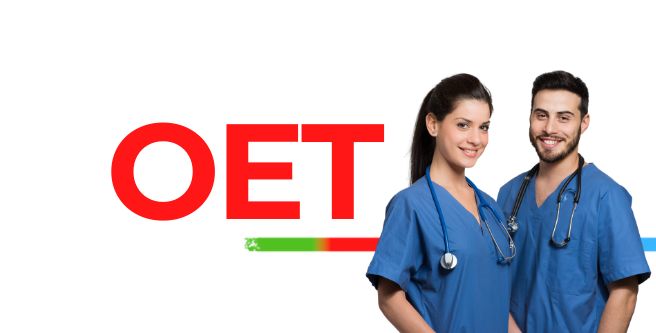 WHAT IS OCCUPATIONAL ENGLISH TEST (OET)?
OET or Occupational English Test has been specifically designed by Cambridge Boxhill Language Assessment Trust to assess the English language abilities of professionals in the healthcare stream. If you are a healthcare professional and desire to continue higher studies or work in foreign countries. The authority has launched a computer-based test to allow candidates to attempt the test from the comfort of their homes.
WHO REQUIRES OET EXAM?
The OET exam has been specifically designed to evaluate the eligibility of candidates working in these healthcare profiles.
Occupational Therapy,
Dentistry,
Nursing,
Radiography,
Veterinary Science,
Medicine,
Speech Pathology,
Physiotherapy,
Dietetics,
Podiatry,
Pharmacy,
Optometry.
WHO RECOGNIZES THE OET TEST?
Cambridge Boxhill Language Assessment Trust has designed the Occupational English Test for his specific category. It is a joint venture between Boxhill Institute and Cambridge English. You can attempt the test if you aim to relocate to any of these countries.
Country
Organizations
Australia
Department of Home Affairs
Australian Health Practitioner Regulation Agency – AHPRA
Australian Dental Councils
Australian Pharmacy Council
Dieticians Association of Australia
Australian Institutes of Medical Scientists (AIMS)
Canada
Alberta Health Services
The Alberta International Medical Graduate Programme
Practice Ready Assessment – British Columbia
McMaster University – Postgraduate Medical Education – Michael G. DeGroote School of Medicine
Egypt
Assiut University
India
IITR
Envertiz Consultancy
Jobizo Pvt. Limited
GNFR Services Private Limited
Walsons Healthcare Private Limited
Ireland
Dental Council of Ireland
Medical Council of Ireland
Institute of Technology Tralee
Nursing and Midwifery Board of Ireland
CORU
CPL Healthcare
TTM Healthcare Solutions
Maldives
Maldives Medical and Dental Council
Maldives Nursing and Midwifery Council
Malta
Malta Medical Council
Council for the Professional Complementary to Medicine (CPCM)
The Council of Nurses and Midwives
Namibia
Health Professions Councils of Namibia
New Zealand
Dental Council of New Zealand
Medical Council of New Zealand
Veterinary Council of New Zealand
Nursing Council of New Zealand
Occupational Therapy Board of New Zealand
Dieticians Board of New Zealand
Philippines
Abba Personal Services Inc.
Orange Int'l Recruitment Services Inc.
Qatar
Singapore Dental Council
Singapore Medical Council
Singapore Pharmacy Council
Allied Health Professions Council (AHPC)
Spain
CRUE
Universidad de La Rioja
United Kingdom
ENT UK
General Medical Council
Royal College of Psychiatrists
Academy of Medical Royal Colleges
Royal College of Physicians of London
Royal College of Physicians of Edinburgh
United Arab Emirates
Dubai Healthcare City Authority (DHCA)
Dubai Knowledge and Human Development Authority (KHDA)
United States of America
Colorado Board of Nursing
Kentucky State Board of Nursing
South Carolina Board of Nursing
MedPro International
District of Columbia Board of Nursing
Arkansas State Board of Nursing
OET EXAM – HOW TO APPLY?
Visit the official website of OET
Create an OET Account
Click on Login
Enter all the required details
Accept their Terms and Conditions
Select your Exam Mode
Select your Exam Center
Select your Exam Date
Make the Fee Payment
Book your Slot
OET EXAM FEES IN INDIA
The OET exam fee is $ 587 AUD. OET Exam Fees in India is INR 32,082 for 2023. You might have to calculate it according to the dollar price in India.
| | |
| --- | --- |
| Currency | Fee |
| Australian Dollars | 587 |
| Indian Rupees | 33,632 current |
OET EXAM DATES IN 2023
The OET Exam is conducted multiple times, and candidates should not worry about the test dates. You can book a slot twice every month. You have the facility to book three slots at the same time.
| | | |
| --- | --- | --- |
| Online Registration Window | OET Test Date | OET Result Date |
| 01 February 2023 – 14 June 2023 | 07 July 2023 | 26 July 2023 |
| 01 February 2023 – 28 June 2023 | 21 July 2023 | 09 August 2023 |
| 12 February 2023 – 12 July 2023 | 04 August 2023 | 23 August 2023 |
| 12 February 2023 – 26 July 2023 | 18 August 2023 | 06 September 2023 |
| 12 February 2023 – 9 August 2023 | 01 September 2023 | 20 September 2023 |
| 12 February 2023 – 22 August 2023 | 15 September 2023 | 05 October 2023 |
| 12 February 2023 – 20 September 2023 | 29 September 2023 | 18 October 2023 |
| 12 February – 20 September 2023 | 13 October 2023 | 02 November 2023 |
| 12 February 2023 – 04 October 2023 | 27 October 2023 | 15 November 2023 |
| 12 February 2023 – 18 October 2023 | 10 November 2023 | 29 November 2023 |
| 12 February 2023 – 07 November 2023 | 01 December 2023 | 08 January 2024 |
| 12 February 2023 – 22 November 2023 | 15 December 2023 | 18 January 2024 |
OCCUPATIONAL ENGLISH TEST – LATEST EXAM PATTERN
There are a total of four modules of the test.
OET Listening – 45 Minutes
The candidate will be required to write the answers to the question based on the recorded audio that will be played to evaluate the candidate's spoken language comprehension ability.
OET Reading – 60 Minutes
The candidate is required to respond to questions based on various texts discussing medical subjects.
OET Writing – 45 Minutes
The applicant is required to write a letter, which may be a recommendation letter or another letter with a medical theme.
OET Speaking – 20 Minutes
The candidate must act out a role-playing scenario in which they must present the concept from the role-playing card.
OET EXAM SCORE CALCULATOR
| | |
| --- | --- |
| OET Score | Level of English |
| 450 – 500 | A |
| 350 – 440 | B |
| 300 – 340 | C+ |
| 200 – 290 | C |
| 100 – 190 | D |
| 0 – 90 | E |
OET EXAM FOR NURSES
OET for Nurses: As previously mentioned, countries recognize OET scores for nurses looking to work in the healthcare industry. Getting a grade B in the OET Listening, Reading, and Speaking subtests, as well as a C+ in the Writing subtest, are the minimum requirements for nurses who want to work in the healthcare industry. To become accredited nurses in another country, you must receive a minimum score of 350 out of 500.
OET EXAM MODES
Initially, candidates could attempt the test either on Paper, or on the computer, but they had to visit the test center. However, the global lockdown of 2020 motivated the authority to bring an online version of this test. Presently, you can choose from online or offline options for some limited professions. The process of the OET Online Test is simpler than the offline mode, but you may have a look at the list of OET Exam Centers in India.
CENTERS IN INDIA
Ahmedabad
Amritsar
Bengaluru
Chandigarh
Chennai
Coimbatore
Hyderabad
Kochi
Kolkata
Mumbai
New Delhi
Thiruvananthapuram
STRENGTHEN YOUR MIGRATION CHANCES WITH BASIC OF IMMIGRATION(BOI)
In order to prepare you for the OET exam, BOI, India's top immigration advisory and foreign careers organization, offers OET coaching online, through live sessions, and through private tuition. Our experienced trainers use the latest teaching methods and materials to help you improve your English language skills and achieve your desired score in the OET exam. Additionally, we provide personalized feedback and guidance to help you overcome your weaknesses and build on your strengths.
Free Career Counselling
Get Free Study Material
OET Books for Nurses
Free Sample + Practice Kits
WHY ALWAYS CONSIDER BASICS OF IMMIGRATION?

Expert Visa counselors provide Step-by-step guidance through a secure, online process.
Apt evaluation of credentials and faster visa processing.
Identifying all potential hazards and roadblocks in securing a visa.
Assistance with documentation, immigration rules, citizenship, and border control procedures.
Multiple case assessment for better conflict resolution.
Designated process managers to provide personalized guidance.
Just like the basics of anything act as "building blocks" forming a strong foundation for constructing complex structures. The Basics of Immigration serve as the foundational elements of moving abroad, for any aspiring immigrant.