CANADIAN UNIVERSITIES AND CAEL TEST
Do you aim to study abroad, especially in Canada? The basic requirement before starting the application procedure is to check that you have required knowledge of the English language. You need to make sure that you meet the language level which is essential to understand the lectures and to communicate with peers.
The Canadian colleges, therefore, have set eligibility criteria for foreign students. The administration has provided recognition to several English language assessments such as CAEL Test, to assess the language level of non-English speakers.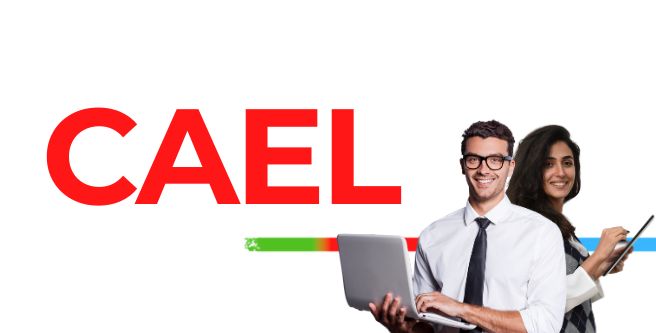 CANADIAN UNIVERSITIES AND CAEL TEST
One such test is the Canadian Academic English Language (CAEL) Test Canada. It is one of the finest methods for evaluating those students who have the necessary English proficiency for academic success in Canadian Universities and Colleges. It offers an accurate depiction of language and dialect usage in a Canadian academic setting. Participants complete tasks similar to those they might encounter in a Canadian university or college classroom, including reading articles, listening to lectures, answering questions, and writing brief essays.
CAEL TEST 2023 – HIGHLIGHTS
FEATURES
CAEL ONLINE
CAEL OFFLINE
Duration
3.5 Hours
3.5 Hours
Format
Integrated Reading
Integrated
Listening
Academic Unit A
Academic Unit B
Integrated Reading
Integrated
Listening
Academic Unit A
Academic Unit B
Test Days
Friday to Sunday
Friday to Sunday
check-in
30 Minutes before starting the test
45 Minutes before starting the test
SDS Acceptance
NO
YES
Cancellation
48 hours before starting the session
7 Days before the test
Fees
$ CAD 280
$ CAD 280
CAEL TEST ONLINE
The best part about the CAEL Test is that it is hassle-free, and you can take the test from the comfort of your home. The online proctoring service ensures authentic results which are available in 8 days after attempting the test. CAEL sends these results to a maximum of 5 institutes free of cost.
Note – The overall structure, subject matter, and scoring system of the CAEL Coaching Online is similar to the offline CAEL Test Canada.
CAEL ONLINE – ROOM REQUIREMENTS
Indoor location
Proper Lighting
Closed Door
No background noise
No interruptions
No Pen/Paper/Electronic Devices near the workstation area
CAEL ONLINE – SYSTEM REQUIREMENTS
Desktop /Laptop Computer
2Mb/s minimum download and 1Mb/s minimum upload speed
Webcam, Speakers, and Microphone
1024X768 screen resolution Minimum
Mac OS 10.13 / Windows 8.1 or higher
CAEL ONLINE – ID REQUIREMENTS
Valid Govt issued photo identity proof
Photo of the candidate through a registration system
CAEL TEST CENTERS ACROSS THE WORLD
There are around 40 test centers across the world where you can take the CAEL Exam. If you are not comfortable with the online CAEL Exam and prefer to visit a test center, you may have a look at the list of CAEL Test Centers.
Seoul, Republic of Korea
Dubai, United Arab Emirates
Manila, Philippines
CAEL Test in India – Chandigarh
China
60 test centers in Canada
Brazil – Online
Mexico- Online
United States of America- Online
Japan- Online
Indonesia- Online
Columbia- Online
Vietnam- Online
Hong Kong- Online
HOW TO APPLY FOR CAEL TEST CANADA?
For a faster registration process, choose the online option to attempt the CAEL Test Canada and enjoy a smoother admission process.
Visit cael.ca, and create your account
Sign- into this new account
Click in Register for CAEL
Choose and provide your IDs
Confirm the provided information
Pay the Application Charges
CAEL TEST FORMAT 2023
The overall CAEL Test 2023 is divided into 5 sections .i.e Speaking, Listening, Reading, Academic Unit A, & Academic Unit B. Let's see the test format in detail.
Speaking –
This section requires you to choose answers from some prompts given on the screen. You get 7-10 minutes to answer these questions.
Listening –
You get 25-35 minutes to listen to certain passages and understand the dialect and theme of the passages to reply to the asked questions.
Reading –
This section contains some passages which you have to read to answer the given questions. The time allotted for this section is 35-50 minutes.
Academic Unit A –
This section is based on comprehension. Unit A requires you to read some passages, comprehend what is being mentioned, and answer the questions within 60-70 minutes.
Academic Unit B –
The format of Unit B is similar to Unit A, but the time allotted for this section is 40-45 minutes.
Note – If you are confused with cael test vs celpip, You may have a look at the CELPIP Test Overview
A GENERAL IDEA OF CAEL BAND SCORE
CAEL 2023 Scores are given on a scale from 10 to 90. Along with a final grade, you will get individual scores for each section. The final score, which will be equally weighted and adjusted down to the closest interval, will now be calculated by averaging the four component scores.
| | |
| --- | --- |
| CAEL Band Descriptor | CAEL Score |
| Expert | 80-90 |
| Adept | 70 |
| Advanced | 60 |
| High Intermediate | 50 |
| Intermediate | 40 |
| High Beginner | 30 |
| Low Beginner | 10 – 20 |
CAEL SCORE FOR READING SKILLS
| | |
| --- | --- |
| Reading Score | CAEL Band Score |
| 31-36 | 90 |
| 29-31 | 80 |
| 26-29 | 70 |
| 22-27 | 60 |
| 20-24 | 50 |
| 15-20 | 40 |
| 11-15 | 30 |
| 9-13 | 20 |
| 0-9 | 10 |
| | |
| --- | --- |
| Listening Score | CAEL Band Score |
| 30-36 | 90 |
| 26-29 | 80 |
| 21-26 | 70 |
| 18-22 | 60 |
| 14-19 | 50 |
| 11-15 | 40 |
| 8-12 | 30 |
| 7-10 | 20 |
| 0-7 | 10 |
BENEFITS OF CAEL TEST FOR CANADA PR
The one and only examination that extends a complete idea of English language usage in an academic context is CAEL. It is highly beneficial for students applying for Canada visas for study purposes since it can assess how they can use speaking, listening, reading, and writing skills to deal with the situations and tasks they might get during their course.
High-end test security
Electronic Test
Online Identification System
Free Study Materials and webinars
Results within 8-Days
Upto $ 10,000 Scholarship
Accepted by 100% Canadian Universities and Colleges
CHOOSE BASICS IMMIGRATION FOR CAEL EXAM PREPARATION
Choosing the Basics of Immigration can be beneficial for you if you intend to score high in the CAEL exam and are seeking admission to a Canadian university. We provide affordable assistance such as expert guidance, comprehensive solutions, and access to resources to save you time and effort.
Expert Guidance by highly experienced immigration professionals
Personalized strategies to score higher
Academic Counseling of Opting for the best university
CAEL Sample Tests and study material for exam preparation
Management of the application process on your behalf
Tailored Solutions at pocket-friendly rates
WHY ALWAYS CONSIDER BASICS OF IMMIGRATION?

Expert Visa counselors provide Step-by-step guidance through a secure, online process.
Apt evaluation of credentials and faster visa processing.
Identifying all potential hazards and roadblocks in securing a visa.
Assistance with documentation, immigration rules, citizenship, and border control procedures.
Multiple case assessment for better conflict resolution.
Designated process managers to provide personalized guidance.
Just like the basics of anything act as "building blocks" forming a strong foundation for constructing complex structures. The Basics of Immigration serve as the foundational elements of moving abroad, for any aspiring immigrant.