TCF EXAM PREPARATION
One of the most popular and widely-spoken languages  in the world, the French language has become the second most important language in the world of business. Across the globe, companies and organizations seek to hire a multilingual working staff. Owing to such a demand, if you wish to build a flourishing career by pursuing French language, you should appear for the TEF or TCF test. Unlike the English Language Proficiency Tests like IELTS and PTE, these tests are used to certify your French language proficiency and specifically points out areas of improvement, if any. 
As discussed therefore, the TCF test or the test de Connaissance du français can be defined as a French language proficiency test specially designed by the French Education International (FEI) for non-native speakers who wish to assess and certify their level of French language proficiency for the purposes of professional, personal or academic. Accredited by the French Ministry of Education, the test attempts to evaluate the French language abilities of non-native French speakers. 
With approximately 600 exam centers spread across 140 countries spanning the globe, the lowest level of the test is indicated by A1 while the top fluency levels are indicated by C1 and C2 respectively.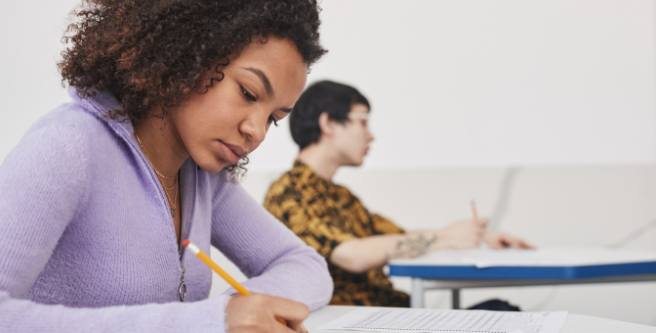 TCF EXAM FORMAT (TYPES OF TEST)
For purposes of understanding, we may divide the TCF test into two types or sections- Mandatory and Optional. While the Mandatory section is composed of Listening, Proficiency in Language Structures, and Reading, the Optional section comprises two sub-sections, namely Speaking and Writing.
Compulsory Test
Sub-section
No. of questions
Duration
Listening
29
25 minutes
Proficiency in Language Structures
18
15 minutes
Reading
29
45 minutes
Total
76
85 minutes
Optional Test
Sub-section
No. of questions
Duration
Speaking
Three levels of testing
12 minutes
Writing
Three tasks
60 minutes
Total
6
72 minutes
WHY SHOULD I APPEAR FOR THE TCF TEST?
The TCF Test, as already discussed, assesses the French language proficiency of individuals who wish to improve or build their French language abilities for professional, academic, or personal purposes. The TCF test remains valid for two years from the date of taking the exam. There are several important reasons which may serve as valid reasons for you to sit for a TCF test. These reasons are discussed below:
TCF test scores serve as legitimate proof of French language proficiency and language skills to support applications for employment opportunities.
Students appearing for a TCF test must also understand that it serves as an important requirement for the application processes in French colleges and universities.
The TCF Canada test has been recognized by the Immigration, Refugees, and Citizenship, Canada (IRCC).
The TCF Canada test serves as a mandatory requirement when migrating to Quebec.
TCF EXAM MODULE
The TCF Exam Module has been described below.
Listening
This section evaluates the candidate's ability to comprehend common phrases and words, grammar and vocabulary, and proficiency in language structures. The questions asked in this section intend to identify lexical errors and the correct use of language.
Reading
This test analyzes the candidate's ability to read conversations and articles. The test taker is required to comprehend the given passage and answer accordingly.
Speaking test (optional)
The test taker is required to sit for a 15-minute interview. The difficulty level of questions asked begin from A1 and ascend to C1 and C2 respectively, based on the Common European Framework of Reference for Languages (CEFR). Additionally, the candidates might also be asked about a place, person, or experience to judge their speaking abilities.
Writing test (optional)
Candidates must complete three separate exercises in no more than 60 minutes. They are required to compose a short statement that is no more than 120 words for the first challenge. A brief letter, message, or note of up to 150 words is required for the second assignment. A candidate must compose two 180-word essays for the third exercise.
TCF TEST SCORES
| | |
| --- | --- |
| Elementary (A1) | 100-199 points |
| Lower Intermediate (A2) | 200-299 points |
| Intermediate (B1) | 300-399 points |
| Upper-Intermediate (B2) | 400-499 points |
| Advanced (C1) | 500-599 points |
| Superior (C2) | 600-699 points |
HOW TO APPLY FOR TCF CANADA?
You can apply for TCF Canada either online or offline. In the case of offline registration, candidates are required to visit the center and apply accordingly. The following things must be kept in mind while applying for TCF Canada:
Conduct an in-depth research on your nearest exam center mentioned on the official website, and keep a check on the dates and processes related to the examination.
Have an in-depth understanding of the type of TCF test that you wish to follow.
Gather essential documents like government ID proof, Passport, Voter ID, Pan Card, and other valid credentials.
TCF COST
The application fee for the TCF test depends on several factors including cost of living, and area.
EXCLUSIVE EXAM TIPS AND STRATEGIES:
Interested students must seek professional guidance from an expert when sitting for the TCF test. With expert guidance, chances of scoring high increase significantly.
Students must pick up the right study materials. Some of the important mentions are-

Level 3 skills Oral comprehension
Level 3 skills Written comprehension
Progressive French grammar

Students must be well aware of the exam format and carefully go through the paper structure. Simply put, the key to success is smart work, not hard work.
Look out for YouTube tutorials and vlogs explaining everything in great detail.
Try solving sample papers.
Join online TCF communities.
Learn how to effectively manage your time.
WHY ALWAYS CONSIDER BASICS OF IMMIGRATION?

Expert Visa counselors provide Step-by-step guidance through a secure, online process.
Apt evaluation of credentials and faster visa processing.
Identifying all potential hazards and roadblocks in securing a visa.
Assistance with documentation, immigration rules, citizenship, and border control procedures.
Multiple case assessment for better conflict resolution.
Designated process managers to provide personalized guidance.
Just like the basics of anything act as "building blocks" forming a strong foundation for constructing complex structures. The Basics of Immigration serve as the foundational elements of moving abroad, for any aspiring immigrant.